Didactics
Noon Conference Lecture Series
The core curriculum lecture series is held at noon every Monday, Tuesday, Thursday, and Friday. Each year, the series begins with coverage of common medical emergencies (Intern Boot Camp lectures), from July to September. For the remainder of the year, the conference series covers core topics in internal medicine. Faculty presenting this conference are encouraged to make the discussions cases-based and interactive. This series will also include lectures on neurology, psychiatry, orthopedics, ophthalmology, pain management, dermatology, sleep medicine, wellness, and a variety of other topics. On the first Friday of each month, the noon conference will be a meeting between residents and program leadership (PD/APD/Chief resident) to discuss ongoing issues and concerns.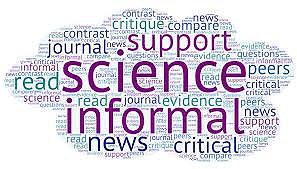 Journal Club
A resident-led Journal Club is held once a month on Monday afternoons. All PGY levels are required to participate.  On a regular basis, recent articles from major medical journals are discussed in detail under the direction of the chief medical residents and one of the faculty.
Morning Report
All PGY levels are required to participate. It is held twice a week and facilitated by faculty and a chief resident. For PGY-1, discussion is aimed at refining presentation skills, and development of a complete, prioritized differential diagnosis. For PGY-2 and PGY-3s, discussion is focused on differential diagnoses, management strategies and discussion of evidence to support the management plan. 
Grand Rounds
This conference is attended by all PGY levels and held at least once a month. Speakers include both visiting and local faculty.
Morbidity and Mortality Conference
Morbidity and Mortality Conference is held twice a month on Wednesday afternoons. All PGY levels are required to participate. Residents present patients who expired or had unexpected complications. Teaching points and learning opportunities are emphasized by the presenting resident, faculty, and program director.

Board Preparation
PGY-2 and PGY-3 residents are required to attend, while PGY-1s are invited and encouraged if time permitting. During the second half of the year, a separate once weekly session focuses on review of content and test taking strategies for the American Board of Internal Medicine (ABIM) Board Certification Examination.
Intern Boot Camp Lectures 2022-2023:

 

Electrolytes and Repletion

Inpatient HTN management, HTN Urgency, HTN Emergencies

Tachycardia (SVT, A. Fib, A. flutter, wide complex tachycardias)

Approach to Chest Pain/Acute Coronary Syndromes

Basic Antibiotic Management

Seizure/Status epilepticus

Approach to acute CVA patient

Approach to shortness of breath

Inpatient diabetes management

Endocrinology Emergencies

Interpreting LFTs/Acute Liver Failure

Acute Pancreatitis Management

Rheumatologic Emergencies

Hematology/Oncology Emergencies

Acute kidney injury/Indications for emergent HD

Introduction to COVID - 19

Inpatient Pain Management Basics

Physician Responsibility after Patient's Death

How to recognize Burn-Out