Office of Faculty Development
Faculty development is a process by which medical school faculty, including preceptors teaching in the clinical setting, work systematically to improve their skills in the following areas: (1) educational skills, (2) leadership skills, (3) skills necessary to engage in scholarly activities, (4) personal development, and (5) skills in designing and implementing a professional development plan.
Faculty development activities are successful when individuals' goals in these five areas are being met and when simultaneously the goals of the organization are being met.
Upcoming Events
Ft. Pierce Regional Campus (Workshop)
 Click here for updated Competency-Based Assessment (CBA) information for Elective Clinical Rotations.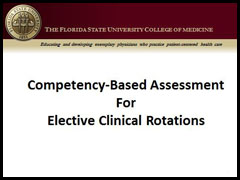 Click here for updated information about the Competency-Based Assessment (CBA), including the new form.