Division of Research & Graduate Programs
The College of Medicine (CoM) has a strong interdisciplinary research culture that encompasses the spectrum from basic molecular processes to the study of ourselves and how we interact with communities. It is the home for several interdisciplinary translational research centers and institutes, core facilities that support investigators across the university, and hosts the University of Florida-Florida State University Clinical Translational Science Award.
Departmental Research
It has a dynamic research agenda in biomedical sciences for molecular, cellular, developmental biology, behavioral and systems biology and fundamental biochemistry and biophysics. There are robust translational research programs impacting autism, mental health, behavioral sciences and social medicine, geriatrics, family and rural health, among other areas.
CoM Research Expenditures
The College has seen 2-fold growth in the last 4 years with 27 million in research expenditures in FY20, and $124 million in awards.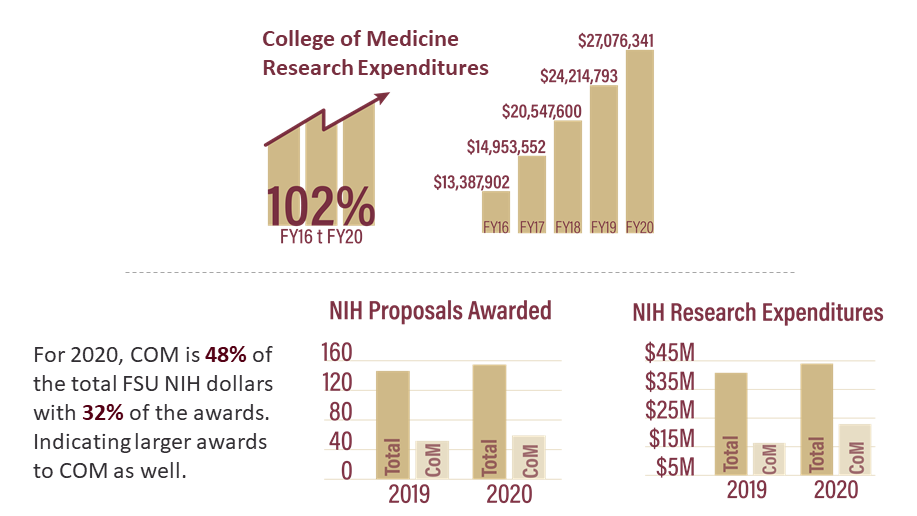 Research Spotlights
From the Suo Lab: Florida State University College of Medicine professors present liver-specific prodrugs of the chemotherapy drug gemcitabine (2′,2′-difluorodeoxycytidine)…

From the Meckes Lab: Extracellular vesicles (EV) mediate intercellular communication events and alterations in normal vesicle content contribute to function and disease…

From the Ren Lab: Neutrophils are short-lived cells of the innate immune system and the first line of defense at the site of an infection and tissue injury . . .