Division of Research & Graduate Programs
The College of Medicine (CoM) has a strong interdisciplinary research culture that encompasses the spectrum from basic molecular processes to the study of ourselves and how we interact with communities. It is the home for several interdisciplinary translational research centers and institutes, core facilities that support investigators across the university, and hosts the University of Florida-Florida State University Clinical Translational Science Award.
Departmental Research
CoM has a dynamic research agenda in biomedical sciences for molecular, cellular, developmental biology, behavioral and systems biology and fundamental biochemistry and biophysics. There are robust translational research programs impacting autism, mental health, behavioral sciences and social medicine, geriatrics, family and rural health, among other areas.
CoM Research Expenditures
The College has seen 2-fold growth in the last 4 years with 27 million in research expenditures in FY20, and $124 million in awards.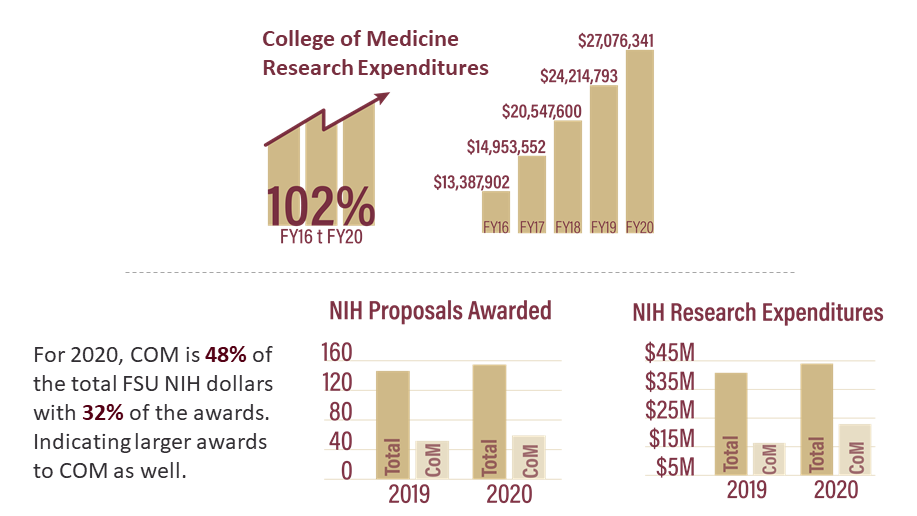 From the Yanchang Wang Lab: A previously unidentified pathway to regulate chromosome passenger complex translocation, which is important for accurate chromosome segregation.

From the Center for Child Stress & Health: With the appropriate resources in place, adverse childhood experiences (ACEs) screenings are possible and enhance patient care.…