Our Local Area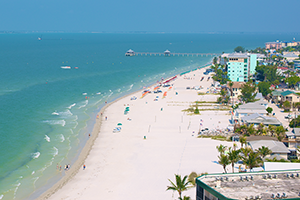 Do you dream of endless sunshine, warm weather, and ocean views? Where resident wellness activities include yoga on the beach and waterfront BBQs all year round? Spending your free weekends hanging out on the beach with family and friends and exploring nature preserves?
The FSU College of Medicine Internal Medicine Residency Program at Lee Health (Cape Coral Hospital) is located in beautiful southwest Florida, a region considered paradise to many, with its tropical weather and endless waterfront views.
Cape Coral is known for its 400 miles of canals and some refer to the city as a "Waterfront Wonderland."
Southwest Florida offers excellent arts and culture, education, affordable real estate, dining and nightlife, and sports and recreation all year long. We're just a few hours away from Walt Disney World, other major cities including Miami, and Florida attractions.
Renowned, stunning Gulf Coast beaches including Fort Myers Beach, Cape Coral Yacht Club Beach, Sanibel Island, Marcos Island, Captiva Island, are just a few of the beautiful beaches in our area.
City of Fort Myers - https://www.ft.myers.com  
City of Cape Coral - https://www.capecoral.net 
Beaches - https://www.fortmyers-sanibel.com 
Fort Myers Chamber of Commerce - https://fortmyers.org 
Cape Coral Chamber of Commerce - https://web.capecoralchamber.com/GOVERNMENT-OFFICIAL-City-of-Cape-Coral
Southwest Florida Tourism - https://www.swflorida.travel 
Florida Tourism - https://visitflorida.com