Internal Medicine Residency Program - Tallahassee
Internal Medicine Residency
Message from the Program Director
Claudia Kroker-Bode, M.D., Ph.D., F.A.C.P.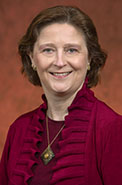 claudia.kroker-bode@med.fsu.edu
Welcome from the PD
Welcome and thank you for your interest in our wonderful internal medicine residency program. We are accredited by the Accreditation Council for Graduate Medical Education (ACGME), and are sponsored by Florida State University (FSU) College of Medicine, operated in conjunction with Tallahassee Memorial HealthCare (TMH).

Our program is dedicated to meeting the health care needs of the communities we serve. We are committed to providing a dynamic, engaging education combined with offering exposure to a wide array of clinical scenarios and quality improvement opportunities. Since we are not a research heavy institution, we are happy to train primary care physicians and hospitalists of the future by offering a telemedicine rotation to improve the health of the underserved. Our residents who want to go into fellowship will absolutely be able to do so.
We offer the right balance of didactic experiences through morning report, noon lectures, journal club, M&M, etc., with an emphasis in on-hands experience. We believe in leading by example while we teach evidence-based medicine. Medical students enhance the training of our residents, because residents learn by teaching.
We know that you have a private life and provide you plenty of vacation and time-off.  The program is dedicated to helping you grow into a highly professional, competent, empathetic and outstanding physician in a community hospital with an academic and collegial environment. Transparency and wellness are not only 'words' for us. We believe fun brings happiness! Equality of human beings and acceptance of each other is our basis for operation. The program offers diversity of teachers and colleagues, and promises to provide you with the most solid internal medicine education while preparing you for primary care, hospitalist career and fellowship.

Tallahassee is the capital of Florida and has a vibrant arts and culture scene with great sports and rivalries. An abundance of outdoor recreation is available for all ages. We simply love living here in our university town.

I am looking forward to getting to know you and hope that you stay in the area after your training.

Claudia A. Kroker-Bode M.D., Ph.D., F.A.C.P.