Curriculum
The IM Program has been carefully planned to fulfill the requirements of the Internal Medicine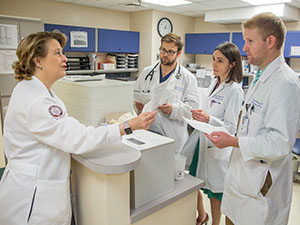 Residency Review Committee (RRC) of the ACGME. The curriculum offers a broad and balanced experience in both ambulatory and inpatient settings that prepare the graduate for a career in general internal medicine, either primary care, hospital medicine or to continue training in a subspecialty. By the end of the three-year program, graduating residents leave as skilled and confident practitioners in the care and treatment of major acute and chronic diseases.
Full-time faculty conduct daily rounds on admitted patients and supervise residents in the ambulatory clinic and the hospital. The faculty provide oversight and assist in patient care at all times. Residents are responsible for the work-up of patients, for writing all orders, and for performing diagnostic procedures and therapy. Additionally, there are daily conferences and teaching rounds in the various medical subspecialties. The collaboration between FSU and TMH provides a foundation for transformational learning and allows residents to have innovative and inspirational experiences. Since we are a smaller program, you receive full attention from the faculty.
3+1 Schedule
The program will follow a 3 + 1 schedule, which will consist of 3 weeks of rotations followed by 1 week of protected continuity clinic. Morning and afternoon clinic sessions will begin at 8:30 AM and 1:00 PM, respectively. A clinic day finishes at ~5:00 PM. During the clinic session, residents will see patients from their panel of patients, as well as see acute patients and patients requiring early follow-up visits from other colleagues' panels.
Residents must attend during the three-year program a total of at least 130 longitudinal clinic sessions or more. During their week in continuity clinic, residents have:
Total of five (5) continuity clinic sessions, 1 per day either

Two (2) clinic sessions with a sub-specialty clinic of their choosing

Option for residents who wish to pursue a career in primary care, to use one of the sub-specialty clinic sessions to see more patients either in IMR or a private practice

One (1) clinic session will be dedicated to working with the QI cohort on QI projects

One (1) additional session will be dedicated to didactics, including completion of required MKSAP assignments and PEAC modules, with a faculty member one on one (4:1)

One (1) session will be an administrative half-day and can be used to see a physician, run an errand, or simply catch up
Medicine Night Float Team
A night float system for both admissions and floor coverage is in place from Monday to Sunday. The night float team admits patients from 7:30 PM until 7:30 AM, and proceeded or followed by supervised transition of care. Patients being admitted are going to inpatient floors, the MICU and CCU. One day the senior and one intern are the admitting team, and the next day you are only picking up the admissions from the night float team. That means for the interns, only 1 in 4 admission days.

Clinical Experience and Educational Hours
The program is in full compliance with ACGME work hour regulations. In order to help maintain patient safety and resident well being, we strictly monitor that all residents follow the clinical experience hour regulations. The program follows a soft cap of 14 patients per team consisting of 2 interns and 1 senior with medical students. Our hard cap is 16 patients per team because we believe that teaching and learning needs time to do so.