About the Program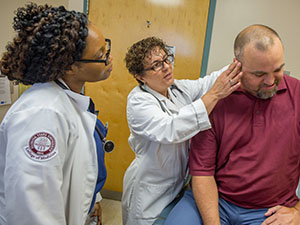 Why come to our FSU Internal Medicine (IM) Program in Tallahassee?
1. The People: The residents are talented, cohesive, hard working and supportive of each other. The faculty are experienced internists who love to teach, supported by outstanding subspecialty faculty. Our support staff enjoy working here, especially with residents. Our program has a complement of *24 residents (8 residents in each year), and is a categorical three-year IM Residency Training Program leading to certification by the American Board of Internal Medicine.
*Additionally, there are 2 preliminary positions
Expect to truly enjoy working with the people around you.

2. The Curriculum: The program has a clinical research coordinator who supports, facilitates and coordinates daily clinical research activities to help residents be successful in research. The coordinator also ensures investigators have proper research training, aids in regulatory compliance, and assists in IRB preparation and submissions.
Expect to leave here exceptionally well trained.

3. Our philosophy: Challenge and support. Residents are placed in challenging clinical settings requiring ever increasing responsibilities. We encourage resident autonomy in patient care, but are with you every step of the way. Your patients will be your best teachers, but we all need help sometimes and our faculty are some of the best in the business. Just ask our residents. The mission of the IM Program is to develop master clinicians with the skills necessary to become leaders in medical education and service in a variety of health related fields. The clinical care provided by our graduates is patient-centered, compassionate, respectful and grounded in a broad base of knowledge that is constantly updated with current literature. Transparency and wellness are not only 'words' for us. Overall we do have lots of fun, doing retreats and celebrate often together at different faculty homes. We essentially want you to grow as a physician and as a human being!
Expect to grow professionally in ways that amaze you.
 
4. Respect: Internal medicine is highly respected in our hospital and in our community. In all settings we expect our residents to be respectful of others regardless of their station in life. Respect your patients, their families, nurses and the entire health care team, and the teachers who volunteer their time. Respect learning, the profession of medicine, and the discipline of Internal Medicine and you will receive respect back in overflowing measure.
Expect to learn in a collegial atmosphere.
 
5. Our hospital: We have a large hospital (average daily census 425 in acute care) which can provide almost all services a patient may need. We draw from surrounding rural areas and the range of pathology is amazing. TMH currently ranks #1 in quality of care when compared with all VHA (Voluntary Hospitals of America) in the Southeast, and has earned more awards recently than can be listed. TMH is a private not for profit hospital, thus all profits are invested back into the organization for improvements, or shared with employees (including residents) in the form of a variable monetary payment in December. Private attendings are outstanding and very willing to teach; nurses are excellent and supportive of residency training. TMH's mission, to provide care to all in need regardless of status, is our mission as well.
Expect to feel part of a vital, compassionate hospital team.
 
6. Accreditation: Our last judgment from the ACGME Review Committee for Internal Medicine was in January 2014, and resulted in 10 years of continued accreditation, the highest status attainable.  
Expect to graduate from a highly accredited program.
 
7. Financial support: Both the program and our parent hospital (TMH) are in excellent financial health. TMH recognizes the great value of the residency to its mission and to our city.
Expect to feel the support and pride of TMH/Tallahassee.

8. Opportunities to Practice:  Multiple opportunities arise each year in our beautiful city and surrounding areas. As an internist you will be in high demand. In recent years our graduates have entered into the fields of primary care, hospital medicine, or have moved on to fellowships.
Expect to be in high demand, with plenty to choose from.
 
9. Tallahassee: Florida: Southern, yet cosmopolitan, greater Tallahassee has approximately 250,000 people, is Florida's capital city, and home to two large universities (FSU and FAMU) and a large community college (TCC). All who visit, as well as those who live here, are struck with the natural beauty of the rolling hills, abundant trees, and canopy roads. It is clean and safe, has very little traffic, and boasts the nation's leading parks and recreation department. The residents of Tallahassee tend to be highly educated, value education, and enjoy excellent schools, both public and private. As expected in a university town, there are abundant offerings in the performing arts, entertainment and big time college sports. The downtown area is alive and thriving, and welcomed the new Cascades Park in 2013. The surrounding area is known for Wakulla Springs, the world's largest fresh water spring, and several other crystal clear spring fed rivers. Salt water fishing is 45 minutes away, and some of the most beautiful beaches in the world (St. George Island, Cape San Blas, Destin, Fort Walton Beach) stretch to the west as close as 90 minutes away. Tallahassee is one of the greatest places to raise a family, and many residents who train here find that they want to stay; you will, too!
Expect to fall in love with Tallahassee and the area.