Facilities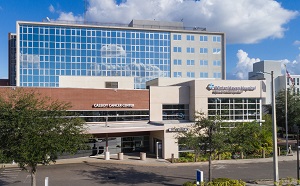 Founded in 1926, Winter Haven Hospital, a 468-bed acute care hospital, is dedicated to providing high-quality, patient-centered care. By upholding this standard of excellence in all that we do, patients are provided with customized, state-of-the-art treatments in a comfortable environment. Winter Haven Hospital provides extensive services including interventional cardiology and cardiothoracic surgery, emergency care services, oncology, orthopedics, and inpatient psychiatry. Winter Haven Hospital is a national IBM Watson top performer for care quality. Nearby Winter Haven Women's Hospital is a 61-bed obstetric hospital which specializes in maternity services as well as neonatal care with a Level 2 NICU and a new OB Urgent Care.
Both hospitals are part of BayCare Health System, which provides patients with comprehensive health care services through a network of 15 hospitals, as well as outpatient facilities and services such as imaging, lab, behavioral health and home health. BayCare gives patients a lifetime of complete, expert medical care. 
The Family Health Center

As a family medicine resident in Winter Haven, your education will revolve around the Family Health Center, a modern, community-based facility. Here, you'll practice family medicine in a challenging and supportive environment. Under the direction of family medicine faculty, you'll assume responsibility for the total health care of patients, both individuals and families, and you'll encounter the broad spectrum of family medicine, from birth to middle age to later life and death/dying.
Services provided include:
Behavioral Health
Contraceptive care
Newborn to adult care
Nonoperative orthopedics
Obstetrics and prenatal care
Office procedures and minor surgery
Osteopathic manipulation (OMT)
Pharmacy consultation
Sports Medicine
Ultrasound
Women's health care
The Family Health Center is equipped with:
Colposcopy equipment

Spirometry

POCUS (new as of Fall 2022)

Ultrasound equipment for U/S guided procedures

State of the Art Conference room and Classroom

Electronic Medical Records

On-site laboratory

Precepting library

Resident and chief resident offices

Spacious waiting room

Twenty-two exam rooms

Two procedure rooms