Curriculum Committee
---
Curriculum Organization Chart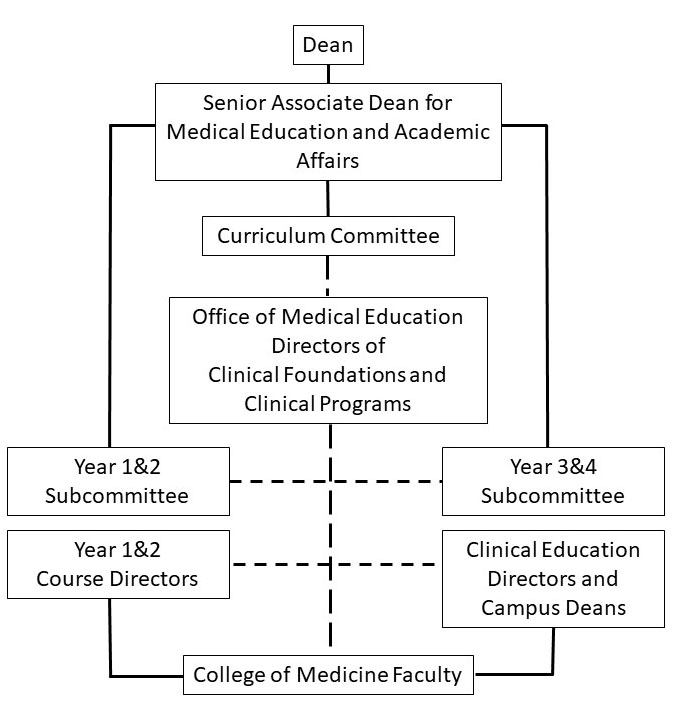 Committee Members
Members
J. Michael Overton, Ph.D. Chair
Jonathan Appelbaum, M.D.
Suzanne Baker
Joedrecka Brown-Speights, M.D.
Robert Campbell, M.D.
Debra Danforth, DNP, APRN, FAANP
Luckey Dunn, M.D.
Joe Gabriel, Ph.D.
Gail Galasko, Ph.D.
Lisa Granville, M.D.
Suzanne Harrison, M.D. Chair, Year 3/4
Nancy Hayes, Ph.D. Chair, Year 1/2
Chris Leadem, Ph.D.
Cathy Levenson, Ph.D.
Alma Littles, M.D.
Joan Meek, M.D.
Michael Muszynski, M.D.
James Olcese, Ph.D.
Niharika Suchak, M.D.
Martin Wood, M.S.
Student Representatives
Benjamin Borgert, MS 1
Anggie Ferrer-Estupinan, MS  2
Richard Wu, MS 3
, MS 4
Principles
The faculty and the Curriculum Committee of the College of Medicine, in order to assure that our students are provided with a comprehensive medical education that will enable their development as knowledgeable, skilled, and compassionate physicians, subscribe to the following principles of the curriculum.
The curriculum is student-centered.

Faculty and instructional methods show respect for the student
The learning environment is designed to support student needs
Students are active and critical learners

The curriculum comprises a context-framed educational plan (in the context of how the student would use and apply knowledge).

Case-based learning is used to stimulate learning and promote application of basic biomedical and behavioral sciences to clinical sciences
Clinical presentations with simulated and real patients are used to stimulate learning
Curriculum flows from a list of basic clinical presentations that provide the foundation for exposure to clinical areas necessary for preparing the undifferentiated medical student for all possibilities for post graduate training.

The content is integrated within courses and across years of the program.
The curriculum is based on the following measurable competencies:

Patient Care
Medical Knowledge
Practice-Based Learning and Improvement
Interpersonal & Communications Skills
Professionalism
Systems-Based Practice
Interprofessional Collaboration
Personal and Professional Development
FSU COM Mission

Scholarship and the discovery of new knowledge is encouraged and facilitated.

Opportunities for research are provided
Scholarly activities in basic sciences, clinical sciences and community medicine are encouraged

The educational environment is appropriate to the mission of the medical school, and students are educated in the biopsychosocial model. Students are provided with experiences in:

Geriatrics
Serving underserved populations
Serving rural populations
Understanding of medicine within the context of different cultural and social situations