Student Learning Communities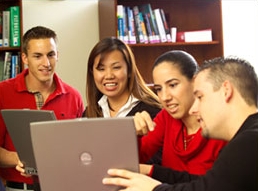 The FSU College of Medicine strives to foster a student-centered environment. One of the most evident ways in which this goal is accomplished is through the student learning community (LC). The model for the learning community emerged rather informally during years of the Program in Medical Sciences (PIMS). Before, after and between classes students could be found congregating in the "lounge" area, which was located central to faculty, staff, and PIMS offices. This space was available 24 hours a day to the students and served as the setting for group as well as individual study. Faculty, staff, and students were able to foster relationships with each other and a culture of teamwork and cooperation emerged. The new College of Medicine incorporated the concept of the learning community into the medical school's culture and the new building. The Learning Community is critical to maintaining a cooperative learning environment and active student learning in the integrated curriculum model adopted by the College of Medicine.
Medical students have 24-hour access to Learning Communities, which include:
Group study rooms
Kitchen
Lounge area
Restrooms
Shower facilities
Student lockers
IT and A-V equipment
Printer/copy machine
Core collection library
Additional resources, information and announcements regarding issues affecting FSUCOM students
The Student Learning Communities are not just physical spaces. Rather, they are physical evidence of the student-centered culture of the College of Medicine. They foster a sense of community and encourage group learning, eliminating the atmosphere of competition that often exists among medical students. The student learning communities create a learning environment that contributes to FSU College of Medicine students' personal and academic success throughout medical school.