Alpha Omega Alpha Honor Medical Society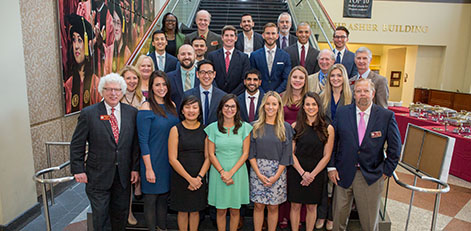 The Alpha Omega Alpha Honor Medical Society's 2018 Inductees and Faculty

Alpha Omega Alpha Honor Medical Society, a professional medical organization, recognizes and advocates for excellence in scholarship and the highest ideals in the profession of medicine. AOA is to medicine what Phi Beta Kappa is to letters and the humanities and Sigma Xi is to science. Our values include honesty, honorable conduct, morality, virtue, unselfishness, ethical ideals, dedication to serving others, and leadership. Members have a compelling drive to do well and to advance the medical profession and exemplify the highest standards of professionalism.
The top 25 percent of a medical school class is eligible for nomination to the society, and up to 16 percent may be elected based on leadership, character, community service and professionalism. Members also may be elected by chapters after demonstrating scholarly achievement and professional contributions and values during their careers in medicine. Distinguished professionals also may be elected to honorary membership.
Mission Statement:
Alpha Omega Alpha – dedicated to the belief that in the profession of medicine we will improve care for all by
Recognizing high educational achievement
Honoring gifted teaching
Encouraging the development of leaders in academia and the community
Supporting the ideals of humanism
Promoting service to others.