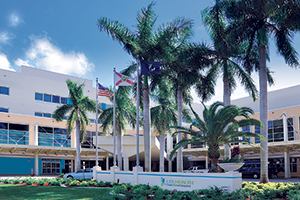 Program Mission
The Florida State University College of Medicine Internal Medicine Residency Program at Cape Coral will graduate capable and efficient internists who are life-long learners, committed to serving others with excellence and compassion along with promoting a healthier future for the community.
Why choose us?
The program consists of enthusiastic and experienced internists who love to teach, supported by highly-motivated subspecialty faculty. We are dedicated to training highly professional, competent, empathetic and outstanding physicians in an academic and collegial environment. We prepare residents for primary care, fellowship and hospitalist careers of the future involving technology with strong accent on hands-on experience and bedside teaching. We offer diversity of teachers and colleagues, creating an open mind set for adjusting to the future.
Career Mentoring and Scholarship
Each resident is assigned to a faculty member who will be a mentor and a guide throughout the residency. All residents are expected to participate in scholarly activity. Residents will have introductory sessions on research methodology and quality improvement basics and will be assigned a scholarly activity block in the second/third year in order to complete the project. Residents are encouraged to present their research at local, regional, and national venues.
Daily Teaching Conferences
The core curriculum lecture series is held on a daily basis and led by core faculty and various subspecialty experts. Each year, the series begins with coverage of common medical emergencies ("Intern Boot Camp Lectures"). In addition, there is a morning report twice a week as well as hospital grand rounds and monthly journal club. These conferences will expose you to the latest advances in evidence based medicine and will give you the strong foundational knowledge to become an independent physician. ​

Outpatient Panel
During the three years of residency, you will have your own continuity clinic, where you can build long lasting relationships with your patient panel.  Dedicated teaching faculty staff these clinics and also offer teaching sessions on pertinent outpatient topics. Moreover, residents will have an opportunity to participate in quality improvement projects in the outpatient setting.
Cape Coral
Our residency program is located in beautiful southwest Florida, a region considered paradise to many, with its tropical weather and endless waterfront views. This is a place where you can have great work-life balance. Southwest Florida offers excellent arts and culture, education, affordable real estate, dining and nightlife, and sports and outdoor recreation all year long. We're just a few hours away from Walt Disney World, as well as other major cities including Tampa and Miami. You will love it here!