Prospective Residents/Fellows
The Florida State University College of Medicine welcomes you to our site and we are pleased to see your interest in our residency and fellowship programs.  Florida State University College of Medicine sponsors ten programs with our healthcare partners across the state.
Cape Coral
Fort Myers
Sarasota
Tallahassee
Winter Haven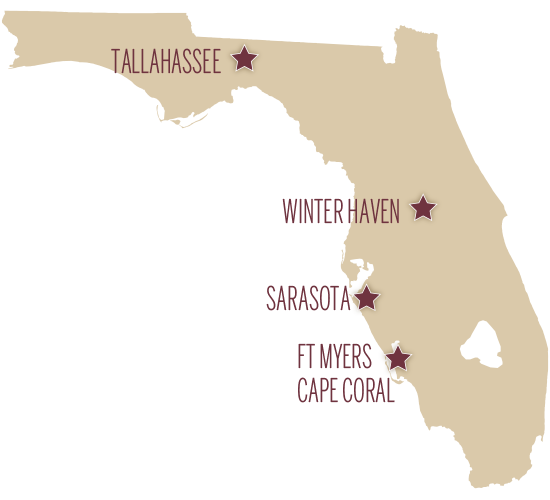 All prospective residents/fellows much complete their application to our residency programs through ERAS.
SPONSORING INSTITUTION INFORMATION
| SPONSORING INSTITUTION | NRMP NUMBER | ACGME NUMBER |
| --- | --- | --- |
| Florida State University College of Medicine | 1826 | 119505 |
PROGRAM INFORMATION
PROGRAM NAME
LOCATION
NRMP NUMBER
ACGME NUMBER
Micrographic Surgery & Dermatologic Oncology Fellowship
Dermatology Associates of Tallahassee
sfmatch
0811100068
Emergency Medicine
Sarasota Memorial
1826110C0
1101100203
Family Medicine
BayCare (Winter Haven)
1826120C1
1201100749
Family Medicine
Lee Health (Fort Myers)
1826120C0
1201100728
General Surgery

(categorical)


General Surgery

(preliminary)

Tallahassee Memorial

1826440C0
1826440P0

4401100438
Hospice & Palliative Care Fellowship
Sarasota Memorial
1826540F0
5401112123
Internal Medicine
Lee Health (Cape Coral)
1826140C2
1401100002
Internal Medicine
Sarasota Memorial
1826140C1
1401100947

Internal Medicine (categorical)
Internal Medicine (preliminary)

Tallahassee Memorial

1826140C0
1826140P0

1401100894

ELIGIBILITY
Eligibility criteria for applicants of a GME residency or fellowship training program are:
Graduate from one of the following:

United States or Canadian medical school accredited by the Liaison Committee on Medical Education (LCME)
United States College of Osteopathic Medicine accredited by the American Osteopathic Association (AOA)
Medical School outside the United States or Canada with:

a valid certificate from the Educational Commission for Foreign Medical Graduates (ECFMG) and have a passing score for Step 1 and Step 2 of the USMLE
be a U.S. citizen, a legal permanent resident, or hold a visa which provides eligibility to work in the U.S. Typical viasas are J-1 (requires Steps 1 and 2 of USMLE and ECFMG certification) and H1-B (requires departmental approval, Steps 1, 2 and 3 of USMLE, and a permanent Florida Medical license)
Meet Florida Board of Medicine licensure requirements
All applicants must also meet program eligibility requirements as defined by the ACGME's respective RRC (for accredited programs) or the department (for non-accredited programs)
Eligible applicants should apply directly to the residency or fellowship training program.  Deadlines and application criteria vary; review those requirements at the individual program websites.  Each program has specific guidelines for conducting interviews, what to expect during the interview, and American Board of Medical Specialties certification requirements.
The following information may be obtained by contacting the residency program coordinator of the program you are interested in.  Click on the Residency Programs tab.  Specific information includes:
Salary and benefits
Sample contract
Additional application information
Program specific requirements
VISA SPONSORSHIP INFORMATION
J-1 VISA considered
H1-B VISA not considered
Download Policies & Procedures