Our Associate Dean/DIO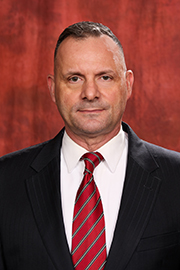 Dr. Bill Boyer is the Associate Dean and Designated Institutional Official (DIO) in the Florida State University College of Medicine as well as an Associate Professor in the Department of Clinical Sciences. He oversees all sponsored residency and fellowship programs and collaborates with our healthcare partners across the state. Dr. Boyer is actively engaged in assessing the current state of the GME enterprise and identifying opportunities to expand programs across the state. He is also actively involved in advancing faculty development opportunities, other educational endeavors, and immersive learning and simulation across the medical and physician assistant programs and residency/fellowship programs.
Dr. Boyer is a seasoned senior healthcare executive and educator who has worked in both non-profit and for-profit healthcare systems. Prior to his arrival at FSCU COM, he recently served as the Chief Academic Officer (CAO) and DIO for Crozer Health. Bill has served in a variety of medical education leadership and academic roles throughout his career. These roles included Assistant Vice President – Academic Affairs, Director of Medical Education, Assistant Clerkship Director – Surgical Care and as a Medical Educator.
Dr. Boyer's expertise includes medical education leadership, accreditation, operations, program development, and organizational crisis management. Additional areas include faculty development, simulation/immersive learning, and interprofessional education, curriculum design and instruction.
He is a member of the American College of Surgeons (ACS), and the Society for Simulation in Healthcare (SSH). Dr. Boyer is an ACS National Faculty as an Advanced Trauma Life Support (ATLS) Educator and the Northeast Representative on the Senior Educator Advisory Board of the ATLS Committee-ACS. Dr. Boyer is a member of the Association of Hospital Medical Education (AHME) where he is a member of the Council of Institutional Leaders (COIL) and the Council on Professional and Faculty Development (CPFD). Bill is a Certified Healthcare Simulation Educator (CHSE) with the SSH and received his Simulation Instructor certificate from Penn State University/Hershey Medical Center.
From 1986 to 1992, Bill served honorably in the United States Marine Corps in the military police/special enforcement field. During his tour, he was stationed in California and Hawaii and held a variety supervisory roles. He was awarded the Good Conduct Medal, National Defense Medal, two Certificates of Achievement and completed the Non-Commissioned Officers Academy. In 1990, Bill received a Certificate of Commendation from the U.S. Pacific Command for providing VIP protective services to senior White House officials, ambassadors and foreign dignitaries. Dr. Boyer was cross-trained as a Medical Specialist via the US Army. In 1992, Dr. Boyer received his Honorable Discharge and moved into the private sector.
In 2000, Dr. Boyer founded Sports Performance Solutions that trained athletes in a variety of sports. Dr. Boyer spent almost a decade as the Schuylkill County Youth Soccer Association Technical Director and coached boys' soccer at a variety of levels. He was awarded the Northern Schuylkill Jaycee of the Year award and Outstanding Young Pennsylvanian award by the Pennsylvania Jaycees.
Dr. Boyer is excited to lead Graduate Medical Education at the FSU College of Medicine, working with the College of Medicine administration, GME staff, program directors, faculty, and residents and fellows. Dr. Boyer is committed to helping our Residents/Fellows develop the knowledge, skills and competencies to practice evidence-based medicine in a patient-centered environment, to develop and disseminate new knowledge, and to become leaders in enhancing health care quality and patient safety efforts in their clinical practices and hospitals.