Our Associate Dean/DIO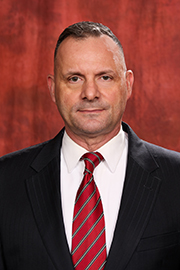 Dr. Bill Boyer is a seasoned senior healthcare executive and educator who has worked in both non-profit and for-profit healthcare systems. He currently serves as the Associate Dean – Academic Affairs and Designated Institutional Official (DIO) at Florida State University College of Medicine (FSU COM). From 2019 to 2022, Bill was the Chief Academic Officer (CAO)/DIO for Crozer Health. Between 2018-2019, Bill was the CAO/DIO for Hahnemann University Hospital prior to the hospital's closure. From 2016-2018, he was the Assistant Vice President – Graduate Medical Education/Associate DIO for Hospital Corporation of America (HCA) – East Florida Division overseeing seven hospitals with GME programs. From 2014-2016, Dr. Boyer was the founding Director of Graduate Medical Education at Kendall Regional Medical Center (HCA Hospital), Miami, FL. From 2010 – 2014, Bill was a Medical Educator and the Assistant Clerkship Director – Surgical Care within the Department of Surgery at Lehigh Valley Health Network (LVHN), Allentown, PA
Dr. Boyer currently holds the position of Associate Dean – Academic Affairs and Associate Professor – Clinical Sciences at FSU COM. Prior to this position, he was the Regional Assistant Dean and Assistant Professor – Department of Surgery, Drexel University College of Medicine – Crozer Health Regional Medical Campus. Bill held similar ranks and academic positions at Florida International University College of Medicine, and at both the allopathic and osteopathic medical schools at Nova Southeastern University and at the University of South Florida Morsani College of Medicine – LVHN Regional Campus.
Dr. Boyer's expertise includes medical education leadership, accreditation, operations, program development, and organizational crisis management. Further expertise includes faculty development, simulation/immersive learning, interprofessional education, curriculum design and instruction and surgical education. Bill presented nationally on faculty development. He earned his Doctor of Health Science degree with a concentration in Healthcare Education from Nova Southeastern University. Dr. Boyer graduated from California University of Pennsylvania with a master's degree in Exercise Science and Health Promotion with a concentration in performance enhancement and injury prevention. His undergraduate degree is in Psychology with a concentration in behavioral medicine from Wilkes University.
In 2022, Dr. Boyer was inducted into the Academy of Master Surgeon Educators, American College of Surgeon (ACS) as an affiliate (non-physician) member and received the distinction of Master Surgeon Educator. Dr. Boyer is an ACS Senior National Faculty as an Advanced Trauma Life Support (ATLS) Senior Educator. Bill is the Northeast Representative on the Senior Educator Advisory Board (SEAB) of the ATLS Committee-ACS. He is a member of the Society for Simulation in Healthcare (SSH) and is a SSH Certified Healthcare Simulation Educator (CHSE) and received his Simulation Instructor certificate from Penn State University/Hershey Medical Center. Dr. Boyer is a member of the Association of Hospital Medical Education (AHME) where he is a member of the Council of Institutional Leaders (COIL) and the Council on Professional and Faculty Development (CPFD). He was also the Senior Executive Sponsor, Physician Leadership Academy – a joint program between Crozer Health and Drexel University Lebow College of Business.
From 2004 – 2010, Dr. Boyer worked for the Commonwealth of Pennsylvania as a Training Specialist within the Department of Public Welfare's Bureau of Juvenile Justice Services. His collegial, practical approach combined academics with a hands-on style that earned him the 2010 Outstanding Performance Award in the Bureau of Juvenile Justice Services.
From 1986 to 1992, Bill served honorably in the United States Marine Corps in the military police/special enforcement field. During his tour, he was stationed in California and Hawaii and held a variety of supervisory roles. He was awarded the Good Conduct Medal, National Defense Medal, two Certificates of Achievement and completed the Non-Commissioned Officers Academy. In 1990, Bill received a Certificate of Commendation from the U.S. Pacific Command for providing VIP protective services to senior White House officials, ambassadors, and foreign dignitaries. Dr. Boyer was cross trained as a Medical Specialist via the US Army. In 1992, Dr. Boyer received his Honorable Discharge and moved into the private sector.
In 2000, Dr. Boyer founded Sports Performance Solutions that trained athletes in a variety of sports. Dr. Boyer spent almost a decade as the Schuylkill County Youth Soccer Association Technical Director and coached boys' soccer at a variety of levels. He was awarded the Northern Schuylkill Jaycee of the Year award and Outstanding Young Pennsylvanian award by the Pennsylvania Jaycees.