Resources
ACGME - Accreditation Council for Graduate Medical Education
The Accreditation Council for Graduate Medical Education (ACGME) is responsible for the Accreditation of post-MD medical training programs within the United States. Accreditation is accomplished through a peer review process and is based upon established standards and guidelines.

ACS - American College of Surgeons
ACS is a scientific and educational association of surgeons that is dedicated to improving the care of the surgical patient and to safeguarding standards of care in an optimal and ethical practice environment.

Florida Board of Medicine - Board Overview
The Florida Board of Medicine regulates persons offering medical services to the public in order to safeguard the public health, safety, and welfare, assure the highest degree of professional conduct.
FSU COM Library Resources for Residents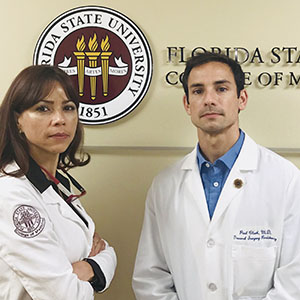 NRMP: Residency Match
The National Resident Matching Program (NRMP) is a private, not-for-profit corporation established in 1952 to provide a uniform date of appointment to positions in graduate medical education (GME) in the United States.

SCORE: Surgical Council on Resident Education
SCORE provides the most comprehensive collection of curriculum tools available today for surgical residents.

USMLE - United States Medical Licensing Examination
The USMLE assesses a physician's ability to apply knowledge, concepts, and principles, and to demonstrate fundamental patient-centered skills, that are important in health and disease and that constitute the basis of safe and effective patient care. Each of the three Steps of the USMLE complements the others; no Step can stand alone in the assessment of readiness for medical licensure.