About the Program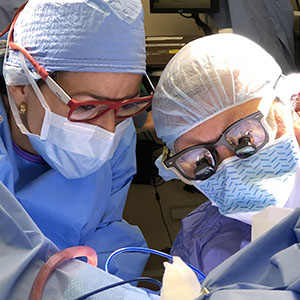 Residents enjoy close-knit fellowship with the faculty and leave the program well prepared to practice general surgery. The first general surgery residency program established in northwest Florida, this program is critical in training surgeons to meet the Big Bend region's needs.

As a relatively new program, our General Surgery Residency Program will build to a complement of 12 residents (two categorical residents in each year of training PGY 1-5, plus two PGY 1 preliminary residents). It is a categorical five-year General Surgery Residency Training Program leading to certification by the American Board of Surgery.

The program provides basic surgical training to residents in all areas of general surgery including breast, abdomen, head and neck, alimentary tract, endocrine, vascular system, and critical care. Experience is also provided in otolaryngology, pediatric surgery, thoracic surgery, plastic surgery and transplant.

Residents in the General Surgery Program are encouraged to pursue research and scholarly endeavors. The program provides its residents with the resources, time and logistical support to be successful in this area. For those residents who have a strong interest in research, the faculty will assist the resident to identify and select an appropriate research topic that is aligned with career plans and/or fellowship education. The General Surgery Program encourages our residents to present their research at the FSU College of Medicine's Research Fair and regional and national scientific meetings. We will assist in some funding for these activities.