Mission: We develop well-rounded exemplary family physicians who compassionately serve patients and their communities.
Vision: To prepare world-class family doctors to serve, lead, teach, and heal the Southwest Florida Community.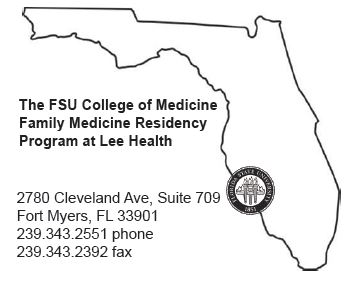 The Family Medicine Residency Program is sponsored by Florida State University (FSU) College of Medicine in partnership with Lee Health in Fort Myers.
New residents enjoy close-knit fellowship with faculty and leave the program well prepared to practice full-spectrum family medicine. Due to a shortage of primary care physicians in southwest Florida, the program is critical in training family physicians for this area. Numerous opportunities exist for graduates to work in ambulatory, inpatient and long-term care facilities.
Lee Health is a designated site for rotations for medical students from the FSU College of Medicine. We also offer rotations to select medical students from other medical schools within the U.S.  These medical students are integrated into our clinical rotations, which enhances our residents' development as teachers and ambassadors of family medicine.