Facilities
Lee Health is the 5th largest health care system in the U.S. with 1,400 inpatient beds in five hospitals and an average daily census of 900 patients. The system includes the vast majority of all inpatient and outpatient facilities in Lee County, Florida, located in the beautiful coastal southwest Florida area. The residency will function primarily from Lee Memorial Hospital (site of Family Medicine Center; inpatient medicine, emergency medicine, including trauma center, geriatrics, and behavioral medicine),  HealthPark Medical Center (Cardiac Center, and large Obstetrics center), and Golisano Children's Hospital (Pediatric Inpatient Medicine, Neonatal ICU, Pediatric ICU) as well as many outpatient practices associated with Lee Health.
Family Medicine Residency Clinic
Our Family Medicine Center is located on the 7th floor of the Medical Office Center at Lee Memorial Hospital, close to downtown Fort Myers and with spectacular views of the Caloosahatchee river. We offer comprehensive family medicine services including prenatal, pediatric and adult health care. Our residents and faculty perform a wide range of office procedures including colposcopies, joint injections, skin biopsies, incision and drainage and insertion and removal of long acting contraceptives to name a few. We also have nine point of care ultrasound (POCUS) devices available for use in our clinic and for resident learning activities.
Lee Health utilizes the popular EPIC electronic health record system for both the inpatient and outpatient services. We offer patients fully integrated care with a multidisciplinary team including two full-time psychologists, a pharmacist, RN care coordinator and medical social workers.
Lee Memorial Hospital
Lee Memorial Hospital is a Level II Trauma Center serving Lee County and the surrounding areas. The hospital is a 414-bed hospital located in the heart of Fort Myers, also houses the Rehabilitation Hospital, a comprehensive inpatient rehabilitation facility. A mainstay in our community for more than 100 years, Lee Memorial has a rich history of serving our communities.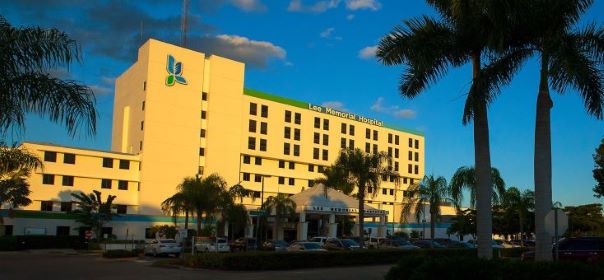 HealthPark Medical Center
HealthPark Medical Center is located at 9991 S HealthPark Dr. in Fort Myers, is a 368-bed acute care facility that opened in 1991. More than 1,700 individuals are employed at HealthPark Medical Center, which also has more than 1,000 physicians on its medical staff and more than 1,000 volunteers.  The facility is noted for its beautiful atrium.

Golisano Children's Hospital of Southwest Florida
Golisano Children's Hospital of Southwest Florida was previously housed inside of HealthPark Medical Center as a 98-bed inpatient facility.  In May 2017,  the new 300,000 square foot Golisano Children's hospital opened with 128 patient beds and room to expand to 160.  It is a state-of-the-art, family-centered, full-service children's hospital. This stand-alone facility located on the HealthPark Medical Center campus is dedicated to the unique health care needs of children.