Welcome to the Tomko Lab
Destroying stuff to fix people!
Our group is dissecting proteolysis by the ubiquitin-proteasome system to guide our drug discovery efforts to treat cancer and infectious diseases.  We use approaches spanning biology, chemistry, and physics to understand how the cell's protein-destroying machinery works, and how it is hijacked in cancer and in response to invading pathogens.  We then apply this knowledge in combination with high-throughput drug screening to identify small molecules and peptides capable of modifying the functions of ubiquitin-proteasome components for further development.  
Diversity and Inclusion
The Tomko lab is committed to maintaining a safe and inclusive (and FUN!) environment for everyone — no ifs, ands, or buts.  No matter who we are or where we come from, we are united by science, and we believe that diverse skills, viewpoints, and experiences make us stronger.

Sustainability
Scientific research can create enormous energy and material waste.  Our group is committed to reducing our impact on Earth's wellbeing by actively minimizing unnecessary energy consumption and use of single-use or disposable items.  We also reuse or recycle lab materials whenever this can be safely done.  


Recent News from the Tomko Lab:
24 Aug 2023: 
Tomko lab grad student Alana Chang won the Peoples' Choice Award at the 3-minute thesis competition at the BMS Departmental Retreat today.  Congrats, Alana!
24 Aug 2023: 
Tomko lab grad student Tomiwa Lawal won the prestigious Randolph Rill Award in Biomedical Sciences.  This award is given out annually to a junior and a senior student who has demonstrated outstanding scholarship.  Congrats, Tomiwa!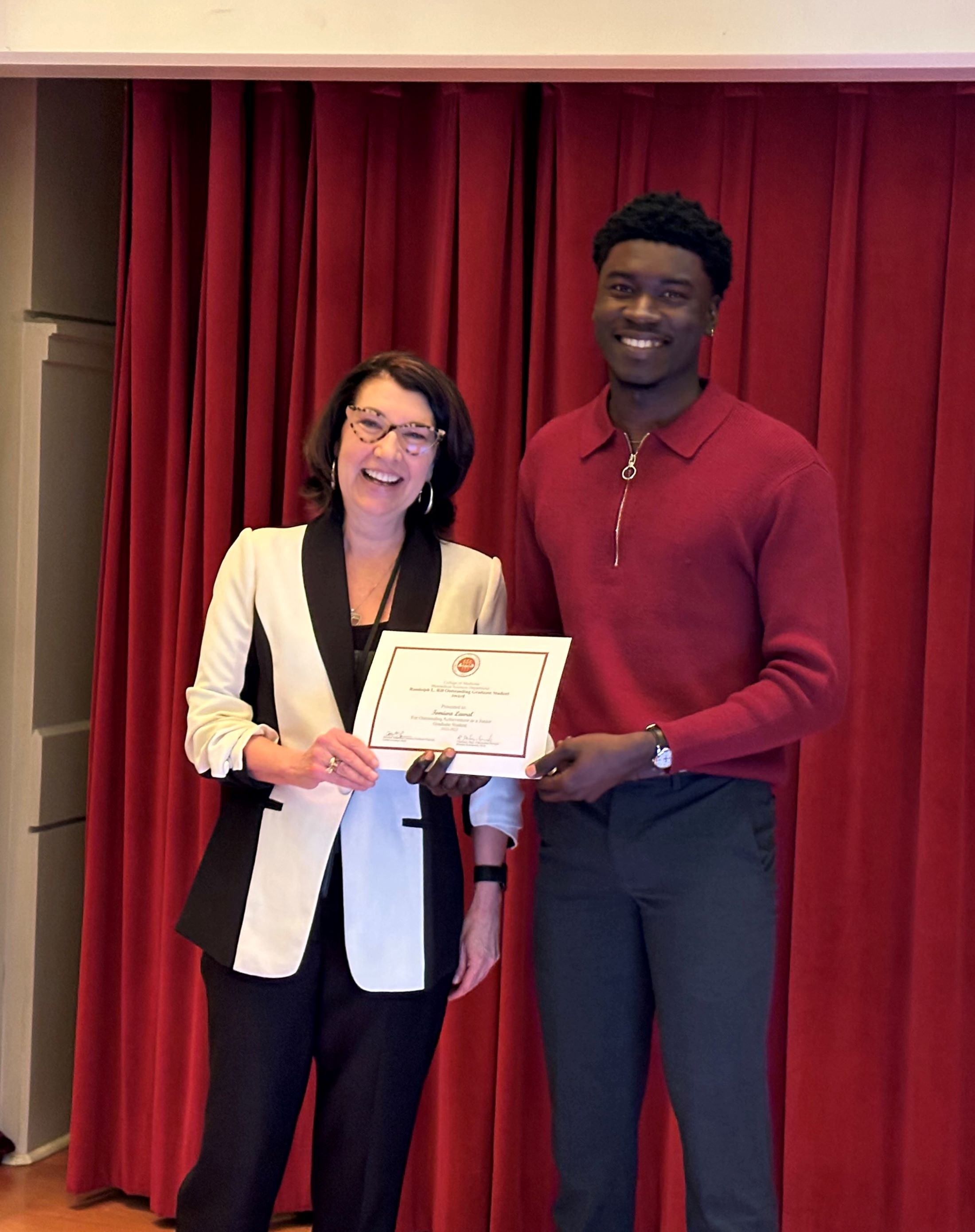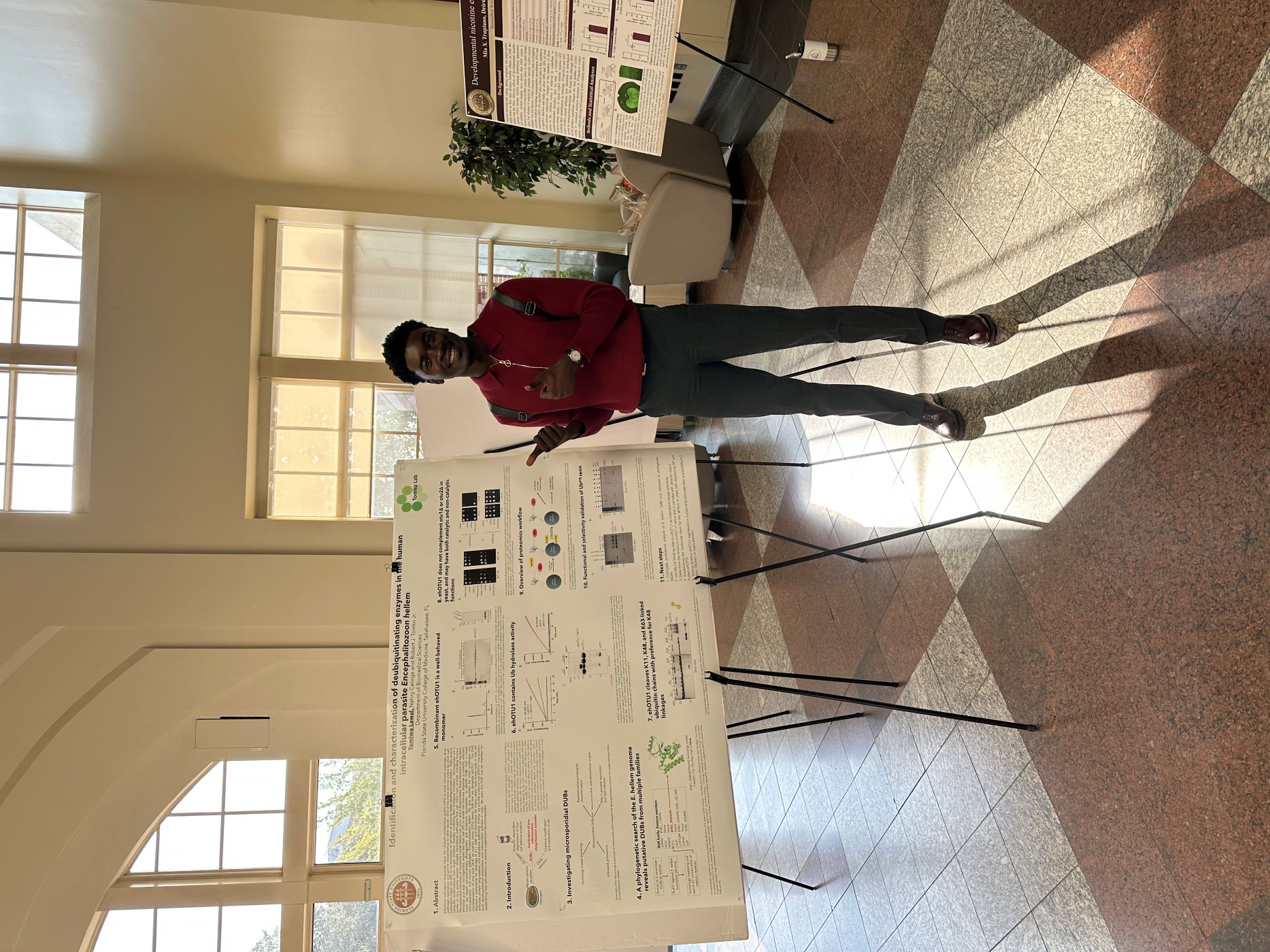 08 Aug 2023: 
Toni and Robb published a Highlight piece on some work from the DeMartino lab that has provided new and unexpected insights into a proteasome inhibitor identified ~30 years ago, but whose function has remained elusive.  Read it here:  (link)

06 Aug 2023: 
Tomko lab grad students Daniel Betancourt and Tomiwa Lawal have published a great review on the role of conformational dynamics on proteasome biogenesis in Biomolecules.  Read it here:  (link)
04 Apr 2023:
Monica Abou Harb defends her thesis! Congratulations Dr. Abou Harb!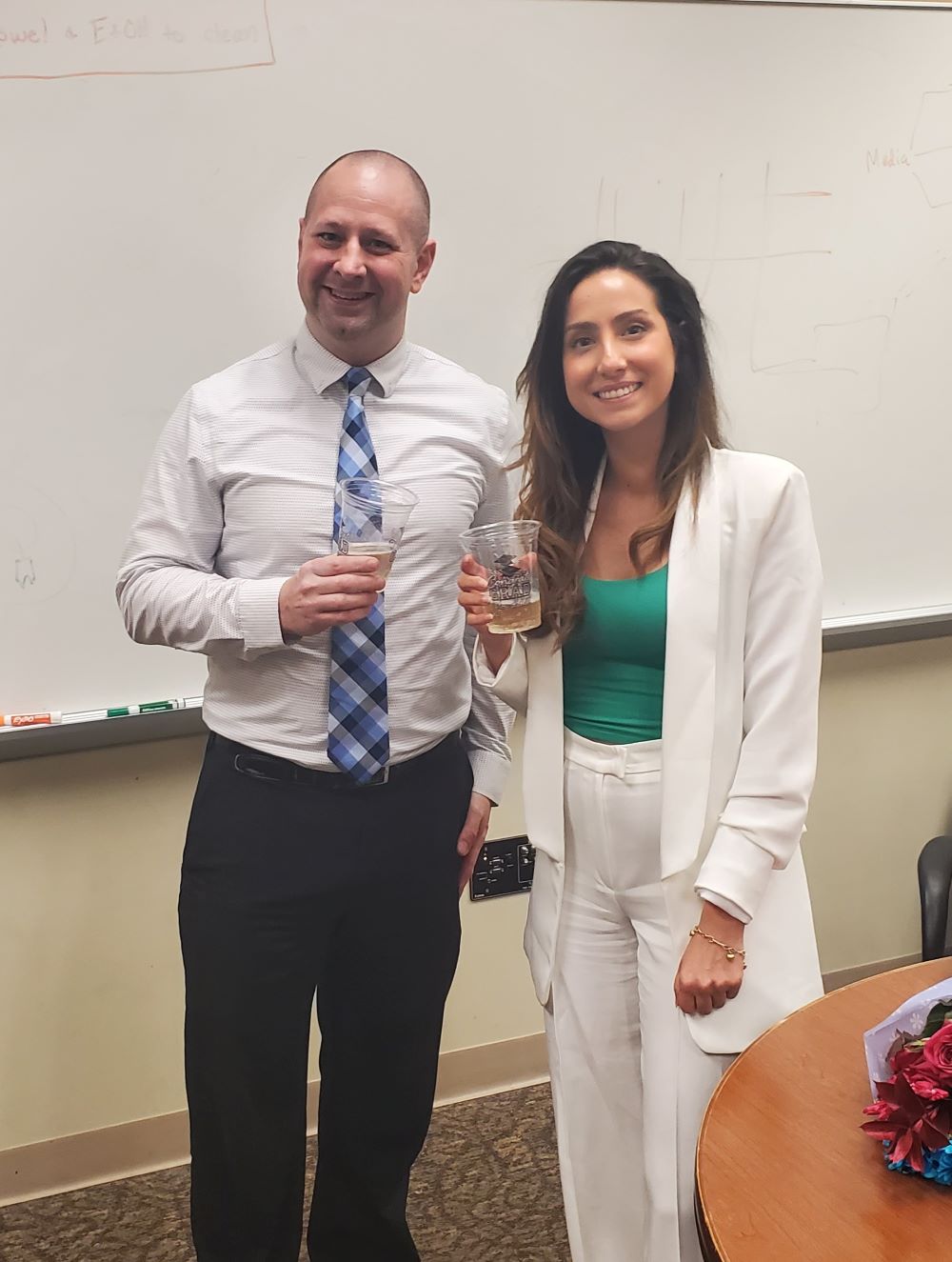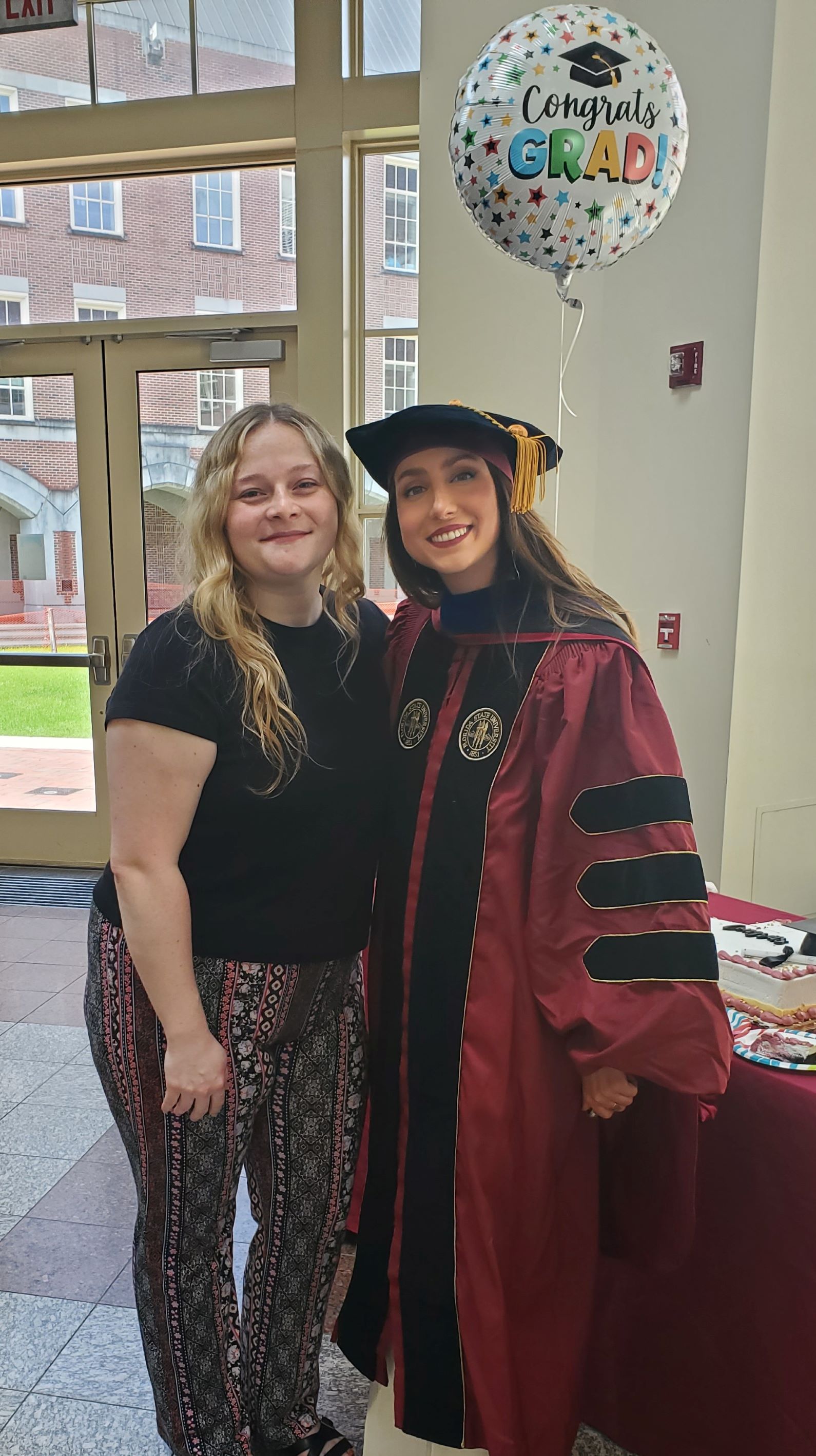 02 Apr 2023: 
The Tomko lab's existing R01 grant investigating the engagement and communication between proteasomal subcomplexes has been renewed!  We are excited to keep making progress in this rapidly developing area. 
01 Apr 2023: 
Robb published an updated set of protocols for the purification and assay of proteasomes in Current Protocols with his former labmate Yanjie Li (now at Genentech) and his former postdoctoral advisor, Mark Hochtrasser (still at Yale).  Read it here:  (link)
10 Jan 2023: 
Jenny's paper on Nas6 as a quality control factor that can destabilize defective proteasomes is now out in the Journal of Biological Chemistry!  Even more impressive, it was selected as an Editor's Pick!  Other authors include former members Gabe Jobin and Sandhya Kumar.  Read it here:  (link)
24 Oct 2022: 
Jenny defends her thesis!  Congratulations, Dr. Warnock!  Jenny will be headed off to a postdoctoral fellowship at Emory University with Dr. Homa Ghalei in January 2023.  We wish her the best!
01 Sep 2022: 
The Tomko lab was awarded a new multi-PI R01 grant with the Suo lab to use single-molecule approaches coupled to chemical-genetics to dissect the assembly landscape of the proteasome.  This project will help to clarify how proteasome biogenesis occurs with high fidelity and accuracy in cells, which has important implications for diseases spanning cancers to neurodegenerative disorders. 
April 20th, 2022
Daniel Betancourt, Alana Chang, and Tomiwa Lawal have joined the Tomko lab for their graduate studies.  Welcome aboard!  
March 25th, 2022
Randi Reed successfully defended her thesis today!  Congrats, Dr. Reed!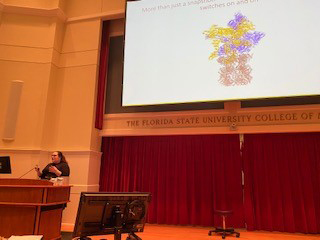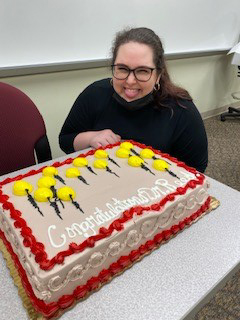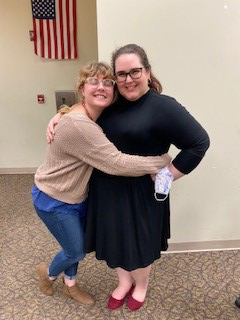 February 21st, 2022
Daniel Betancourt and Tania Sultana have joined us for laboratory rotations.  Both are first-year graduate students, with Daniel holding degrees in Biochemistry and Chemical Engineering and joining us from the private sector, whereas Tania holds degrees in Pharmacy and Regenerative Medicine.  Welcome Daniel and Tania!
January 3rd, 2022
Alana Chang and Nina Zamani have joined us for laboratory rotations.  Both are first-year graduate students, with Alana being an FSU Biology alum and Nina joining us from the University of Tehran where she completed her MSc. in Cellular and Molecular Biology.  Welcome Alana and Nina!
December 15th, 2021
The Tomko lab was awarded a grant from the Florida Department of Health to reprogram the proteasome and other ATP-dependent proteases to seek and destroy specific proteins involved in neurodegenerative disease.  Congrats!
December 3rd, 2021
Antonia Nemec was awarded the FSU College of Medicine's Outstanding Junior Faculty Educator Award!  Congratulations, Toni!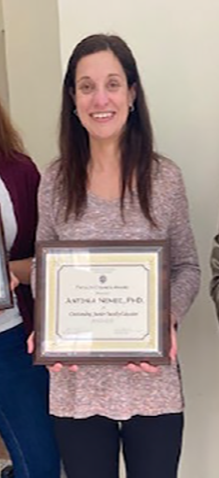 November 1st, 2021
Mohammad Nasirpour joined us as a rotation student.  Mohammad is from Iran and has an interest in marrying computational and wet-bench approaches for drug discovery.  Welcome Mohammad!
August 30th, 2021
Tomiwa Lawal joined us as a rotation student.  Tomiwa hails from Nigeria and is interested in using biochemistry to answer important fundamental and medical problems.  Welcome Tomiwa!
April 10th, 2021
Robb was selected as the 2021 recipient of FSU's Faculty Undergraduate Research Mentor Award!  This Award "was created to acknowledge and honor Faculty whose direction and advisement of undergraduate research or creative activity in the Undergraduate Research Opportunity Program (UROP) has significantly contributed to the enhancement and quality of education at Florida State University."  Congratulations, Robb!
March 8th, 2021
Undergraduate student Sathvik "Vik" Bilakanti was awarded the Scott and Ina McNichols Undergraduate Research Award!  This award will fund his work to develop novel affinity reagents to purify and characterize an unusual proteasome from an obligate intracellular human parasite.  Congrats, Vik!
February 24th, 2021
Congratulations to graduate students Randi Reed and Jenny Warnock!  Both have been awarded the American Society for Biochemistry and Molecular Biology's 2021 Graduate/Postdoctoral Annual Meeting Award to present their work at the annual ASBMB/Experimental Biology.   
July 14th, 2020
A collaborative work with Yanchang Wang's group reporting an unexpected role of Cdc48 in regulating ubiquitin homeostasis with relevance to neurodegenerative disorders was published in Cell Reports.  Former Tomko Lab graduate student Lauren Howell was an author.  Read it HERE!
May 14th, 2020
The Tomko Lab was awarded a COVID-19 Seed Grant with David Meckes' lab to develop small molecule inhibitors of a key SARS-CoV-2 enzyme.  Data from grad students Randi Reed and Jenny Warnock helped to win this award!
May 13th, 2020
Toni Nemec's paper on a system of tagging plasmids for site-specifically modifying yeast proteins with small molecules was published in the journal Yeast.  Read it HERE!
March 1st, 2020
The Tomko Lab was awarded a Team Science Grant with Zucai Suo's lab to perform single-molecule studies of proteasome assembly and function.  Preliminary data from Toni Nemec helped to win this award!
December 18th, 2019
The Tomko Lab was awarded a grant to study how mutations in an unusually large ubiquitin E3 ligase alters its function to cause vascular malformations and stroke.  Data from undergrad Tessa Lochetto helped to win this award!
August 27th, 2019
The second half of Lauren's thesis work was published in Scientific Reports.  Read it HERE!
July 11th, 2019
Congratulations to Dr. Lauren Howell, who successfully defended her thesis, entitled "Insights into Proteasome Quality Control: A Mechanistic Analysis of Proteasome Biogenesis and Clearance" today!  Lauren is the first Doctor minted from the Tomko lab.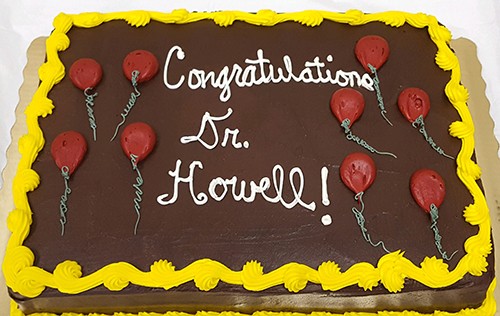 May 5th, 2019
Welcome to undergraduate Jeremy Czerenda, who will be performing research with us over the summer.  Jeremy is a rising sophomore IMS major. 
March 25, 2019
Graduate student Randi Reed published a paper in Methods in Enzymology describing the use of conformation-selective crosslinking to measure the activation state of the proteasome.  Read it HERE!
February 26, 2019
Antonia Nemec's recent paper in Cell Reports was featured on the FSU News Page!  Read the write-up HERE!
February 8, 2019
A collaborative work with Hong-Guo Yu's group examining turnover of inner nuclear membrane proteins was published in the Journal of Cell Biology.  Read the paper HERE!
January 8th, 2019
The Tomko Lab published a paper in Cell Reports describing how the dedicated proteasomal assembly chaperone, Nas6 (gankyrin oncogene in humans), is released from mature nascent proteasomes.  This work raises the exciting possibility that Nas6/gankyrin may scrutinize proteasome intermediates for functionality before licensing them for incorporation into nascent proteasomes, which could potentially be exploited to treat some cancers.  Read the paper HERE!
September 25th, 2018
Welcome to Tessa Lochetto, a UROP fellow who will be performing research in the lab during the coming year.  Tessa is a sophomore Biology major.  
August 30th, 2018
Randi Reed was this year's recipient of the Randolph L. Rill Award for Outstanding Junior Graduate Student.  Congrats Randi!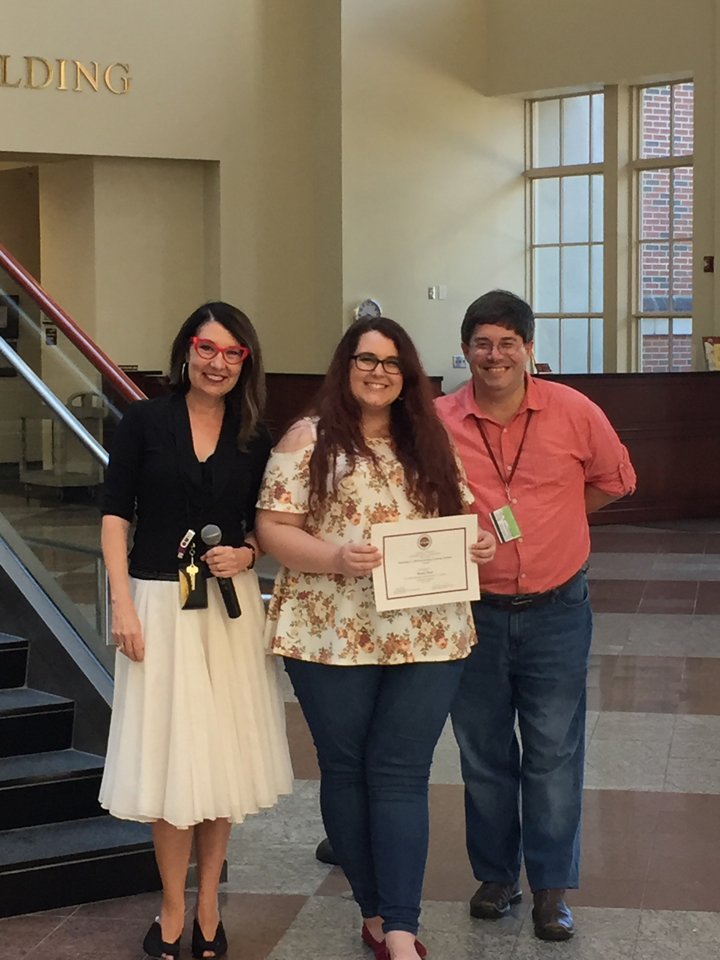 August 27th, 2018
The Tomko Lab's recent paper on the conformational dynamics of the proteasome was the subject of a commentary in Trends In Biochemical Sciences!  From the article:  "These insights potentially represent a milestone in our understanding of the structural dynamics of the 26S proteasome."  Read it HERE!
 July 31st, 2018
The Tomko Lab published a paper in collaboration with Eri Sakata's group at Max Planck and Till Rudack at Ruhr University on proteasome conformational dynamics in Cell Reports.  This paper provides the first insights into the individual contributions of the six AAA+ family ATPase subunits in controlling the conformational equilibrium of the proteasome.  We also reveal the mechanism of gating into the peptidase active sites, which has remained unresolved for over a decade.  Congrats to Randi Reed, who is co-first author on this work!   
July 16th, 2018
Robb received FSU College of Medicine's "Outstanding Junior Faculty Researcher" Award AND the "Outstanding Junior Faculty Educator Award."  Congratulations, Robb!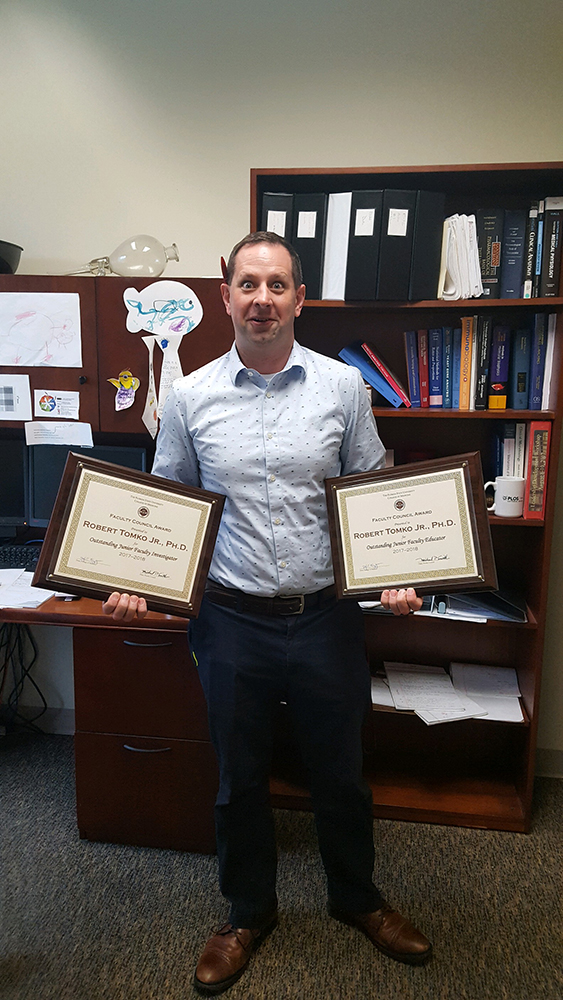 April 26th, 2018
Jenny Warnock has joined the Tomko lab as a graduate student.  Jenny received her Bachelor's degree in chemistry from Clemson University.  Welcome aboard Jenny! 
March 6th, 2018
Matt Murray has decided to pursue his Ph.D. at Yale University in their Graduate Program in Biological and Biomedical Sciences.  Congratulations to Matt!  
November 6th, 2017
The Tomko lab published a paper on autophagy of proteasomes in the Journal of Biological Chemistry.  This work reveals that nuclear, but not cytoplasmic, proteasomes are disassembled prior to autophagy, and that proteasomes are packaged into small cytoplasmic puncta prior to autophagy in a manner dependent on the conserved sorting nexin Snx4.  
June 1st, 2017
Our beloved technician Anna Peterson has set off from the Tomko Lab for graduate school at the University of Connecticut Health Center.  Thanks for all of your efforts Anna, you will be missed!

May 5th, 2017
Welcome to Randi Reed, who is joining us as a graduate student!  Randi received her Bachelor's degree from the University of Southern Mississippi.  Welcome Randi!  
February 1st, 2017
The Tomko lab recently published an invited review in Frontiers in Biology and a commentary in Cell Research.  Check out our Publications page to read them!  
March 1st, 2016
Welcome to Lauren Howell, who is joining us as a graduate student!  Lauren received her Bachelor's degree in Biology from the College of Charleston.  Welcome Lauren!
September 20th, 2015
Robb's first senior-author manuscript is forthcoming in the October 8th issue of Cell.  In this manuscript, we identify a single alpha helix that acts like a key in a lock to remodel the assembling proteasome lid subcomplex.  This remodeling exposes the binding site for the remainder of the proteasome.  Such assembly-coupled conformational switching is reminiscent of the maturation events observed during viral capsid assembly and may represent a conserved mechanistic theme regulating hierarchical assembly of macromolecular structures.  
September 20th, 2015
Welcome to Matthew Murray and Joseph Pelt,  who are joining us as UROP students!
July 6th, 2015
Welcome to Anna Peterson, who is joining us as a Laboratory Researcher!
May 1st, 2015
Welcome to Cami Young and Chris Howe, joining us for summer research!
March 10th, 2015
We are officially fully functional!  Our FPLC was installed today, which means we can now perform our full complement of techniques in the lab.  Robert is especially relieved, as he's been freezing down cell pellets in anticipation of this for weeks!  We should be able to start synergizing with the Protein Biology Lab in the CoM's BMS Department as well as with the Institute for Molecular Biophysics now!
February 15th, 2015
Robert was awarded the Florida State University First-Year Assistant Professor Award, which provides salary support for Robert to develop novel but preliminary lines of investigation in his lab.  
January 5th, 2015
Antonia A. Nemec will be working with us.  She is a talented scientist whose background is in human cancer genetics, and she brings a potent and novel skillset to the lab.  
January 5th, 2015
The Tomko lab officially opens at FSU in Room 2310.