Basic research in the Kumar laboratory is focused on synaptic physiology underlying neocortical function and plasticity. We are particularly interested in understanding the workings and role of glutamatergic AMPA and N-methyl-D-aspartate receptors in these processes.
Translational research efforts of the lab are focused on deciphering basic pathophysiological mechanisms underlying Temporal Lobe Epilepsy, the most common type of epilepsy in adults. Here, we seek to identify/isolate ictogenic cells and circuits within the parahippocampal region for the purposes of developing therapeutic/interventional strategies to combat TLE.
We use a variety of tools and techniques with electrophysiology being the mainstay of our research. We are innovators- click here to see our latest inventions.
---
The latest from the Kumar Lab:
August 26, 2021
We acknowledge with gratitude, the interest in our research and the generous gift made by the Pediatric Epilepsy Research Foundation (PERF) in support of our laboratory's research efforts  [ Link ]

August 19, 2021
Thomas Sullenberger becomes the first recipient of the Kumar Laboratory Outstanding Graduate Student Award. The award is given out by Dr. Kumar in recognition of the quality and caliber of a student's scientific work, effort and relevance. Not restricted to just lab personnel, it carries a cash prize and a certificate. Congratulations Thomas!  [ Link ]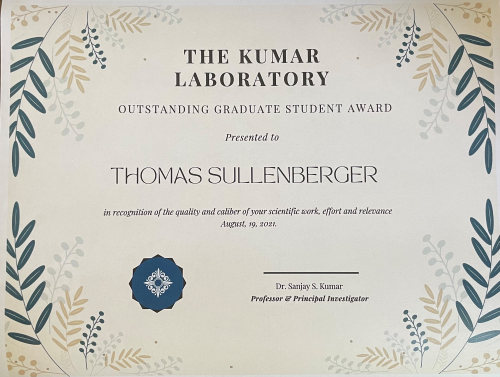 January 4, 2021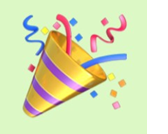 Hearty congratulations to Dr. Stephen Beesly for being named the inaugural Toffler Scholar at the College of  Medicine at Florida State University. Project title: Determination of Astrocytic Conversion-from Naive to Reactive-during Epileptogenesis. [ Link ]
November 25, 2020
A third paper from the Kumar Lab this year is accepted & published in Neuroscience, completing a trifecta!
"D-serine intervention in the medial entorhinal area alters TLE-related pathology in CA1 hippocampus via the Temporoammonic Pathway"  [ Link ]
Congratulations to Stephen, Thomas, Roshan, Cameron, and Matt!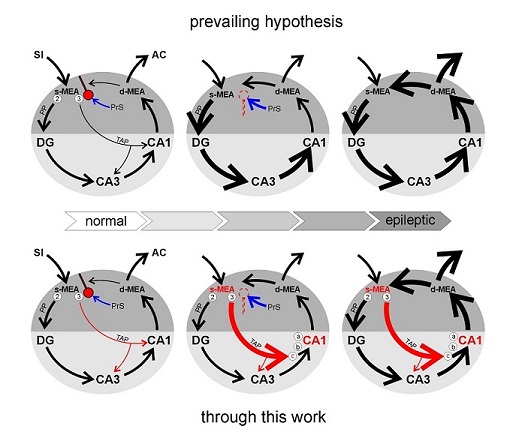 October 13, 2020
Press release announcing the publication of the D-serine story from the Kumar Lab in Nature Communications- FSU headline news.
Link to the College of Medicine EMR Newsletter.
October 2, 2020
The Kumar Lab publishes its first paper in Nature Communications.
D-serine mitigates cell loss associated with temporal lobe epilepsy    [ Link ]
Congratulations to Stephen, Thomas, Kathryn, Roshan, Cameron, Kimberly, Emmanuel and Dr. Roper!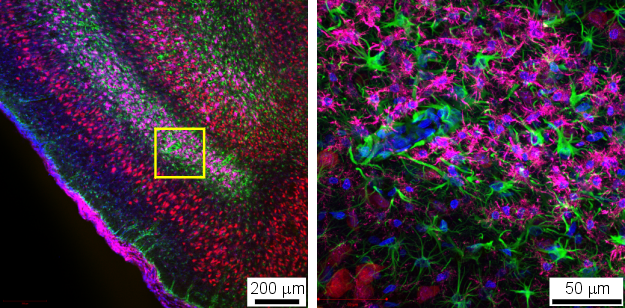 July 17, 2020
A paper from the Kumar Lab is accepted and published in IBRO Reports.
The GluN3 subunit regulates ion selectivity within native N-methyl-d-aspartate receptors    [ Link ]
Congratulations to Stephen, Thomas & Dr. Kumar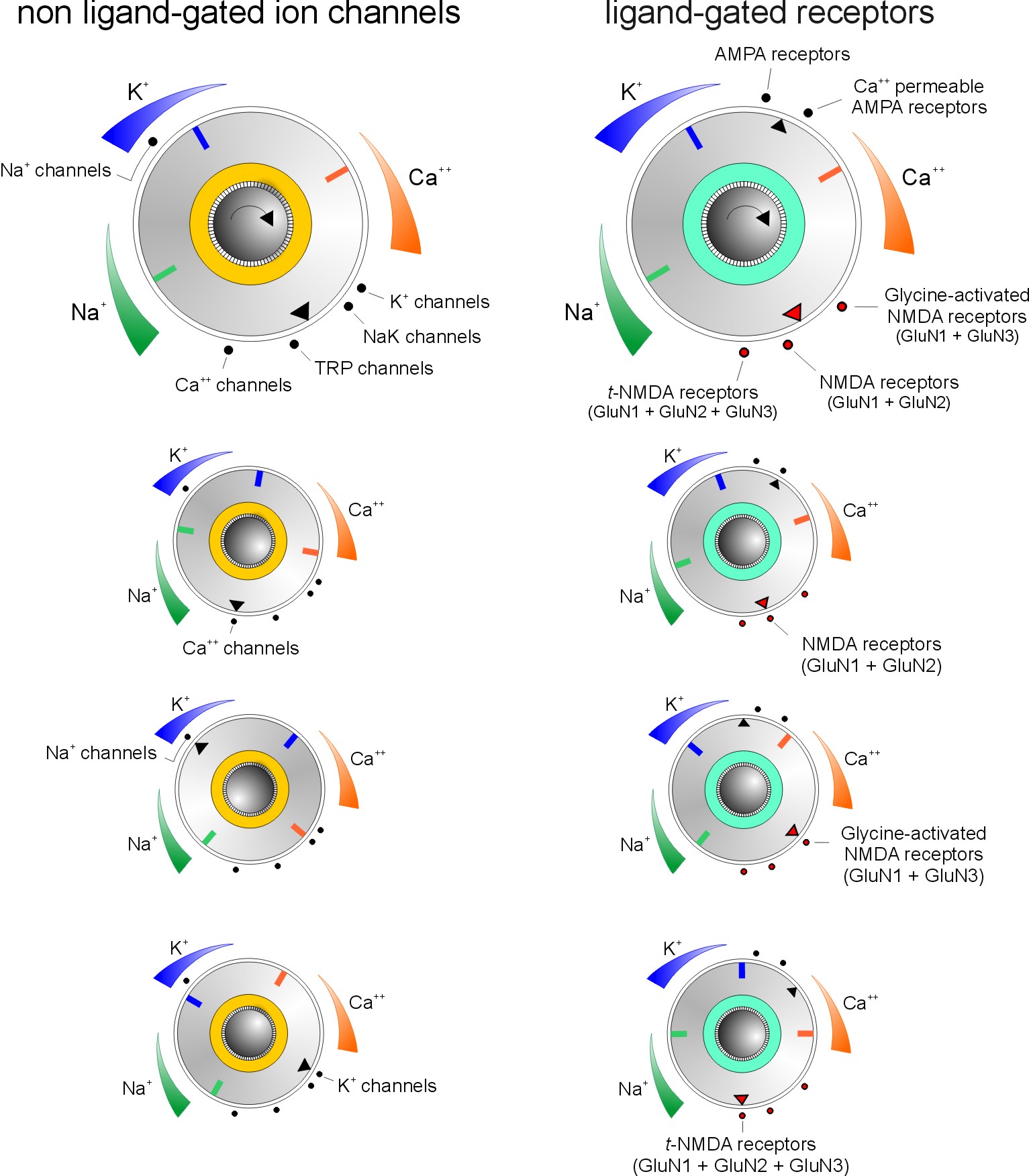 ---
Ion selectivity in non-ligand gated ion channels
Note the changes in selectivity for ions (Na+, K+ and Ca2+) in the channels indicated by the arrow on the rotary dial.
---
Ion selectivity in AMPA & NMDA receptors
Note the changes in selectivity for ions (Na+, K+ and Ca2+) in AMPA (black arrow) and NMDA receptors (red arrow) as a function of their subunit composition.
The Kumar Lab Photo Gallery