Autism Navigator®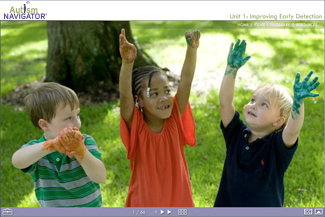 Autism Navigator® is a unique collection of web-based tools and courses developed to bridge the gap between science and community practice. We have integrated the most current research into a highly interactive web platform with extensive video footage to illustrate effective evidence-based practice. The video clips come from the unparalleled library of video footage from federally funded research projects at the Autism Institute at Florida State University.
Early diagnosis and intervention has lifetime consequences for children with ASD and their families. By interfacing professional courses for primary care physicians and early intervention providers with information and support for families and communities using technology-supported learning, Autism Navigator can create an integrated, effective, cost-efficient, community-viable system of service delivery for children with ASD and their families.
Autism Navigator was created by faculty and staff in the Autism Institute at the Florida State University College of Medicine. The FIRST WORDS® Project and the Early Social Interaction Project (ESI) contributed to the content of Autism Navigator®. Learn more at AutismNavigator.com.