William C. Boyer, associate dean for graduate medical education at the Florida State University College of Medicine, has been selected for membership in the Academy of Master Surgeon Educators of the American College of Surgeons (ACS) in the affiliate category. He will be inducted Sept. 30, in Chicago.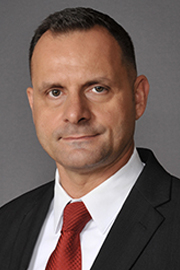 Boyer, who also serves as an associate professor in the Department of Clinical Sciences, has extensive experience as both a senior healthcare executive and in medical education leadership on both the graduate and undergraduate levels. He joined the College of Medicine faculty in May from the Drexel University College of Medicine, where he was an assistant professor of surgery.
"I am very pleased the American College of Surgeons recognized Dr. Boyer's accomplishments and service, which are reflected in the unique skill set he brings to our students," College of Medicine Dean John P. Fogarty said. "He has a previous history of significant leadership of surgery training programs, both as an assistant clerkship director and assistant program director. It is very exciting to see him accepted into this exclusive group."
The ACS launched the Academy of Master Surgeon Educators in 2017 and inducted its first cohort in 2018. Its mission is to identify and engage thought leaders from the field of surgical education and to translate innovation into action. The affiliate category, for non-physicians, was added in 2019. Boyer has been a member of ACS as an affiliate since 2010.
"Being inducted into the Academy is a true honor and humbling experience," he said. "I have been fortunate to have a number of amazing surgeon mentors over the last decade support my surgical education endeavors and who have assisted me in reaching this milestone."
Wade Douglas, M.D., who directs the college's General Surgery Residency Program at Tallahassee Memorial HealthCare, is the only other faculty member in the Academy.
Boyer earned his bachelor's degree in psychology and behavioral medicine from Wilkes University, a master's degree in exercise science and performance enhancement from California University of Pennsylvania, and a doctorate in Health Sciences from Nova Southeastern University.