Johnson Lab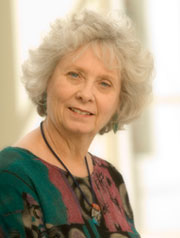 Dr. Suzanne B. Johnson, Professor and former Chair of the Department of Medical Humanities and Social Sciences at the FSU College of Medicine. Dr. Johnson has published more
than 100 journal articles, chapters and books in the areas of pediatric and health psychology. She is considered an expert in the areas of medical regimen adherence, behavioral aspects of childhood diabetes, and the psychological impact of genetic screening on children and families.
The Johnson Lab is home to several research projects. The HANDling Diabetes Project is a clinic-based adherence program for children with type I diabetes, funded by the National Institutes of Health. The project is designed to help families learn more about the child's diabetes care, and better incorporate diabetes into the family's life. The project provides opportunities for both undergraduate and graduate students in the form of DIS (Directed Independent Study) and summer internships for medical students.
Other research projects include the TEDDY Study and the School Obesity Project. Working closely with the Leon County School Board and the Tallahassee community, the School Obesity Project works to address the recent childhood obesity epidemic. Its goal is to help schools better educate children about health, nutrition and fitness to stop the "growing" population of overweight children in America.