Developing Educational Modules for Physician/Attorney Collaboration on Behalf of Older Individuals
Sponsorship Type: Privately Funded by the Retirement Research Foundation; $38,817
Research Type: Education
Impact: National
Working together for an older patient/client is often a strain for physicians and attorneys. To help identify and address the behavioral impediments to these interprofessional relationships, Professor Marshall Kappand Dr. Gregory Turner received a grant from the Retirement Research Foundation to produce continuing education modules in Florida that are usable nationwide. The private Retirement Research Foundation focuses on improving quality of life for elders nationwide. Its Responsive Grants program supports projects in advocacy, direct service, professional education and training, and research.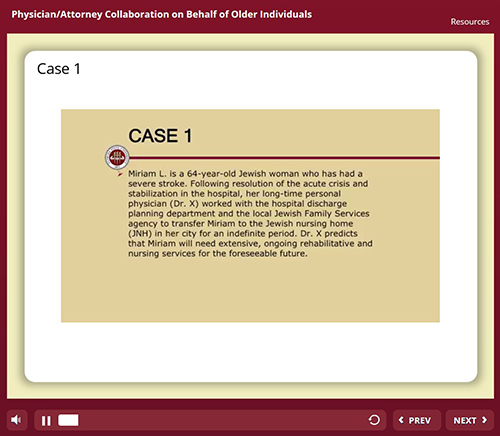 The goal of the grant was to help educate current doctors and lawyers in how to better establish interprofessional collaboration and communication for successful older patient/client health-care outcomes — such as when someone's decision-making capacity is questioned or a Medicare claim is denied. In creating continuing education modules for attorneys and physicians, the modules lay the groundwork for better individual relationships.
Doctors and lawyers were educated separately using two modules developed by Kapp, Assistant Professor Shenifa Taite and an advisory board. Associate Dean Greg Turner then conducted follow-up research based on attendees' survey responses. They provided a first step for physicians and attorneys caring for older patients or clients collaboratively.
The continuing education courses occur at the Florida Bar and the Florida Geriatrics Society. Modules, as depicted above, were also created as part of the grant that are designed to educate lawyers, physicians, and other healthcare professionals on interprofessional collaboration. These modules can be found at http://mediaproduction.med.fsu.edu/mdjd/playmodule/story_html5.html. To learn more about the continuing education courses as information becomes available, please visit the Center for Innovative Collaboration in Medicine and Law or www.facebook.com/fsumedlaw.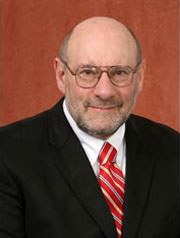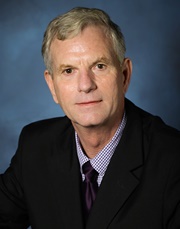 Professor Marshall Kapp                  Dr. Gregory Turner