Cell Culture Facility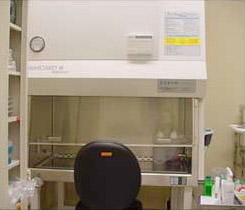 The Facility is designed to accommodate the culture of mammalian cell lines and other animal cell lines, such as insect cells.
Work involving the culture of bacterial cells, spore-forming yeast, Neurospora or fungi or single-celled microorganisms may not be performed due to the potential of these cultures contaminating other cell lines.
All work involving human cell lines must first be approved by the University Biosafety Committee. All work involving recombinant DNA must first be approved by the University Recombinant DNA Committee. All work is reviewed for appropriateness of the work for the Facility. The Principal Investigator submits a request to perform work/proposal of the work to the Director. If special approvals are needed as described above, these approvals must be submitted at the time of the request to perform work.