Education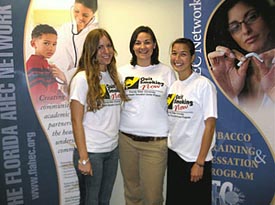 The Center is committed to the development of educational tools and programs designed to help address the health care needs of rural Florida. Since its inception, the Center has:
Sponsored a statewide Rural Health Policy Summit (2004), to educate policy makers, providers, and consumers on the special challenges and opportunities facing rural Florida.
Conducted an assessment of information technology in rural hospitals (2003) that formed the basis for the implementation of a demonstration project that used mobile IT in a rural hospital.
Conducted an assessment of bioterrorism training needs of Community Health Centers (2004) in Florida, many of which are in rural communities, that led to the development and delivery of training programs for administrative, clinical, and non-clinical staff.
Conducted a series of five Town Hall meetings (2009) across the state to solicit input from rural providers and consumers into the Rural Health Plan Update for the Florida Office of Rural Health. Read the full report [pdf].
Partnered with the FSU AHEC Program on health literacy projects to both raise the awareness of FSU students (medical students, public health) about health literacy and target vulnerable populations with important health information.
Partnered with North Florida Community College, Madison County Memorial Hospital, Doctors' Memorial Hospital to create the North Florida Rural Health Workforce Development Network in 2010 (11?) to address current and future workforce needs in 6 rural Panhandle counties.
Created the Rural Education Orientation Program (2010) to expose incoming medical students to rural life and rural communities around the Panhandle.