Florida State University College of Medicine Associate Professor Gregg Stanwood is being honored with a Rising Star Award from the Academy of Science, Engineering and Medicine of Florida (ASEMFL) at the organization's annual meeting Nov. 3-4 in Orlando.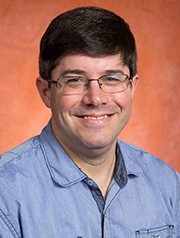 Stanwood, a behavioral neuroscientist and developmental neuropharmacologist, explores the effects of gene and environmental interactions on brain development. In a recent study, his lab showed that the receptors targeted by drugs that treat metabolism, diabetes and obesity — Ozempic is one popular example — are also involved in the addictive effects of cocaine and other drugs of abuse. An upcoming project funded by the U.S. Environmental Protection Agency will examine the interactions of harmful chemicals and psychosocial stressors such as adverse childhood experiences on children in the southwestern Florida community of Immokalee.
"I'm really excited to be part of a team that's gathering new sources of data to assemble to make new models for cumulative risk exposures," Stanwood said. "I think this is very impactful and can change lives positively, not just for members of the Immokalee community, but can also be adapted for other communities across the state and across the nation. Our team is uniquely positioned to evaluate both chemical and nonchemical stressors jointly – for the first time."
Stanwood and Mariana Fuentes, an associate professor in FSU's Department of Earth, Ocean and Atmospheric Science in the College of Arts and Sciences (CAS), are among 11 faculty members from Florida universities who will be honored as rising stars. Other honorees come from the University of Florida, University of Miami, University of Central Florida, and Florida International University.
The academy also nominated two additional FSU faculty members, one from CAS's Department of Psychology and one from the FAMU-FSU College of Engineering, for membership in this year's class.
To be selected for ASEMFL membership, individuals must live or work in Florida and be a member of the National Academies of Science, Engineering and Medicine, or be nominated by an ASEMFL member and have an outstanding record of accomplishments, national and international recognition.
Established in 2018, ASEMFL works to inform Floridians of current and future science, engineering and medicine issues and address associated challenges. The organization provides unbiased expertise for issues that concern the state and helps facilitate scientific interactions.  
Visit asemfl.org for more information about the organization and this year's meeting.