Sometimes there's just too much good stuff to fit into one graduation story. Below are anecdotes from two days of joy, pride and unseasonably warm weather.
Natalia Correa, M.D. 2023
Dr. Natalia Correa's parents were born in Colombia and came to the U.S. about 30 years ago, but she is Miami born and bred. She had a large contingent supporting her both at Friday's Awards Ceremonies & Reception and Saturday's graduation, including her grandmother and her godparents, who had flown from Bogota to be here.
"On my mom's side of the family, I'm the only girl and the only doctor," said Correa, who is headed to the University of Miami Miller School of Medicine at Holy Cross Hospital in Fort Lauderdale for residency in general surgery.
Her family created a giant congratulatory banner to mark the occasion.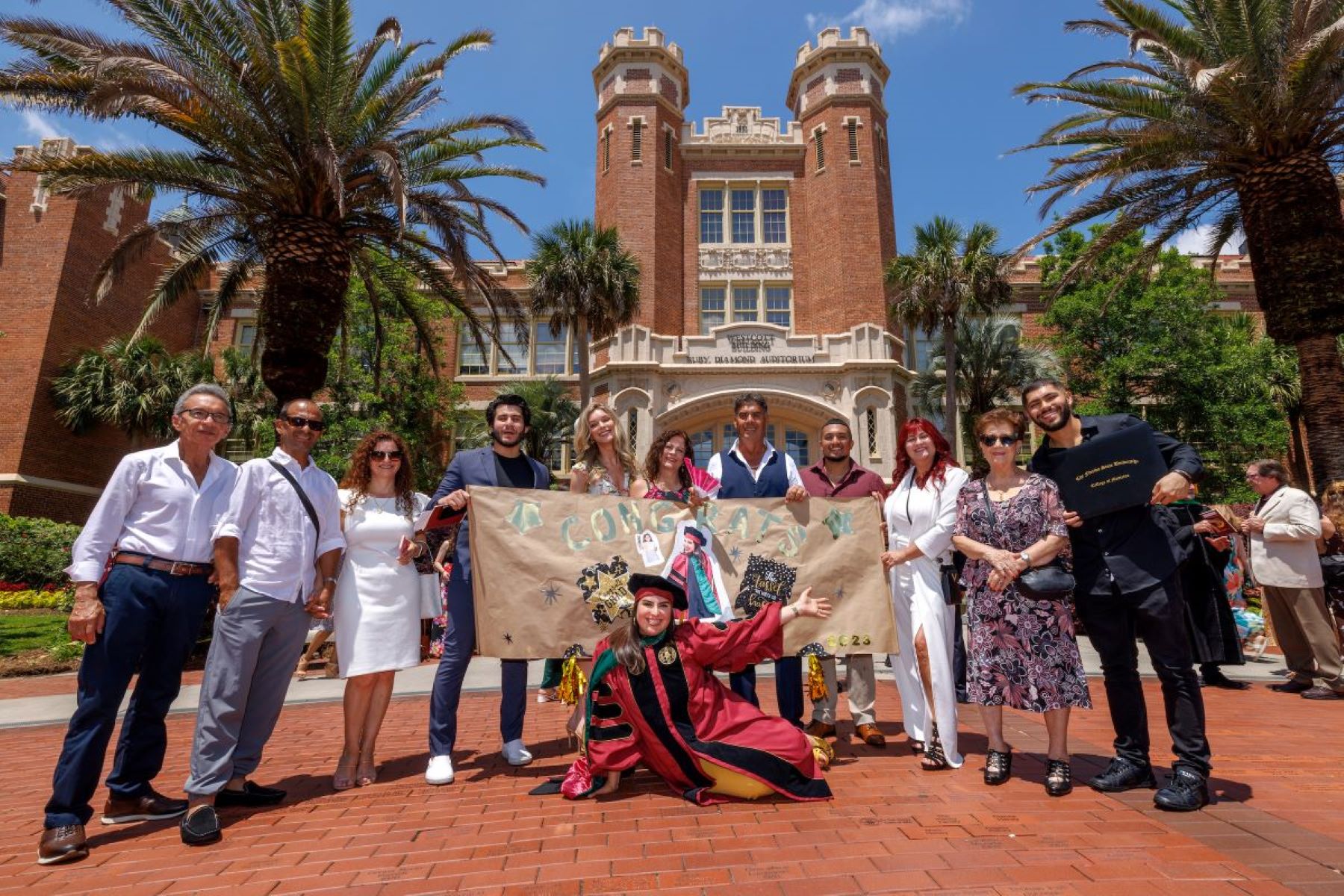 Alma Littles, M.D., interim dean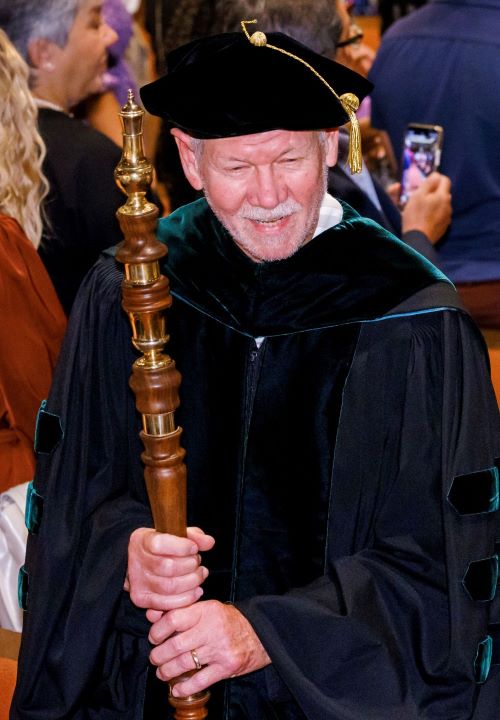 This year's graduation marked two significant changes in Dr. Alma Littles' role in the ceremony.
"In every M.D. commencement ceremony at Florida State before this one – all 18 of them – I have carried the mace at the head of the processional and recessional," Littles said. "The graduation mace dates to at least the 15th century when universities in the United Kingdom, including St. Andrews, Oxford and Cambridge, began using it as a symbol of authority in bestowing degrees upon worthy candidates."
This year, that honor fell to Paul McLeod, M.D., senior associate dean of regional campuses and dean of the Pensacola Regional Campus. Littles had a bigger role to play.
"I am honored to have accepted a new challenge: leading this medical school following Dr. (John) Fogarty's well-deserved retirement. Yet from where I stand now, I don't need a mace to tell you that you arrive here today as worthy candidates," she said. "It is my great honor and privilege to preside over this ceremony and to know that less than an hour from now, we will be calling you 'Doctor' -- all 125 of you, the largest class of new doctors this medical school has ever produced."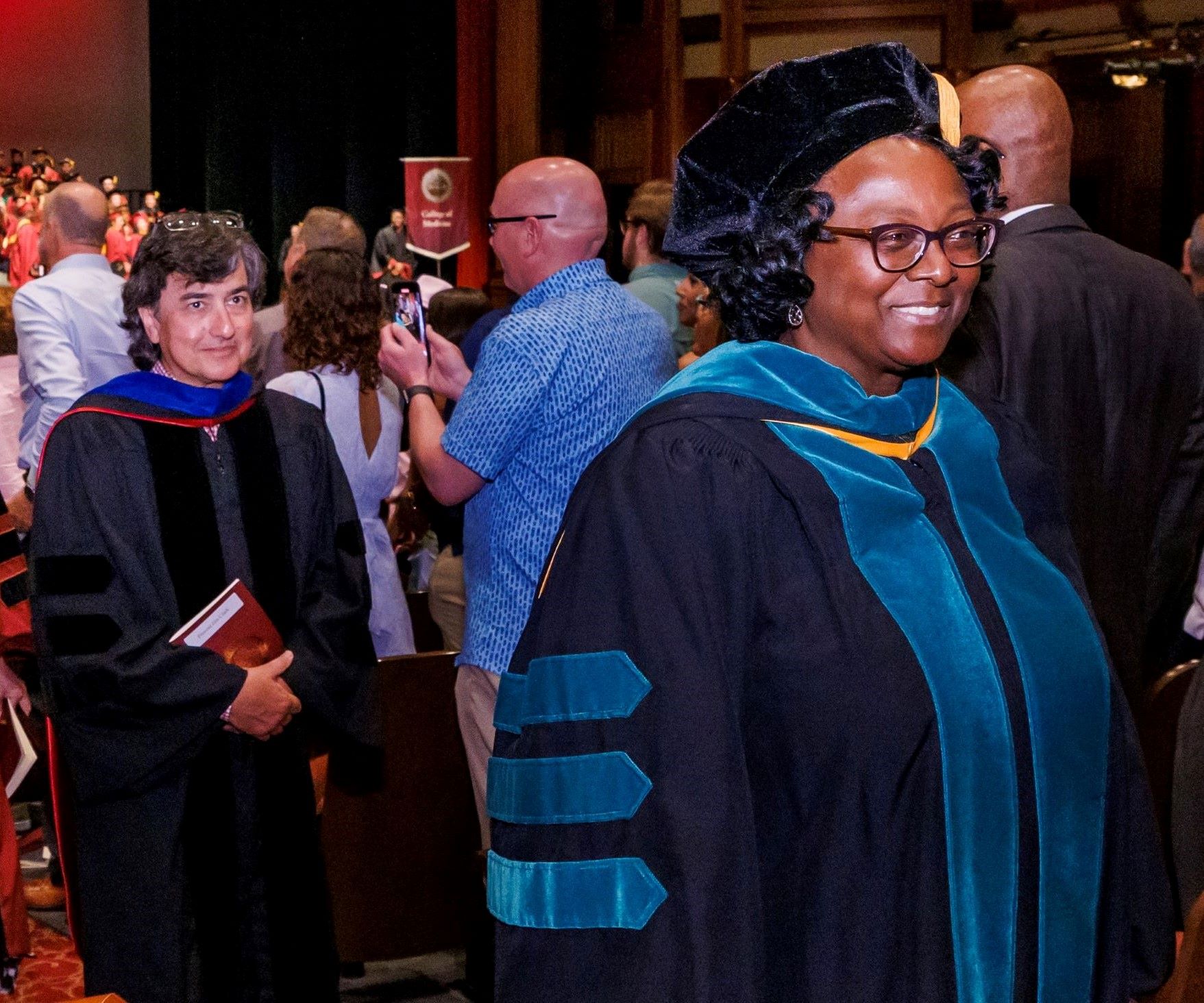 Tim Gemesi, M.D. 2023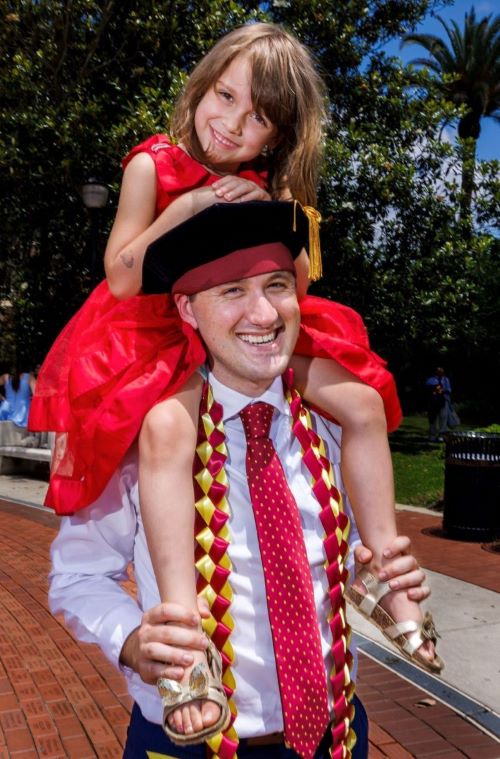 Dr. Tim Gemesi begins his residency in obstetrics and gynecology soon at Stanford Health Care in Stanford, California. At Friday's Class of 2023 Presentation of Awards ceremony, he was named recipient of the J. Ocie Harris Outstanding Student Award which recognizes the student who has shown the best all-around promise of becoming a physician of the highest caliber.
He also was co-recipient, along with Katherine Oliver, of the American College of Obstetrics and Gynecology's outstanding medical student in OB/GYN in this year's FSU class. Gemesi was also recognized as the Sarasota Regional Campus Dean's Award winner, in addition to his membership in both medical honor societies, Delta Chapter of Alpha Omega Alpha and the FSU Chapman Chapter of the Gold Humanism Honor Society.
Initially, this first generation Hungarian-American seemed destined for a very different career. Gemesi spent much of his childhood playing piano and training as a classical singer. He graduated in 2016 from Oberlin College and Conservatory's rigorous dual-degree program with a bachelor of arts in anthropology and a bachelor of music in vocal performance.
"Through my studies – along with an interest in anatomy I developed from yoga classes – I felt that medicine was the perfect way to combine the humanism of music, the cultural curiosity of anthropology and the organization of the scientific method," he said.
After completing his premedical classes at the University of South Florida's Sarasota-Manatee campus, the Sarasota native began medical school at FSU in 2019.
"I feel incredibly fortunate to have had the opportunity to study medicine here," Gemesi said. "I hope to represent the Florida State University College of Medicine well as I build on that foundation at Stanford."
 
Shellon Baugh, M.D. 2023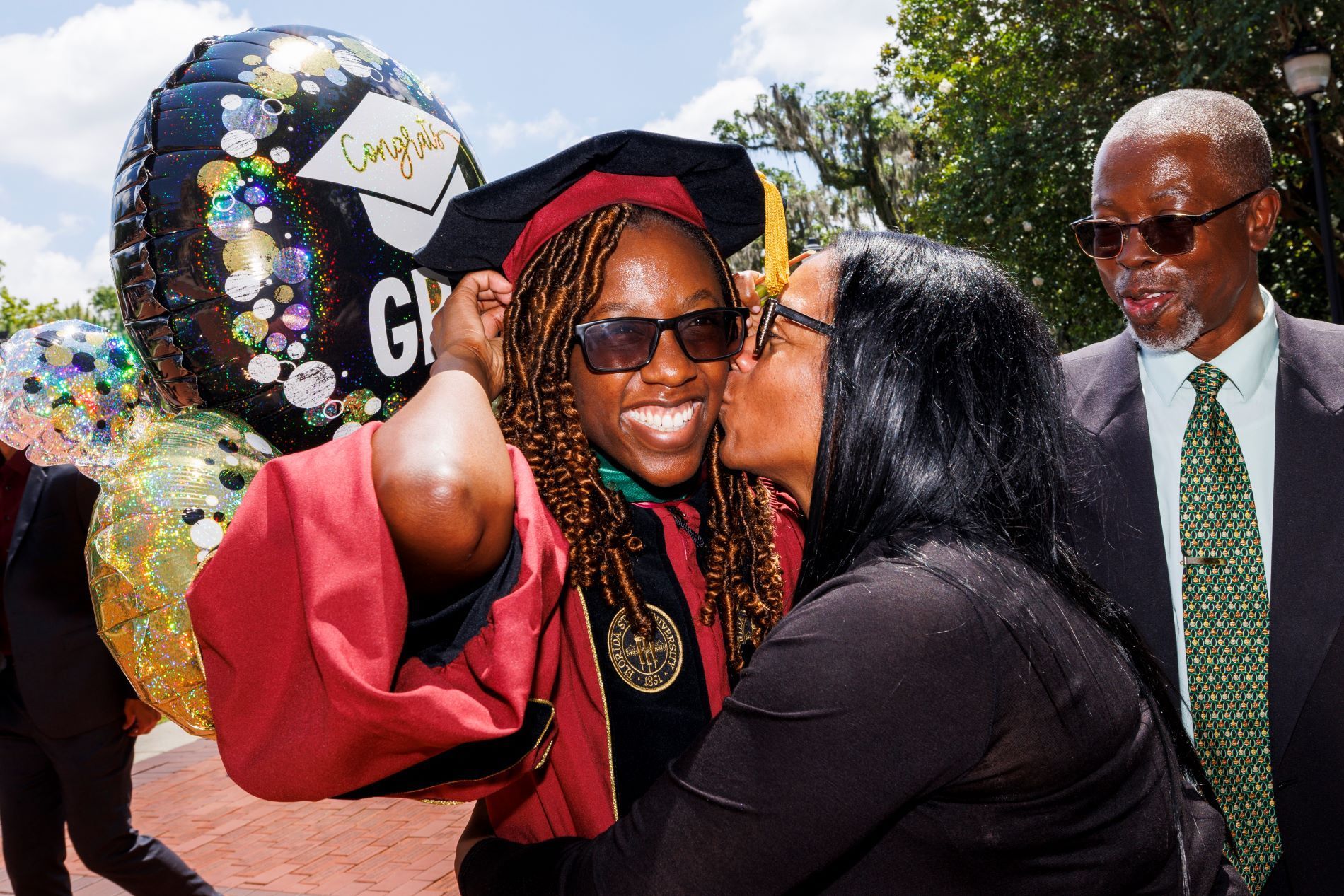 Sharon Baugh is one proud Mama. Helan Baugh is one proud Papa.
Their daughter, Dr. Shellon Baugh, is starting a residency in family medicine at AdventHealth Florida in Orlando. The family moved to Florida in 2006 from Jamaica.
"She is determined. She is humble. She is elegant, trustworthy, a hard worker," Sharon Baugh said. "I am over the moon. It's a dream come true."
Dr. Baugh plans to practice in the United States and hopes to participate in mission trips abroad during her career.

Ishani Patel, M.D., and Daniel Alban, M.D., 2023
Ishani Patel and fiancé Dan Alban saw themselves in the crowd Saturday. Literally. Members of their families had created masks of the graduates' faces to wear.
 "Our families wanted to come up with a unique and fun way to show their love and support," Alban said. "Plus, it made it easier to spot them in a crowd, which was very convenient, ha ha."
He believes his mother and sisters came up with the idea.
"They are crafty and like to try new projects to shake things up. Ultimately, it was a cute and simple way of expressing how much they love us and how proud they are of us," he said. "Ishani and I are definitely blessed to have such amazing family."
They are headed to New York City for their residencies, she in pediatrics at New York Presbyterian Hospital -- Columbia University Medical Center and he in internal medicine at the Icahn School of Medicine at Mount Sinai Hospital.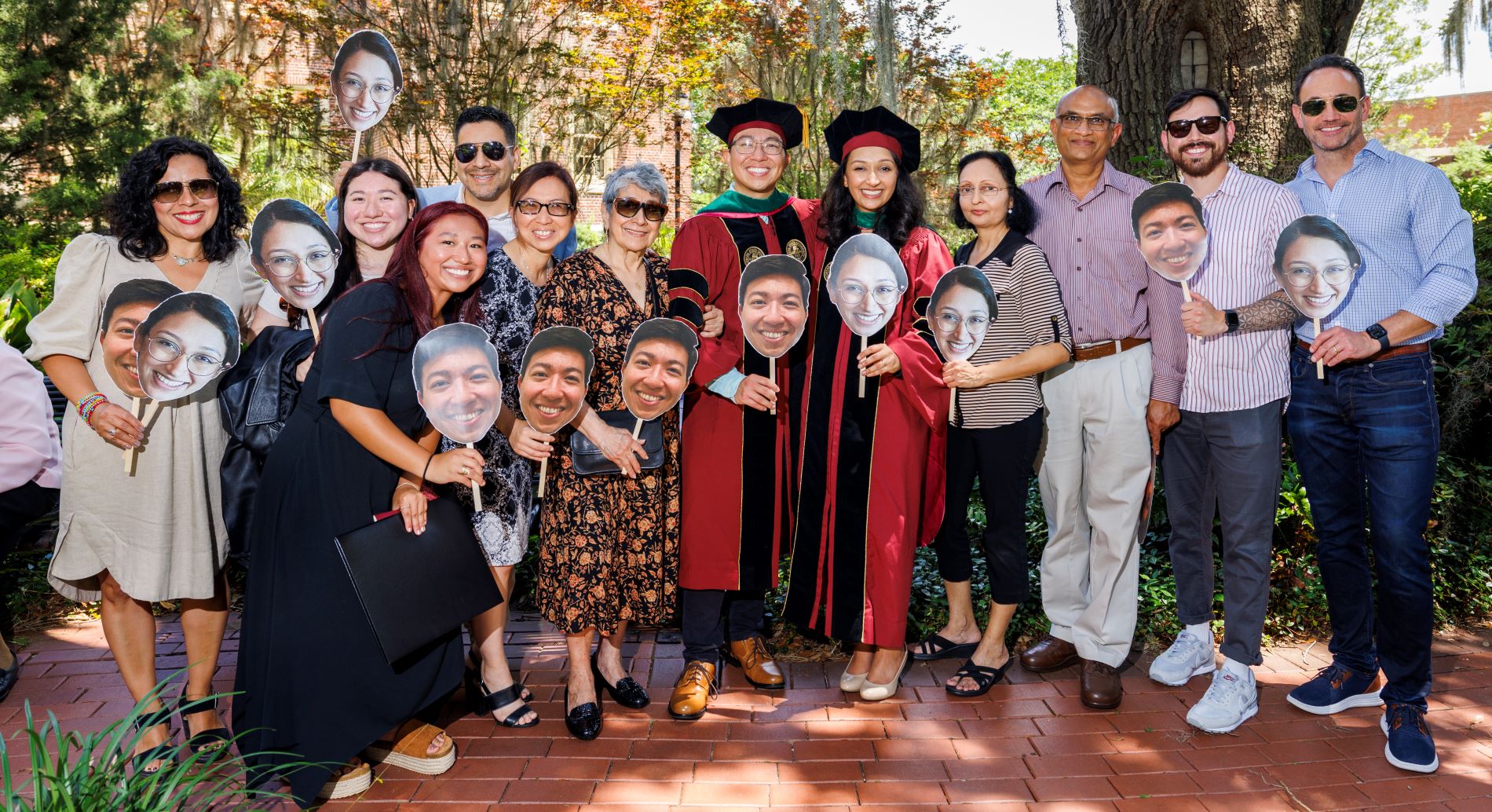 Moved by military recognition
Mary Ann Hall, whose niece Lauren Smiarowski graduated Saturday and begins her residency in pediatrics at Orlando Health, was grateful to see the military promotion ceremony incorporated into Commencement Exercises.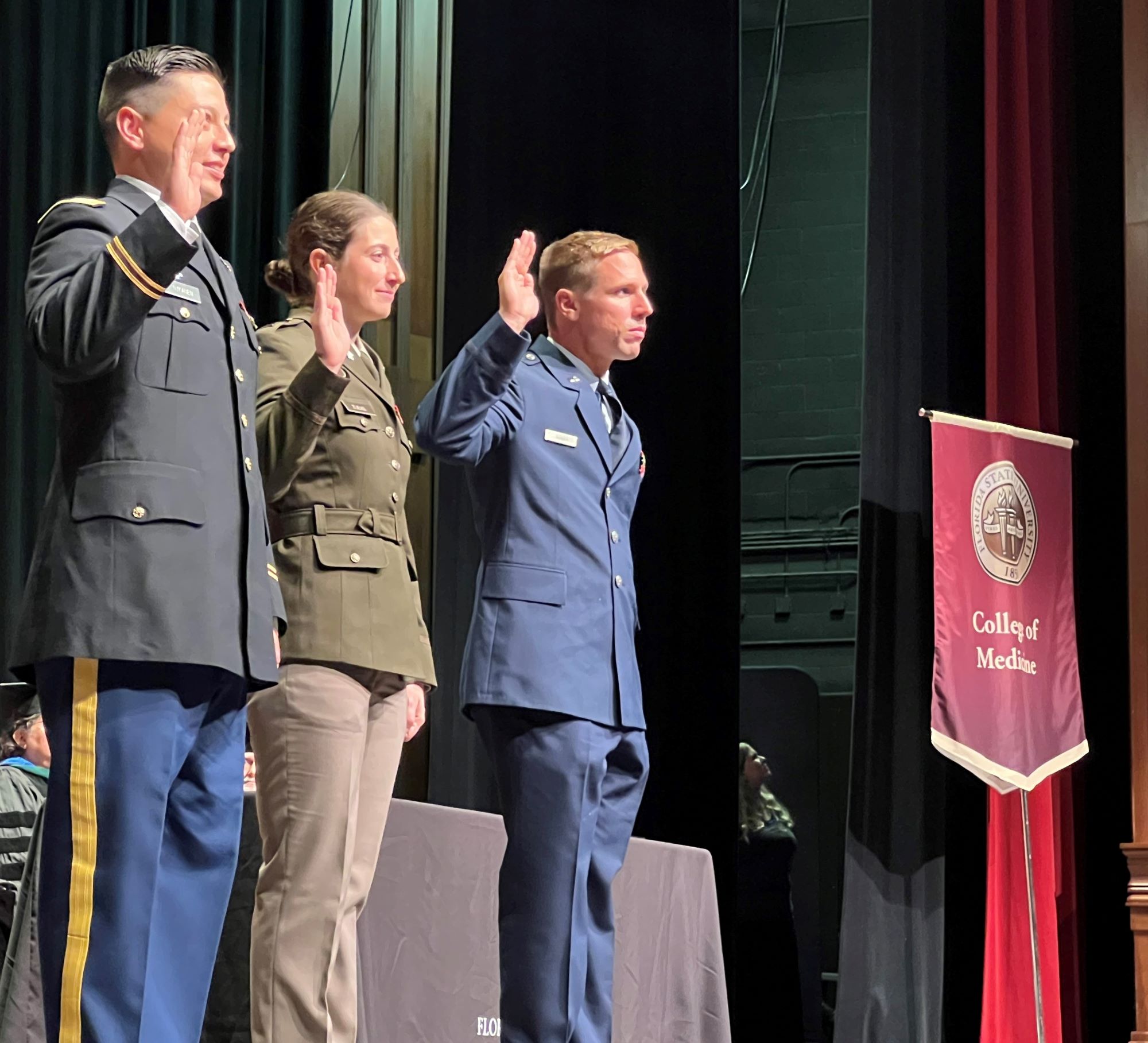 "I was very glad to see the military represented," said the former U.S. Army nurse who lives in Gainesville. "I have never seen that done before and I really appreciate it."
She was happy to see Dr. Jordin Giles Zuelke among the three officers promoted to captain – with Dr. Brian Nykanen and Zuelke in the Army and Dr. Eric Minnix in the Air Force.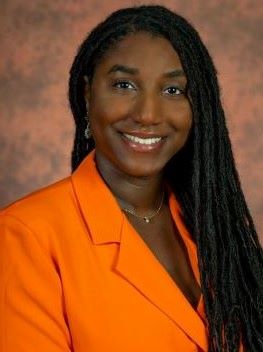 "It meant a lot to me, especially since there weren't a lot of women in the military when I was in it."
She was also pleased a woman was among the four U.S. Navy veterans standing on stage for the playing of "Anchors Aweigh" during the Armed Forces Medley.
Dr. Barrie Bedasee was touched to learn that her Navy service meant something to Hall. "Thanks for telling me."
Bedasee was in the Navy from 2015 to 2018, stationed at Camp Pendleton, California. She starts her residency in obstetrics and gynecology at University of Miami/Jackson Health System.
Armed Forces Day falls on the third Saturday in May, just as the FSU College of Medicine graduation does. Dean-emeritus John P. Fogarty, a physician and retired U.S. Army colonel, established the promotion ceremony as part of the graduation program early in his tenure as dean. Earlier that morning, Fogarty led a pinning ceremony held for the military graduates.

Wainwright encore
Little James Wainwright almost stole the show at his parents' graduation, decked out in commencement regalia that matched his parents' attire. And there's an interesting story about this little guy's birthday that his father, Dr. Jared Wainwright, shared, giving us an excuse to post another photo of the cutie.
James was born Nov. 18, 2022. He shares that birthday with Jared's brother, Jacob Wainwright, and Jared and Jacob's father, Jeffrey Wainwright. All three birthday boys are the first-born son of their respective families. They're going to need a really big cake come November!