Dr. Ray Bellamy, an ardent and steadfast supporter of the Florida State University College of Medicine's mission to provide patient-centered care in a community, passed away Aug. 22 after a brief illness. He was 83.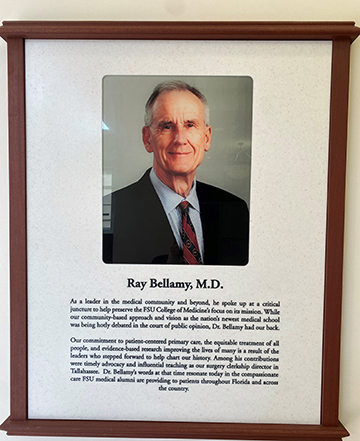 "Dr. Ray Bellamy was the embodiment of patient-centered care, and his advocacy for our mission when others wanted us to go in a different direction was instrumental in helping us become what we are today – an innovative medical school that puts patients and community needs at the forefront," Interim Dean Alma Littles said.  "He was simply a great guy."
Bellamy was the original clerkship director for the surgical rotation at the Tallahassee Regional Campus, and he served as a mentor to the college's first generation of medical students.
"His advocacy and passion for quality medical education were the perfect thing for our emerging and innovative school," Dean-emeritus John P. Fogarty, M.D. said. "He will be sorely missed."