Clinical Activities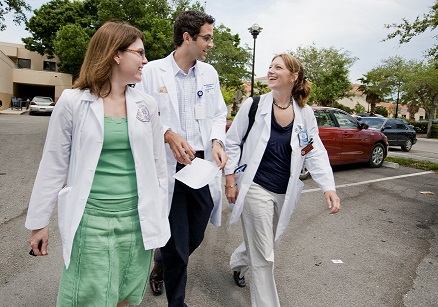 The Department of Family Medicine and Rural Health faculty are committed to the mission of the Florida State University College of Medicine. Faculty provide clinical care at select Tallahassee-area clinic locations as well as in rural areas of Marianna and Gadsden counties as outlined below.
Tallahassee Memorial Transition Center
A partnership between Capital Health Plan and Tallahassee Memorial Healthcare, the Transition Center targets patients being discharged from Tallahassee Memorial Hospital who do not have a primary physician, do not have insurance, or cannot see their own doctor in a reasonable period of time after discharge from the hospital.  A care plan is developed with the patient after a thorough evaluation with attention to medication management, physical function, cognitive function and social functioning.  Care is then transferred to a primary care doctor in the Tallahassee community in about eight weeks.  The goal is to make the patient a partner in their own care and to reduce the need to go back to the hospital.
Department of Family Medicine and Rural Health Associate Professor Stephen Quintero, MD, is the Transition Center's Medical Director and oversees all care at the center. The Transition Center is located at 3333 Capital Oaks Drive.
Click here for hours of operation, directions and contact information.
Gadsden School-Based Health Center
The College of Medicine has been working with the Gadsden County school-based clinics since 2006. The partnership includes the Florida Department of Health for Gadsden County and the Gadsden County School Board. The program is funded by the FSU Dance Marathon and supports one full-time nurse practitioner and one part-time nurse practitioner. In addition, FSU College of Medicine faculty, medical students and FSU doctoral psychology students provide care and counseling services at George W. Munroe Elementary School, James A. Shanks Middle School and Stewart Street Elementary School. This outreach program aligns with the mission of the College of Medicine by providing care for underserved populations. The Florida State University students are afforded the opportunity to obtain valuable experience while working with multidisciplinary teams in a rural setting.
Department of Family Medicine and Rural Health Assistant Professor Susan LaJoie, DrPH, APRN-c has worked in Gadsden since 2007 providing primary care services to students at George Munroe Elementary School and Shanks Middle School as well as in other schools by request.
FSU PrimaryHealth
Opened in May, 2019, FSU PrimaryHealth is tailored to the needs of the four neighborhoods around it: Seminole Manor, The Meadows, Mabry Manor and the Providence Community.  However, all residents in the Tallahassee area and beyond are welcome.  The center provides the perfect setting for students to be immersed in the team approach -- not just M.D. and Physician Assistant students from FSU, but also social work students from Florida A & M University. FSU PrimaryHealth  has three licensed medical providers on hand daily -- all FSU College of Medicine faculty members as well as faculty who specialize in behavioral health.  The center takes all major insurance, including Medicare and Medicaid.  For additional information and hours of operation, please click here.