Maguire Medical Library
The Charlotte Edwards Maguire Medical Library
The Maguire Medical Library was responsible for the curation of the Charles R. Mathews Papers on Medicare Implementation exhibit held in December 2010 - January 2011, including creating a physical reproduction of the binder as well as this digital exhibit.
The digital exhibit features a short history on the implementation of Medicare, an interview with Dr. Charles R. Mathews, and links to the digitized version of the Mathews Papers.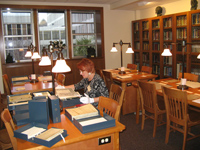 FSU Libraries Special Collections Reading Room
The Florida State University Libraries
A special thanks to the Florida State University Libraries for assisting in the curation of the exhibit, by digitizing and cataloging the Mathews Papers to make them available via their online catalog. The physical Papers are being preserved by the FSU Libraries Special Collections and Archives Division, and will be housed in the FSU Claude Pepper Library. The University Libraries also contributed to this exhibit by lending materials from the Claude Pepper Library and an exhibition case for displaying the Mathews Papers, as well as by creating the exhibit poster.