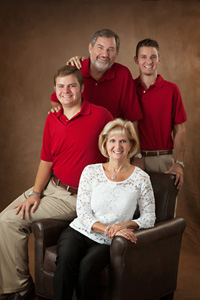 The Brian Jackson Dystonia Research and Discovery Program
The Brian Jackson Dystonia Research and Discovery Program at the Center for Brain Repair was established in April 2013. It is supported by a generous sustaining gift from Erwin and Stefanie Jackson of Tallahassee. The program is named in honor of their son, Brian. who was diagnosed with generalized dystonia at the age of 15. Surgical treatment with deep brain stimulation has brought much relief to Brian's symptoms, and fortunately he continues to remain virtually symptom-free. However, many other children and adults with dystonia are less fortunate and continue to suffer constant, intense pain and disability. There is no cure for dystonia, and the deep brain stimulation surgery is neither available nor effective in every case.
The Jackson family's generous gift to the Center for Brain Repair is a part of their continuing effort to find a cure for dystonia and increase public awareness of this debilitating neurological disorder.
"It is like a straitjacket" : Tallahassee Man Describes Life with Dystonia
2016 Valentine's Day Soiree benefited the Brian Jackson Dystonia Research and Discovery Program!
Mission
To understand the neurobiological mechanisms associated with dystonia, and to find novel methods for its diagnosis and treatment. Our ultimate goal is to find a cure. At the core of our mission is a research program employing state-of-the-art technologies in neurobiology, behavior, neurogenetics, stem cell biology and clinical neurology.
Initial efforts in neuroscience are focused on genetic screening of affected families to identify dystonia genes, neurobiological research using preclinical models of dystonia, and development of patient-specific, skin-derived induced pluripotent stem (iPS) cells for research and discovery.
The Movement Disorders Clinic at Tallahassee Memorial HealthCare serves as the clinical arm for the Florida State University College of Medicine's basic neuroscience projects, providing diagnostic and therapeutic care as well as clinical research for afflicted individuals. It also provides state-of-the-art equipment and technologies, supporting the fields of neuro-opthalmology, balance and motor control and leading to unprecedented insights into novel biomarkers for movement disorders. Current projects are focused on gait, balance, visual dysfunction and the relationship between sleep and neuro-degenerative conditions. 
Core Faculty
Trainees
Lataisia Jones (Graduate student)
Eduardo Davila (Undergraduate)
Tiffany Yanez (Undergraduate)
Collaborators
Nutan Sharma, M.D., Ph.D. Massachusetts General Hospital and Harvard Medical School, Boston, MA
D. Cristopher Bragg, Ph.D. Massachusetts General Hospital and Harvard Medical School, Boston, MA
Laurie Ozelius, Ph.D. Mount Sinai School of Medicine, New York, NY
Research projects
Upstream elements regulating translation of dystonia genes and encoding novel short peptides.
Novel Dystonia Therapeutics Based On Premature Stop Codon Read-through.
Novel insights into dystonia neuropathology using patient-derived iPS cells.
Dopamine dysfunction in dystonia.
Deficiencies in contrast sensitivity visual acuity in movement and sleep disorders.
Selected recent publications
Full-length research articles
Zhang L, McCarthy DM, Sharma N, Bhide PG (2015) Dopamine receptor and Gα(olf) expression in DYT1 dystonia mouse models during postnatal development. PLoS One 10(4): e0123104.
Nery FC, da Hora CC, Yaqub U, Zhang X, McCarthy DM, Bhide PG, Irimia D, Breakefield XO (2015) New methods for investigation of neuronal migration in embryonic brain explants. J Neurosci Methods 239:80-84.
Armata IA, Balaj L, Kuster JK, Zhang X, Tsai S, Armatas AA, Multhaupt-Buell TJ, Soberman R, Breakefield XO, Ichinose H, Sharma N (2013) Dopa- responsive dystonia: functional analysis of single nucleotide substitutions within the 5' untranslated GCH1 region. PLoS One 8:e76975.
Meeting presentations
Jones, L, Goode LE, Sharma N, Bhide PG, Armata I (2014). Novel approaches for diagnosis and therapeutics for DOPA responsive dystonia. Society for Neuroscience Annual Meeting, Washington, DC.
Zhang L, McCarthy DM, Morgan, Jr. TJ, Bragg DC, Sharma N, Bhide PG (2015) BDNF and NMDA receptor expression in X-linked dystonia Parkinsonism neural stem cells Society for Neuroscience Annual Meeting, Chicago, IL.
Jones, L, Davila E, Goode LE, Bhide PG, Armata I (2015) Overriding upstream reading frames associated with L-dopa responsive dystonia and other human diseases.
Geary, M., Avila S., Mattews J. Nowalk N, Walley M., Salmasinia D., Barr G.,Maitland C., Florida State University. "Longitudinal Investigation ofContrast Sensitivity Visual Acuity in the Earliest Stages of Parkinsonism". International Congress of Non-Motoric Dysfunctions in Parkinson's Disease and Related Disorders.
Vogt P., Hough W., Khayata M., Keasler E., Sanchez J.M., Barr G., Huang D. Y., Charles G. Maitland C.G. "Patients with REM Behavior Disorder demonstrate degraded contrast sensitivity visual acuity while patients with restless Legs Syndrome do not." International Parkinson and Movement Disorder Society. San Diego, CA., June 14-18, 2015.
BR Allman, CG Maitland, J Hagberg, EC Ost, MJ Ormsbee FACSM. "Blood Lactate Concentrations Following Isometric Squats in Multiple 'Sclerosis Patients." Southeast American College of Sports Medicine. Greenville, SC, February 18-20, 2015.
 
Contacts
Pradeep G. Bhide, Ph.D.
Jim and Betty Anne Rodgers Eminent Scholar Chair of Developmental Neuroscience
Director, Center for Brain Repair
Florida State University College of Medicine
pradeep.bhide@med.fsu.edu
850-645-9847
Charles G, Maitland, M.D.
Professor, Florida State University College of Medicine
Director, Clinical Research
Tallahassee Memorial HealthCare
bdcvoice@gmail.com
850-431-5961