Bridge students cross the finish line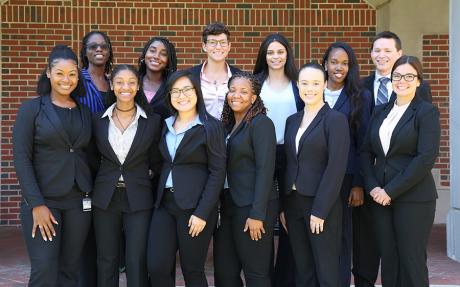 ×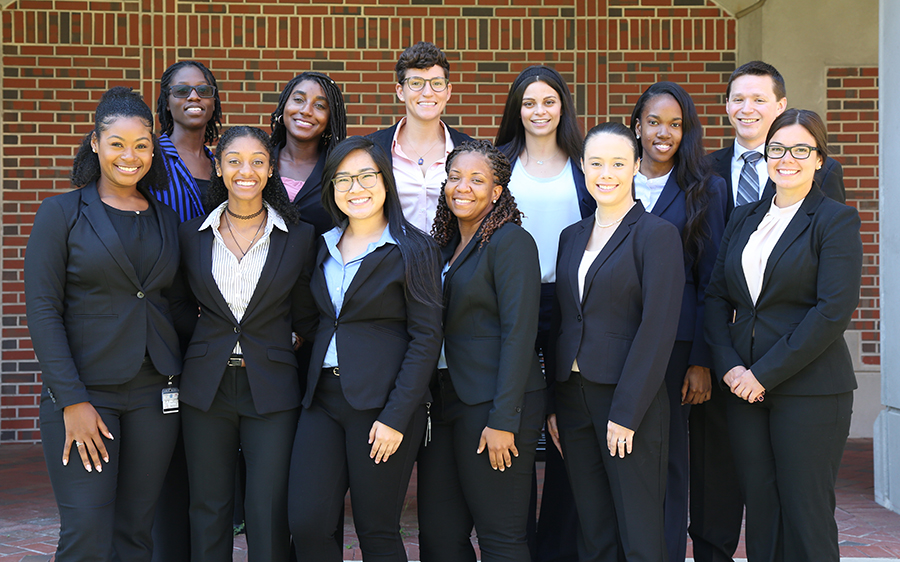 The students in the Bridge Program cleared their final hurdle May 14, four days before graduation.
In a large classroom filled with their peers, their mentors and all kinds of deans, each student had five minutes to summarize their research project during the annual Bridge Program Graduation Luncheon. (This year it was a brunch rather than a lunch, thanks to a schedule conflict involving Dean John P. Fogarty and others.)
Afterward the students thanked their Bridge advisors. Two of them got standing ovations:

•    There was a bouquet for Senior Associate Dean Myra Hurt, a creator of the Bridge Program. "We would be remiss in not recognizing Dr. Myra Hurt, without whom none of this would be possible," said Bridge Director Anthony Speights.
•    There was a white orchid for Associate Dean Helen Livingston, who is retiring soon and shed a few tears. "I'll be doing a lot of this blubbering for the next month," Livingston said. "Working with these students has been the joy of my professional career." 
Associate Dean for Student Affairs Rob Campbell congratulated the students for their work. After graduating with their master's degrees May 18, they'll quickly join the first-year Class of 2023. 
"You will be leaders of the students," Campbell said. "They know you've been through it. They know that you'll have good advice."
Fogarty was impressed by their collective research.
"You've looked at things that are so critical to the mission of our medical school," he told them. "Ten of you were doing studies of minority populations. You're really beginning to add to the literature, and I would encourage you to continue to do that. You're also looking at common things, whether it's depression or anxiety or substance abuse or pregnancy or chronic disease like diabetes or cancer – all the things that we hope our new PrimaryHealth clinic will begin to address much more, particularly in the minority population in southwest Tallahassee." 
The Bridge Program provides a bridge into medical school for promising, hand-picked students – those whose characteristics make them good candidates for practicing primary care with underserved or minority patients in rural or inner-city communities. Often the students come from such communities themselves.
Here are the projects for the Bridge Class of 2019 (with faculty mentor's name in parentheses):

•    Shellon Baugh, "Health Attitudes of Young Adult African-American Women" (Penny Ralston, Ph.D., Center on Better Health and Life for Underserved Populations).

•    Barrie Bedasee, "The Impact of Maternal Substance Use on Maternal and Fetal Health Outcomes" (Samantha Goldfarb, Ph.D., Department of Behavioral Sciences and Social Medicine).

•    Eduarda Machado, ""Latinos, Substance Use Attitudes and Parental Monitoring" (Joe Grzywacz, Ph.D., Department of Family and Child Sciences).

•    Caneisaya Matthews, "Understanding Health Communication Between Black Prostate Cancer Survivors and Their Sons: A Pilot Study" (Sabrina Dickey, Ph.D., College of Nursing).

•    Hannah Morgan, "Association of Socioeconomic Factors and Utilization of Treatment for Depression" (George Rust, M.D., MPH, Behavioral Sciences and Social Medicine).

•    Diamond Paulk, "Religiosity of African-Americans and Its Impact on Anxiety" (Shermeeka Hogans-Mathews, M.D., Family Medicine and Rural Health).

•    Laura Samander, "Disparities in Offered Anxiety Treatment Among Minorities" (Jeffrey Harman, Ph.D., Behavioral Sciences and Social Medicine).

•    Gabriella Sehres, "Evaluating the Co-occurrence of Cardiometabolic Syndrome and Mental Illness (Tyra Dark, Ph.D., Behavioral Sciences and Social Medicine).

•    Cameron Smith, "Health Care Utilization Among Farmworkers: An Exploration of the National Agricultural Workers Survey" (Grzywacz).

•    Valerie Thimothee, "The Relationship of Niacin Intake and Diabetes in Midlife and Older African-Americans" (Ralston).

•    Dominique Williams, "African-American Alzheimer's Caregiver Training and Support Project 2 (ACTS 2) Pilot Study: Integration of Quantitative and Qualitative Outcomes" (Rob Glueckauf, Ph.D., and Xan Nowakowski, Ph.D., MPH, Behavioral Sciences and Social Medicine).

•    Jenie Yeh, "Psychoeducational Intervention for Caregivers of Individuals with Dementia (Antonio Terracciano, Ph.D., Department of Geriatrics).