Bridge Program graduates its 12th class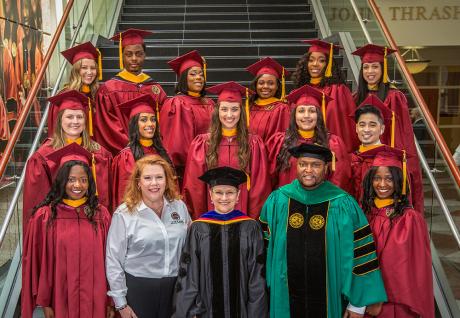 ×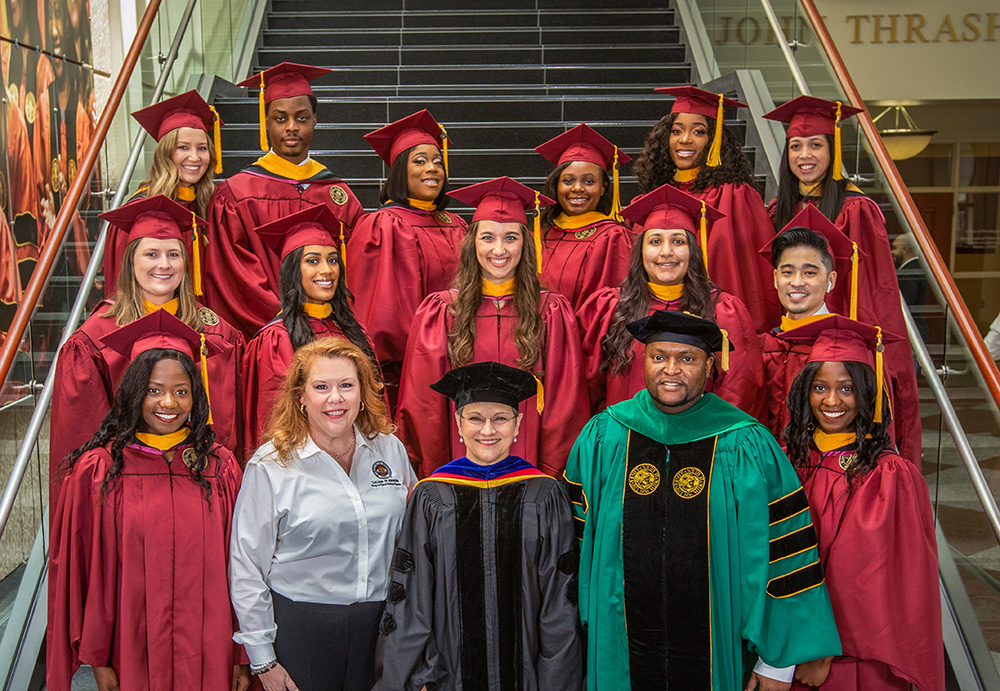 May 19, 2021

On Sunday, the FSU College of Medicine graduated its 12th class with the Master of Science degree in Biomedical Sciences–Bridge to Clinical Medicine. By completing the program, the 13 Bridge students have qualified to begin medical school on June 1 as members of the incoming M.D. Class of 2025.

The Bridge to Clinical Medicine Program provides a path into medical school for promising, hand-picked students whose characteristics make them strong candidates for practicing primary care with underserved or minority patients in rural or inner-city communities.

The three-semester graduate program includes coursework in biomedical sciences, research and community-based preceptorships.

Bridge students are required to conduct research with a faculty mentor and presented their findings virtually to deans, department heads, mentors, administrators, faculty and staff at the annual Bridge Graduation Luncheon on May 11. 

"You all have worked very hard this year, especially with all of the changes and adaptations that we've had to make due to the pandemic," said Anthony Speights, director of the Bridge to Clinical Medicine Program. "You've responded so very well to our ever-present push to be better and have produced some amazing research reports." 

Nineteen faculty mentors worked with the Bridge class over the past year in a program is designed for students to have an immersion in research with the guidance of experts, where they picked up the skills they'll need as physicians to ask questions and find answers.

Thesla Berne-Anderson, director of college and pre-college outreach, described the class as, "diligent, dedicated, determined, cohesive and adaptable."

At the conclusion of the presentations, Robert Campbell, associate dean for student affairs and admissions, reminded the Bridge class of the program's legacy.

"When you come into the next class, you're going to be looked up to by your peers as leaders because you have experiences that they will not come in the door with. It's an awesome responsibility and something that the faculty and I really treasure is having you all with the students to help them make that transition," he said. "The bridge program has a long tradition of producing some phenomenal doctors who meet our mission."

Historically, many Bridge graduates have gone on to serve as class officers for their medical school class.

"I'm always impressed with the Bridge research presentations because [the students] are usually asking common questions about common things," said College of Medicine Dean John P. Fogarty. "This is a community-based medical school that really is focused on its local population and focused on rural, underserved and underrepresented minorities.

"Once again, the Bridge students have come through asking really good questions about how we can improve health care or decrease rational disparities. I'm very impressed with the quality of the work that you did and the quality of the presentations that you made."

The Bridge program has been credited with increasing the number of qualified candidates for medical school from backgrounds underrepresented in medicine, including minority students and students from rural communities. Bridge and other outreach programs have helped the FSU College of Medicine become one of the top U.S. medical schools for enrollment of both Black and Hispanic students.

According to U.S. News & World Report's 2022 edition of "Best Graduate Schools," the College of Medicine tied for No. 13 in diversity with 26 percent of students identifying as an underrepresented minority.

FSU medical alumni are practicing in rural communities at rates significantly above the national average. Of the 822 alumni physicians currently practicing, 115 are caring for patients in the Florida Panhandle and rural border counties. U.S. News recently ranked the college No. 13 for percent of graduates practicing direct patient care in health professional shortage areas.
A full list of projects for the Bridge Class of 2021 appears below.
Savannah Calleson, "Marijuana Use, Depression, and Chronic Stress among People Living with HIV" (Faculty Mentor: Nicole Ennis, Ph.D., Behavioral Sciences and Social Medicine).
 
Susan Dedicatoria, "Diarrheal Prevention and Prevalence in Rural Honduras: A Pre-Interventional Survey Analysis" (Faculty mentor: Charles Fleischer, M.D., Family Medicine and Rural Health).
 
Ashley Desinor, "The Relationship of Financial Status and Food Intake Patterns in African Americans" (Faculty mentor: Penny Ralston, Ph.D., College of Human Sciences and FSU Center on Better Health and Life for Underserved Populations).
 
Laeticia Hollant, "Identifying the Relationship between Marginalization Experiences and Healthcare Utilization among Undergraduate Students" (Faculty mentor: Sabrina Dickey, Ph.D., M.S.N., College of Nursing).
 
Justin Hover, "COVID-19's Impact on Physical and Mental Health in People Living with HIV" (Faculty mentor: Nicole Ennis, Ph.D., Behavioral Sciences and Social Medicine).
 
Jacqueline Lutz, "Cravings and Nicotine Addiction as Quit Indicators of Adolescent Tobacco Users" (Faculty mentor: Karen Geletko, M.P.H., Family Medicine and Rural Health).
 
Kaniya Neymour, "Racial and Ethnic Disparities in Emergency Department Wait Times for Headache" (Faculty mentor: Jeffrey Harman, Ph.D., Behavioral Sciences and Social Medicine).
 
Terry Nim, "Free Testosterone in Aging Men and Dementia Risk: Prospective UK Biobank Study" (Faculty mentor: Antonio Terracciano, Ph.D., Geriatrics).
 
Amanda Raymond, "Job Demand-Control and Hypertension in Blacks and Whites" (Faculty mentor: Joe Grzywacz, Ph.D., College of Human Sciences).
 
Tamara Raymond, "Promoting Infant Safe Sleep Behaviors in African American Mothers and Caregivers" (Faculty mentor: Joe Grzywacz, Ph.D., College of Human Sciences).
 
Vivian Tanios, "Adolescent Personality Traits and Cardiometabolic Health in Midlife" (Faculty mentor: Angelina Sutin, Ph.D., Behavioral Sciences and Social Medicine).
 
Mary-Rosalyn Taylor, "Project SOLAR: Effects of Mental Health Coach Training on Disaster Related Symptoms" (Faculty mentor: Scott Pickett, Ph.D., Behavioral Sciences and Social Medicine).
 
Riann White, "Depression and Sexually Transmitted Infections in African American Women" (Faculty mentor: Shermeeka Hogans-Mathews, M.D., Family Medicine and Rural Health).