Fort Pierce students chosen as Diverse Medical Scholars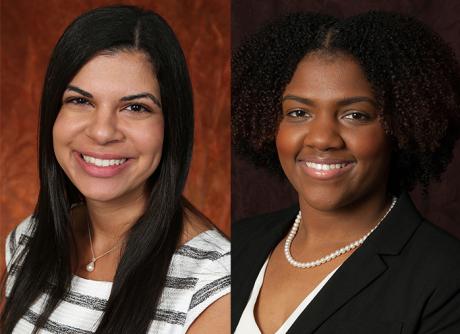 ×
February 2018
In exchange for investing 200 hours in their own community health projects, Estela Abich and Alaine Sharpe are each receiving a $7,000 scholarship to help offset their educational expenses.

One project involves diabetes, the other infant mortality, and both focus on South Florida.
Sharpe and Abich are among 30 students recently recognized by the national Diverse Medical Scholars Program, which is supported by a partnership of the United Health Foundation and National Medical Fellowships.
It's a service-learning program designed to increase the number of qualified medical providers who are committed to improving access to high-quality health care in medically underserved communities. Applicants must be enrolled in a U.S. medical school, must be a member of an underrepresented minority group, and must have demonstrated leadership and a commitment to underserved communities.
Abich and Sharpe are fourth-year students at the Fort Pierce campus. Abich earned her bachelor's in biology at Florida State.
Juliette Lomax-Homier, their campus dean, wrote a nominating letter praising Abich's "fortitude and disposition."
"Her clinical faculty routinely comment on her excellent preparation for rounds and clinic," Lomax-Homier wrote. "Her surgical faculty commented that 'she remained present during every call night and participated until the wee hours of the morning assisting in lengthy and complex surgeries.'"

Although Abich is pursuing surgery, she says preventive medicine has a special place in her heart. Her project is through Trividia Health, the country's largest diabetes testing company, which has a site in her hometown of Fort Lauderdale.
"This project allows me to target a community lacking in education, thereby empowering them to make healthier choices," she said. "Trividia Health is arming me with mentorship and resources, and agreed to work with me in reaching out to the surrounding underserved community. I have contacted various other organizations in Broward County where I would like to do educational outreach."
Sharpe grew up in Opa-Locka and earned both her bachelor's (biology) and master's (chemistry) from Florida A&M University. With much experience in tutoring and mentoring young people who had limited opportunities, she chose the FSU College of Medicine specifically because of its mission to serve the underserved.
Lomax-Homier's nominating letter referred to Sharpe's "fierce patient advocacy."
"Alaine is determined to provide the best health care possible to the poor and disadvantaged people of our country," she wrote. "She has witnessed her own mother's life-threatening illness in pregnancy, and learned that excellent medical care saves lives.... She is poised to make a career in areas where fetal infant mortality is high."
Sharpe's project is to assist Healthy Start of St. Lucie County reach its goal of decreasing infant mortality among African-American families. She is creating a survey for parents and providers to gain an idea of possible causes of the high mortality rate. After the survey, she plans to analyze the data and participate in brainstorming possible solutions to the problem.
"I'm going into obstetrics and gynecology," Sharpe said, "so I definitely have an interest."