Students capture kids' imaginations at Tallahassee Science Festival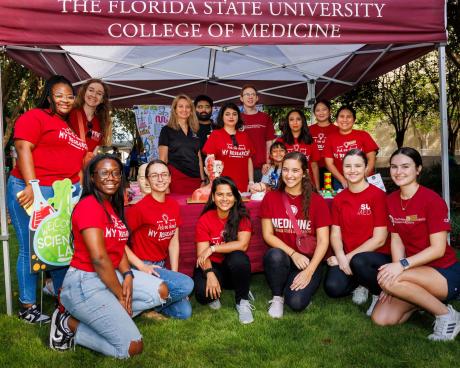 ×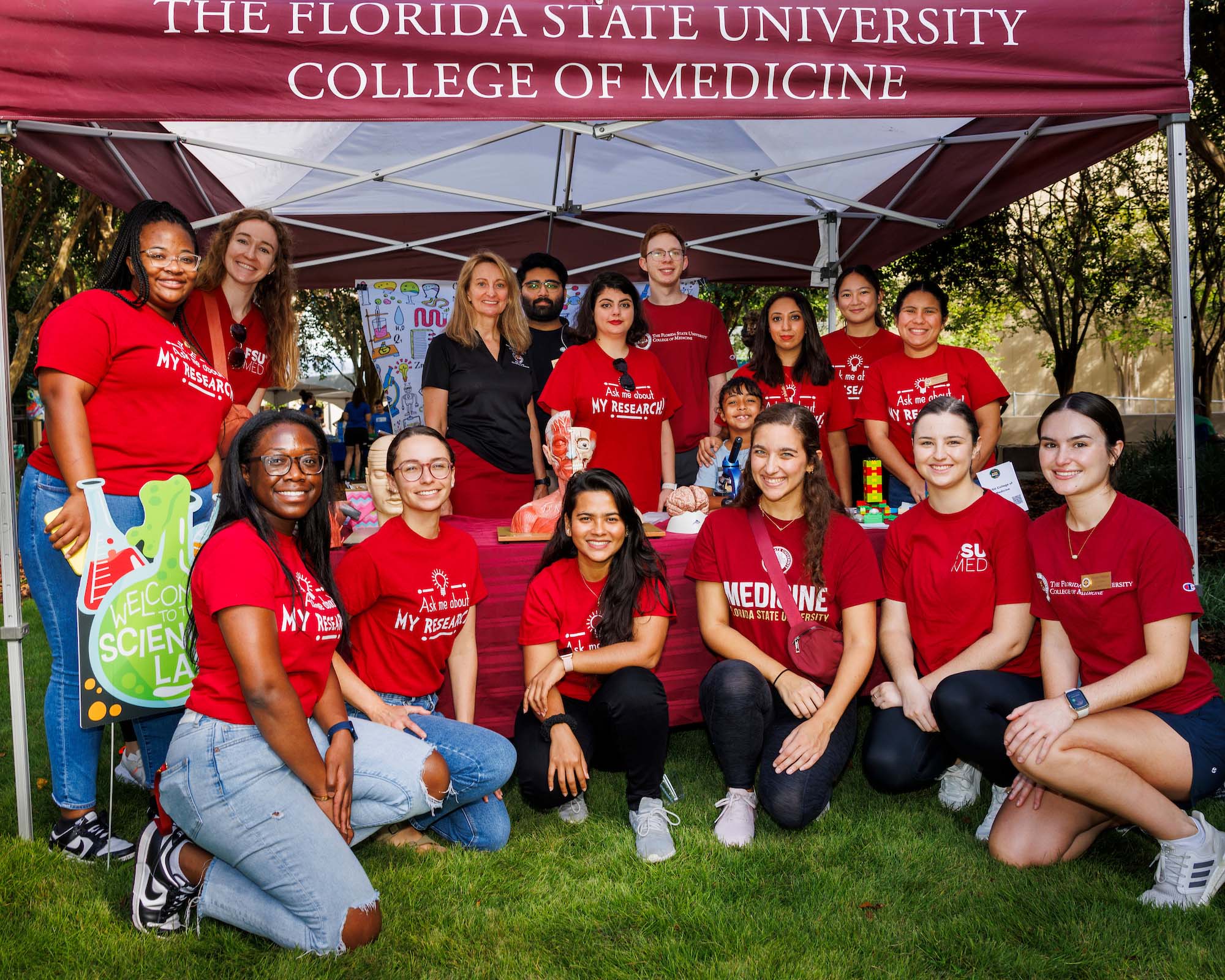 Kleman Plaza was the place to be on a beautiful fall Saturday as scientists and researchers from many organizations and institutions shared their knowledge at the Tallahassee Science Festival.
Exhibitors set up tents throughout the area with interactive demonstrations that appealed to kids as well as adults. It marked the 12th year for the event, sponsored by Tallahassee Community College, and the 10th anniversary of the Florida State University College of Medicine's participation.
"When we first got involved, it was held at Railroad Square," said Ewa "Ava" Bienkiewicz, associate professor in the Department of Biomedical Sciences and advisor to the Biomedical Graduate Student Association (BGSA). "Then it was moved to Lake Ella, and finally it grew so much that it was moved to Kleman Plaza."
In years past, the students demonstrated how to extract DNA from a banana. When they learned another group was doing the same thing, they shifted gears.
Third-year Ph.D. student Danah Alquraish organized this year's activities, which included a model of a head and neck that came apart and showed how the brain fits inside the skull. It also showed the throat and its relation to other organs in the head and neck, which was particularly fascinating to a gentleman who had sinus and swallowing problems.
"It helped him to understand what he had been experiencing because he could see it," Alquraish said.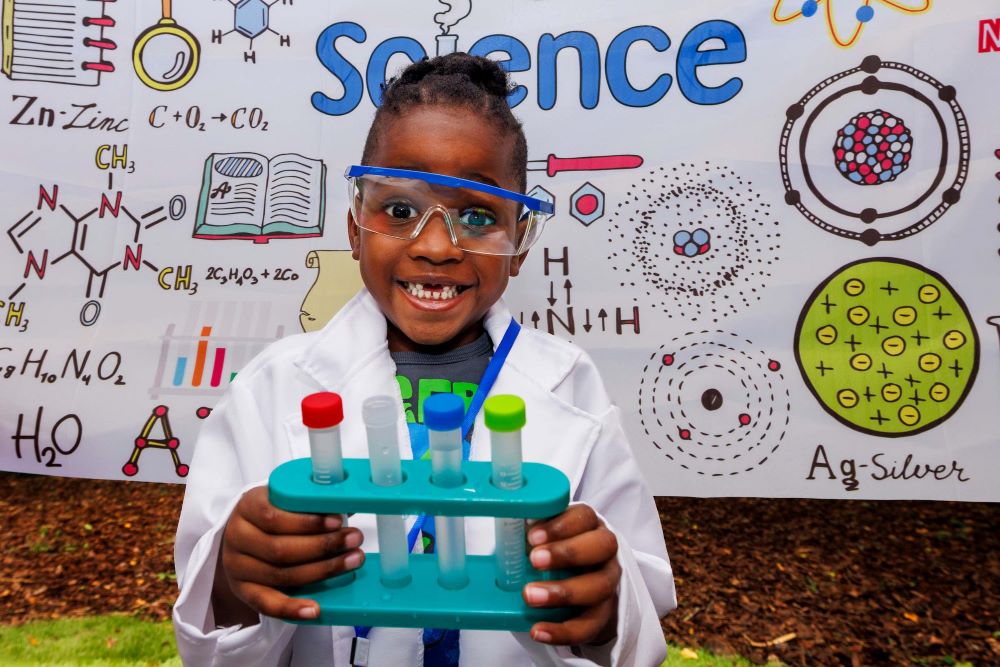 There was also a station where children could color the drawing of a brain, and a model of a head with "brain slices" that would swing out from a central post.
"The kids always like things they can take apart," Bienkiewicz said.
One of the displays that attracted the most attention was a selection of microscopes: a traditional laboratory microscope; a simple microscope called a Foldoscope, made of layers of paper with a small light bulb behind it; and a microscope made of Legos, which also used a small light.
"We also are giving away slips with a QR code that will show you how to make a homemade Lego microscope," fourth-year Ph.D. student Amber Parnell said.
Child-size white lab coats, along with ID badges, goggles, a toy stethoscope and toy vials in a holding tray let the kids pretend to be researchers. Five-year-old Michelle Valentine, a kindergartener at Kate Sullivan Elementary School, was there with her mother, Jessika Valentine.
Michelle enjoyed playing pretend, but she doesn't plan to become a biomedical researcher; she wants to be a teacher like her mother, who teaches Arabic, Arabic Cinema, and Arabic Women in the Department of Modern Languages.
"Teachers do research, too," her mother reassured her.
Six-year-old Tetris Washington, who is home-schooled by his mother, Jessica Washington, was intrigued by everything. Asked what his favorite subject is, he replied, "Doing science."
This year, six medical students from the college joined their biomedical student colleagues at the festival. First-year medical students Profilia Nord, Cydney Granberry and Juliette Hernandez were happy they participated, agreeing the event was "a whole lot of fun."
Bienkiewicz encourages activities in which both Ph.D. students and medical students can participate as a team representing the College of Medicine.
"Face it, we biomedical sciences researchers are often introverts, and interacting with the Tallahassee community brings the Ph.D. students out of their shells," she said. "Events like the Tallahassee Science Festival help them learn to explain what they do."
Contact Audrey Post at audrey.post@med.fsu.edu

All photos by Colin Hackley for the FSU College of Medicine.