Med School Class of 2022 graduates with joy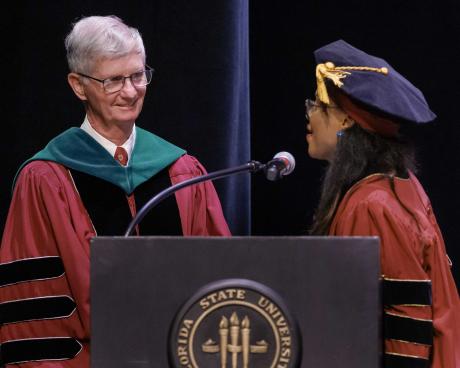 ×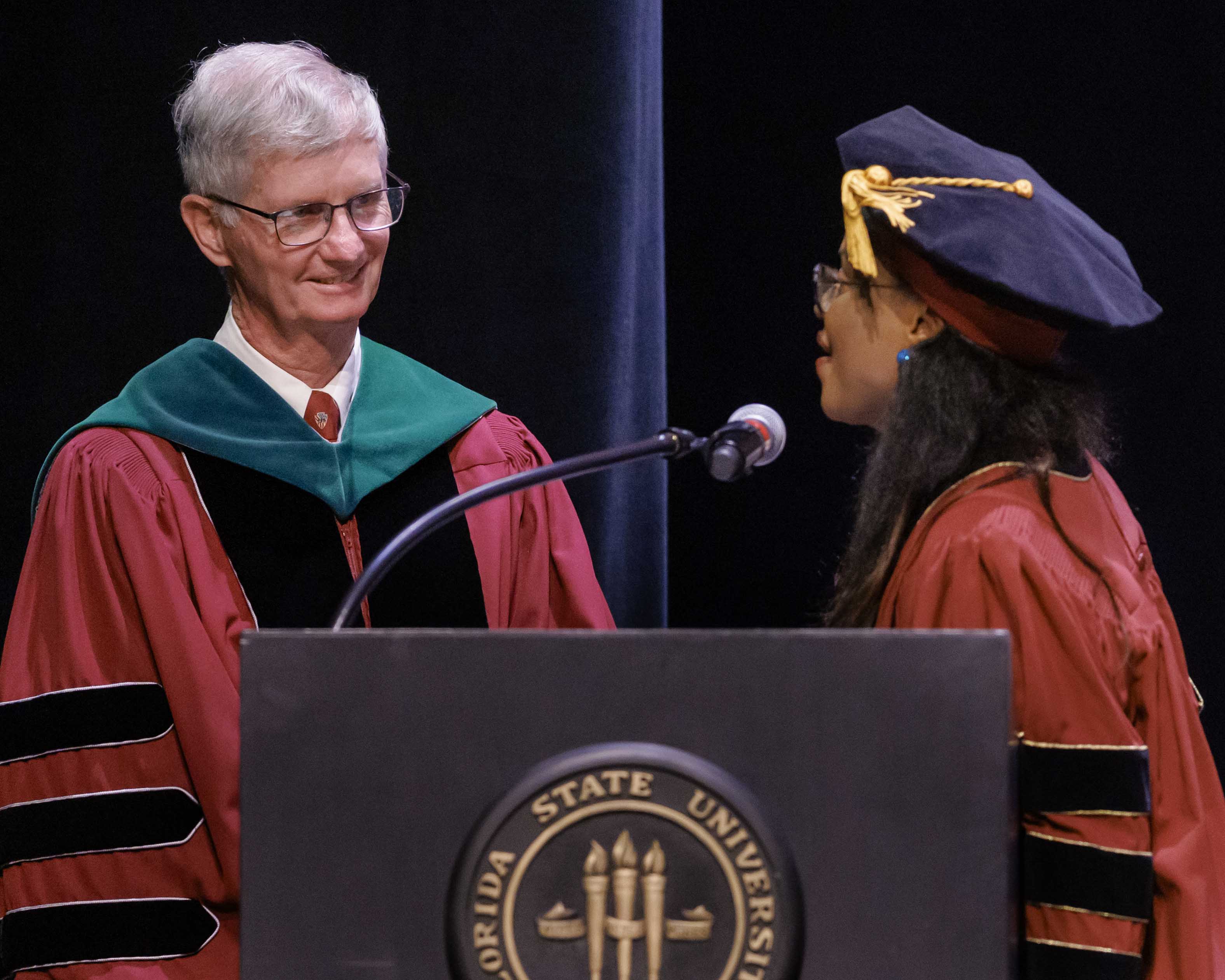 The M.D. Class of 2022 took another step toward recapturing normalcy on Saturday when it held its commencement ceremony in Ruby Diamond Concert Hall – the first in its intimate, traditional setting since 2019. The atmosphere was festive: lots of flower bouquets, celebratory balloons and shouts of encouragement from proud family and friends as their loved ones walked across the stage for hooding.
Yet, the lingering impact of COVID-19 was a thread woven throughout the program.
Every speaker mentioned COVID and how it had changed the new physicians' training, upended their lives, and altered their world. And every speaker talked about how they persevered.
John P. Fogarty, M.D., dean of the FSU College of Medicine, referred to COVID "as the gift that has kept on giving for the last two and a half years" as he listed the multiple challenges the class of '22 faced. The first, Hurricane Michael, was a devastating Category 5 storm that struck the Florida Panhandle in 2018, where many students have family and friends.
"None of these kept you from your goal," Fogarty said, "and your class stepped up time and again to the challenges in front of you."
Class President Sténia Accilien recalled that COVID interrupted the schedule of their mandatory Step 1 licensing examinations, which they were required to pass before they could begin their clinical rotations in Year 3.
"Many of us had loved ones affected by COVID-19; we lived in fear during that year but still pushed through every day," she said. "Many of us had our exams cancelled and rescheduled multiple times. Some had to delay the exam to the third year, which disrupted our fourth-year schedule.
"We woke up and did what we had to do."
Chris Leadem, Ph.D., professor emeritus at the College of Medicine and this year's commencement speaker, spoke of 1 million American lives lost to COVID, "15 million souls worldwide have been lost to this scourge," and the disruption to medical education COVID created. Then he homed in on the personal risk.
"Perhaps the most challenging was the prospect of facing the personal danger that is inherent in physicians' dedication to 'put the patients' needs before your own.' Now there was a palpable danger and uncertainty that compounded the inherent stress and excitement of entering your third-year clerkships."
As students, they had volunteered where needed – at COVID testing sites, vaccine distribution centers, on the front lines of the pandemic – at their regional campuses and those communities where they spent their final two years of medical school.
Leadem used the shared experience of COVID as a springboard to talk about ways to cope with adversity through their careers and personal lives, saying, "It has been my experience that how we handle these matters is one of the major determinants of the quality of our lives."
"I want to offer you today some of my thoughts about how to navigate these treacherous waters. I want to do so out of my continuing concern for you and hopes that you will lead healthy, happy lives but also, as is the case in all we do in medicine, that you be able to help your patients as they struggle with these issues in their lives."
The key resources for him have been faith, family, and friends, he said, noting with a chuckle that "all good exhortations are alliterative." He encouraged his audience to nurture all three as they begin their careers as physicians, because all three "are essential for your happiness and continuing support."
"As I lay on my deathbed, I can assure you that I will not be looking to my CV to measure the accomplishments of my life, but into the eyes of my wife, my children and my grandchildren," he said.
In talking about how friends are vital to our survival, particularly in times of duress, Leadem paid tribute to Dr. Jim Cavanagh, who died earlier this month at age 92. Cavanagh began teaching anatomy at FSU in 1997, after he retired from Tallahassee Memorial Hospital, and all students who studied at the College of Medicine and its predecessor, the Program in Medical Sciences, since have started their Year 1 coursework with his anatomy lab.
"He was beloved by all the medical students who passed through this program for his kind and gentle manner, extensive clinical anatomy knowledge and his personal dedication to get to know each student," Leadem said. "He is sorely missed by all of us."
Earlier in the ceremony, Fogarty had also paid tribute, asking everyone to join him "in a moment of silence to remember Dr. Jim and his amazing legacy and offer prayers for his family." He had already picked up his regalia for Saturday's graduation, the dean said; his assigned seat was empty and his portrait graced an easel on the stage.
Class president Accilien paid tribute, as well.
"Notably, he knew everyone's name by the first week. His legacy lives on through his teaching," she said. "He will remain in our hearts as a true exemplary physician. Our condolences to his family and loved ones."
Accilien went through Cavanagh's anatomy class twice, first as a master's student in the Biomedical Sciences-Bridge to Clinical Medicine program, and then as a first-year medical student. Six Bridge students graduated Saturday with Master of Science degrees and will become part of the M.D. Class of 2026, which begins on May 31.
In addition to Accilien, 11 others among the 119 graduating physicians Saturday came through the Bridge Program, designed to increase the number of medical students – and physicians – from underserved and rural communities. Research has shown such students are more likely to choose to practice in medically underserved areas where more doctors are needed.
FSU President Richard McCullough conferred the degrees. As is tradition at medical school graduations, family members who are also physicians may participate in the hooding ceremony; seven fathers, a father-in-law, a brother, and a wife hooded loved ones. The day was especially memorable for Dr. Kristin Price, who hooded husband Dr. Brandon Price on their fourth wedding anniversary; the couple shared the moment on Twitter.
Fogarty, a retired Army medical officer and West Point graduate, also led the promotion ceremony for the six graduates who are entering military service. The graduates – two Army, three Navy and one Air Force -- had quietly left the stage in their regalia and returned in uniform.
Fogarty boasted about the Class of 2022's performance, including a 99% pass rate on the United States Medical Licensing Exam Step 2 Clinical Knowledge. He noted that the class had a remarkable 245 average on the exam, with almost 70% of the class scoring 240 or above.
The College of Medicine, which graduated its first class of 27 students in 2005, now has 1,720 M.D. alumni.
This was Fogarty's final commencement ceremony as dean of the College of Medicine; he is retiring this summer. Most of the speakers acknowledged his service to the College. Dr. Alma Littles, senior associate dean for medical education and academic affairs, called Diane Fogarty, the dean's wife of more than 40 years, to the stage and presented her a bouquet of flowers. More than once during his 14-year tenure as dean, they spent their May wedding anniversary at graduation. Accilien, the class president, presented a gift on behalf of the Class of 2022,  acknowledging Fogarty as "the father we never knew we wanted but was much needed."
Leadem, the commencement speaker, said in his four decades of working in medical education, he had worked for seven deans but Fogarty was the only one he could also call a friend.
"He is the most student-focused dean I have ever worked with," Leadem said, adding that was high praise from a former student affairs administrator.
For his part, Fogarty seemed a bit embarrassed by the attention. "This was supposed to be a graduation, not a retirement ceremony," he said. "What do you say we get on with graduation."
He reminded the students they have a legacy to uphold.
"Our prior graduates established a fine legacy and reputation for FSU – people will know where you are from and expect great things from you. You are patient centered, exemplary graduates who are caring, and responsible new physicians.  What I like most is that you are also genuinely nice people," he told the graduates.  "From this point forward, you take on a new identity as physicians, but you carry with you the mission, vision, values and culture of service of YOUR medical school.  You are now what we hoped you would be."
Watch the replay -- Class of 2022 commencement ceremony
Class of 2022 graduates recognized for outstanding achievements
-- Contact Audrey Post at audrey.post@med.fsu.edu