College of Medicine Fall Ph.D. graduates honored at ceremony, reception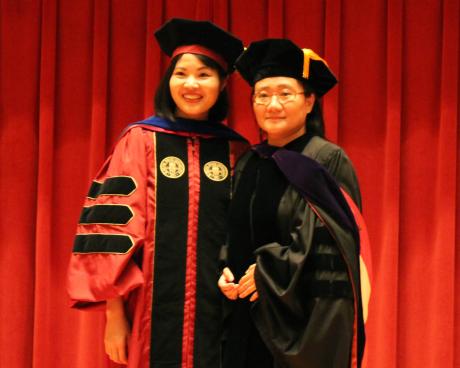 ×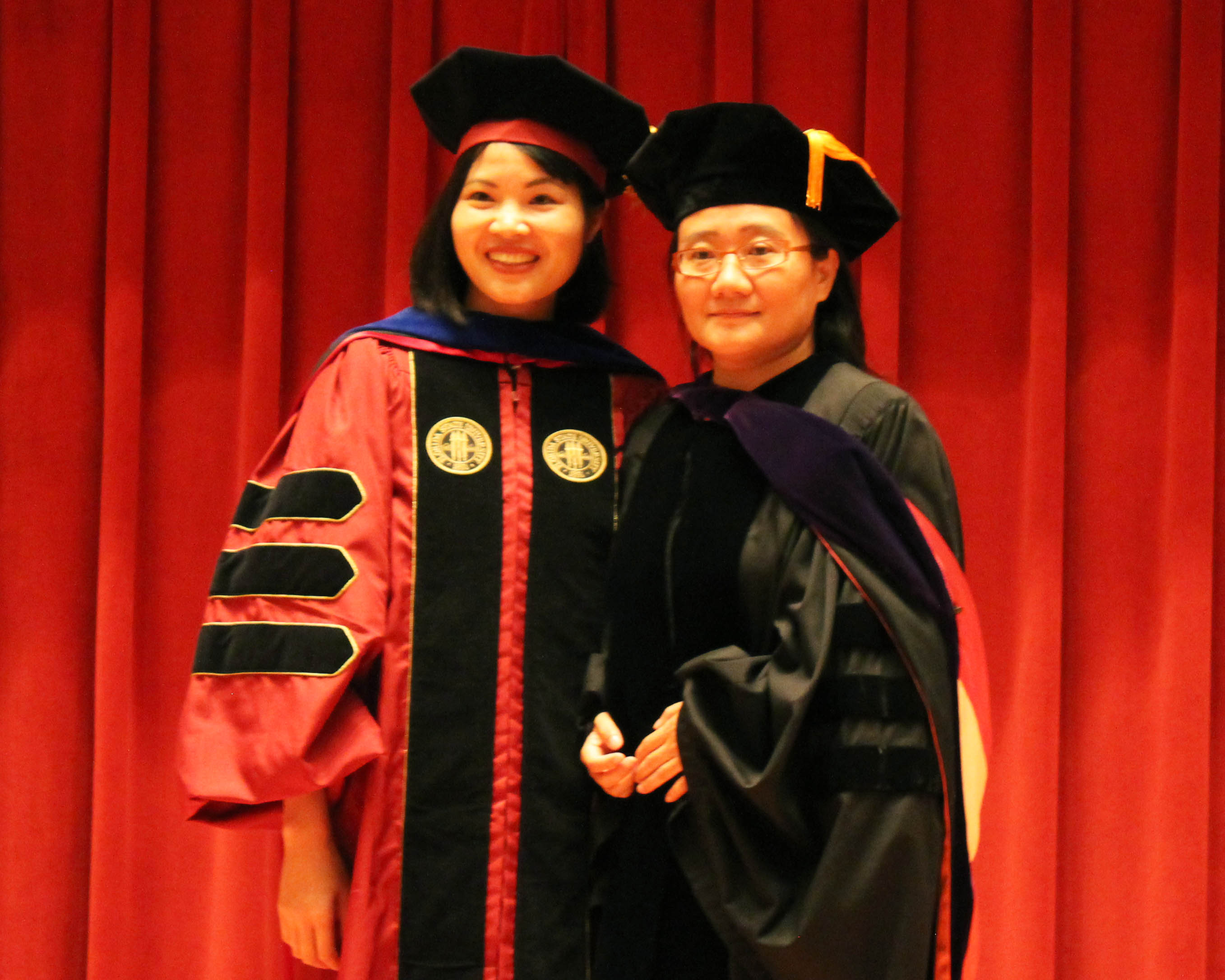 Four doctoral candidates in biomedical sciences and one candidate in neuroscience were honored at a ceremony and reception Friday afternoon, Dec. 9, in the Durell Peaden Auditorium at the College of Medicine. Their actual graduation was at 7 that evening.
"They no longer do hooding at the university commencement exercises, but it's important to the students and we wanted to do it," said Jeffrey Joyce, senior associate dean for research and graduate programs. "We also use this opportunity to be able to say some wonderfully positive things about their work here and their training.
"And it allows us to involve their families, which is so important."
More than 100 people attended the ceremony, which featured the usual raucous applause and "whooping and hollering" of any graduation. The difference was that the honorees could see who was doing it.
The more intimate ceremony was also marked with good-natured humor. After students were hooded, their mentors praised their work and Joyce shook their hands. Then, Dr. Richard Nowakowski, chair of the Department of Biomedical Sciences, awaited them – microphone in hand and tongue firmly planted in his cheek.
He told Maicon Landim Vieira that for a long time, "I thought your name was Michael." Vieira will be staying at the College of Medicine as a post-doctoral scholar in the Chelko Lab.
Of Delaney Alma Sherwin, the Randolph L. Rill professor said, "Of all the graduate students we've had, she had the most beautiful color slides," mentioning the pastels in particular. Sherwin, whose mother Monica was beaming with pride during the ceremony and the reception, is headed to the University of North Carolina at Chapel Hill for a post-doc position in a pancreatic cancer lab.
To Sara Katherine Jones, who recently defended her dissertation after publishing an article from it in the prestigious Proceedings of the National Academy of Science, he said, "All you have to do is Google 'aspartame' and there you are!" Her research showed a link between aspartame and anxiety-like behavior in mice. She'll spend the next couple of months here in the Bhide Lab, finishing another article from the dissertation, and then she plans to find a position in industry.
Jennifer Lynne Warnock received double kudos, first as the "most natural scientist" to pass through the program and then because "she's been able to control Bob Tomko," her major professor and mentor. Warnock is headed to a post-doc position in the Department of Biochemistry at the Emory University School of Medicine.
Nowakowski called Xiaoyan Yu, the candidate in neuroscience, "my Chinese teacher" and exchanged a few words in Chinese with her. He also announced that she was "getting married on Sunday again, to the same husband, and leaving for Philadelphia on Tuesday."
At the reception, Yu and spouse Xiaodun Yang explained they got married in 2015 but didn't really have a wedding. For most of their marriage, they have been in school in different states: He got his doctorate at Vanderbilt University, then went on to a post-doc position at the University of Pennsylvania. Now, thanks to her work with Assistant Professor Yuan Wang in neuro-development, she is headed for a post-doctoral position at Penn, too.
"Now, we will have the wedding and start our life together," she said.
This was the fourth semester the College of Medicine has conducted a ceremony for its Ph.D. graduates, who participate with other colleges in university commencement ceremonies. Medical school graduates and physician assistant school graduates have their own, separate ceremonies, which include the ceremonial placing of the hood over the shoulders of the graduate.
The ceremony was the brainchild of Robin Ryan, former graduate program coordinator who was in attendance Friday.
Suzanne Baker, assistant dean for graduate programs and medical student research, said the ceremony is intended to complement the university commencement exercises, not take anything away.
"It's meant to be personalized," she said.
The Ph.D. Program in Biomedical Sciences trains students to answer important questions of medical relevance using cutting-edge approaches. Students have the opportunity to investigate a broad range of health- and disease-associated research topics from the perspective of individual molecules up to complex functions of organisms.
Every student accepted to the program receives a dedicated laptop computer and is supported by a competitive stipend that covers living expenses, tuition and matriculation costs. More than 70 graduate students have earned Ph.D.s at the FSU College of Medicine.
Contact Audrey Post at Audrey.Post@med.fsu.edu