Grad Spotlight: Mathew Balette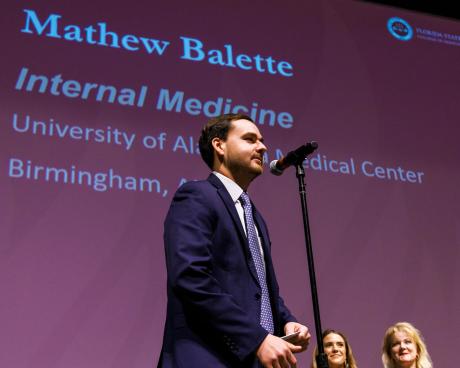 ×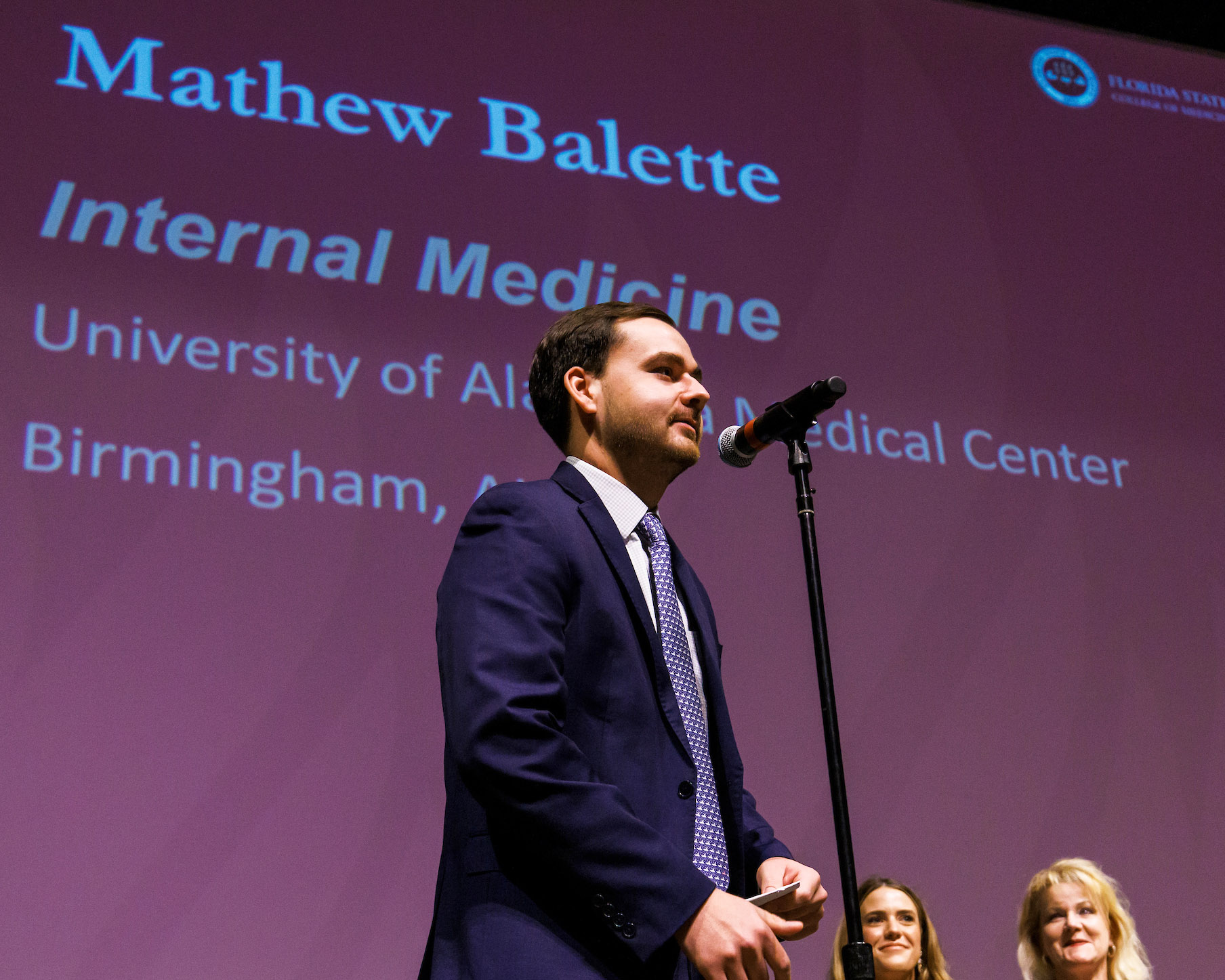 Name: Mathew C. Balette
Hometown: Pensacola, Fla.
Undergraduate School: Florida State University
Major: Psychology
Residency Match: Internal Medicine, University of Alabama Medical Center – Birmingham, Ala.
2023 Grad Questionnaire
What and/or who inspired you to go to medical school, and how? 
With both of my parents in the health-care field, I was exposed at an early age to medicine and have always been fond of it. A strong family history of heart disease has given me the passion to pursue the knowledge of managing and treating cardiovascular disease and has made me want to address socioeconomic factors and how they play a role in overall health.    
What did you learn about yourself during your time in medical school that surprised you? 
Throughout medical school, I was surprised to learn that I was capable of connecting and building great relationships with patients through empathy and finding commonalities – whether that be sports or even just what was on the TV in the patient's room.  
What course/professor had the greatest impact on your medical education? 
The course that had the greatest impact on my medical education was anatomy. It was my first big surprise that further confirmed my love for medicine and made me aware that I made the right choice in going to medical school. I enjoyed learning how beautifully intricate but variable the human body is alongside my fellow students, learning to work in a team, and building camaraderie.  
What did you learn from having gone through medical school during the COVID-19 pandemic? How did it change you? 
While attending medical school during the COVID-19 pandemic, I saw how many patients began to develop distrust in the health-care system and I realized that it is our job as physicians to rebuild that patient trust.  
Given the rigors and stressors of medical education, what diversion did you lean on to get you through?
To relieve stress, a diversion that I leaned on to get me through was physical activity. From playing basketball and Pickleball to just going on a run, spending time outside and active was cathartic and enjoyable.  
A Second Opinion
Provided by Paul A. McLeod, M.D., senior associate dean for regional campuses and dean of the Pensacola Regional Campus
Mathew is a just the type of student and person that we want at the Florida State University College of Medicine. He approached each learning opportunity with genuine interest and enthusiasm. Matt earned exceptional grades and the respect of his peers and faculty along the way. He was given consistent accolades from his teachers regarding his patient-centered approach and exemplary professionalism. I am honored to have served as his campus dean and can't wait to see where his journey takes him from here.
Read Mathew's student profile.
Photo caption: Mathew Balette announces his match in Internal Medicine at the University of Alabama Medical Center in Birmingham, Alabama, from the stage of Ruby Diamond Concert Hall on March 17, 2023. (Photo by Colin Hackley for the Florida State University College of Medicine)