Drs. Brown Speights and Alexander Serve on COVID-19 Expert Panel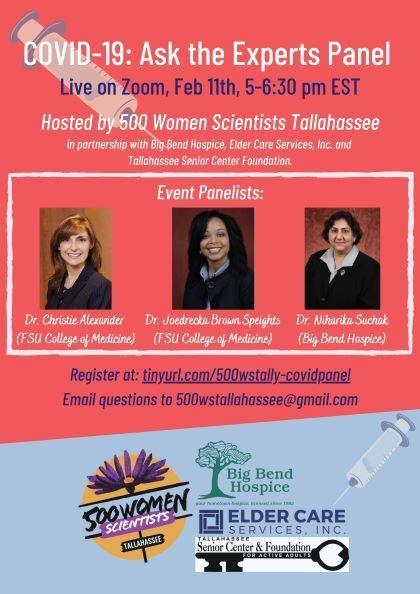 ×
The 500 Women Scientists, Tallahassee Pod hosted a live expert panel concerning COVID-19 and the vaccine in partnership with Big Bend Hospice, Elder Care Services, Inc., and Tallahassee Senior Center Foundation. During this session, experts provided members of the community with answers to commonly asked questions and concerns pertaining to COVID-19.
This expert panel was a moderated question and answer session, focused on the common concerns of COVID-19 and the vaccines. Panelists included Dr. Christie Alexander and Dr. Joedrecka Brown Speights with Florida State University College of Medicine and Big Bend Hospice Medical Director, Dr. Niharika Suchak. The panel was recorded and posted on 500 Women Scientists' website and social media after the event to increase access to information.
During the pandemic, the mission of 500 Women Scientists remains more prevalent than ever before. Tallahassee's local chapter continues to find innovative ways to educate and serve society by making science open, inclusive, and accessible. With the uncertainty of the COVID-19 virus, 500 Women Scientists will continue their mission by making information readily available and accessible to the public. By doing so, the organization hopes that locals will have factual information and make educated decisions regarding COVID-19, the vaccine, and their health.
500 Women Scientists is a non-profit organization, dedicated to serving society by making science open, inclusive, and accessible and to transform society by fighting racism, patriarchy, and oppressive societal norms. For more information, visit 500womenscientists.org and follow 500 Women Scientists on Twitter (@500wstally).