Beitsch weighs in on statewide policy issues related to resurging COVID-19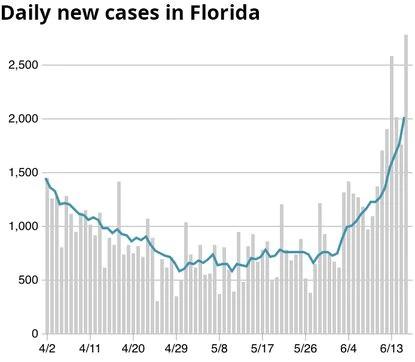 ×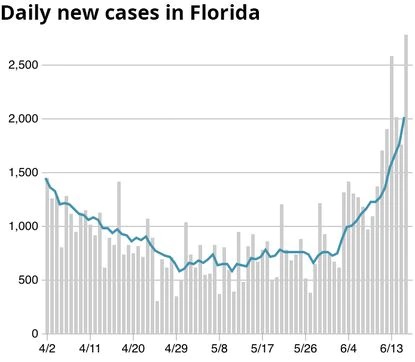 During the third week in June, Florida saw a record setting spike in daily reported new cases. This has many asking how bad can the resurgence become as the state continues its phased reopening, and what is the threshold for a hard stop, if any? Les Beitsch, Ph.D., J.D. and Chair of the Department of Behavioral Sciences and Social Medicine at the FSU College of Medicine, pondered these questions and more in a South Florida Sun Sentinel article and a Tallahassee Democrat editorial.
In the third week of June, Tuesday's new cases in Florida spiked to an all time high of 2,783 and that record was broken Thursday with 3,207.  We can't remained closed forever," Beitsch said. "The economic and health harms actually travel together. If you can't pay rent or buy food, that's a danger to families. But these are the kind of numbers that make you ask did we get the balance right?" However, Governor Ron DeSantis is standing firm in the face of these numbers, stating on Tuesday that plans to reopen Florida will not be rolled back. The silver lining so far has been the stable rate of hospitalizations and deaths, according to the article. However, in the Sun Sentinel article, Dr. Beitsch noted, "The University of Washington is now projecting by the end of October 200,000 deaths if we continue on this trend," Beitsch said, referring to the national death toll. "And again a disproportionate number of those have the potential to be in our own state because of our demographics."
As the debate continues, Dr. Beitsch looks forward to beyond October and the national elections. In an editorial published in the Tallahassee Democrat, Beitsch and co-author Brad Ashwell, state director for All Voting is Local, noted that the recent Presidential Preference voting held earlier this year as the pandemic peaked, is a harbinger of things to come in November. No action has occurred in response to recommendations from the nonpartisan Florida Supervisors of Election Association. 
"Physicians take an oath to do no harm upon entering their profession. We wish our elected officials would take the same oath. Florida officials must conduct safe, secure, and accessible elections in August and November — but they can only do it if they prepare now," concluded Beitsch and Ashwell.