Dean's Message, June 2014
Jun 02, 2014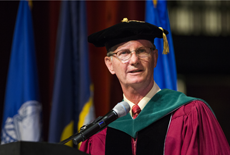 I'm writing this during our 2014 "gap week" – that brief period between the May 17 graduation of our fourth-year students and the May 27 arrival of our first-year students. We're always amused at this time of year when people across the university say things like, "Isn't it great to finally be able to take a break without students?" We're hard pressed to determine exactly when that is! The College of Medicine is always in operation.
     Speaking of graduation, I hope you were able to attend our Gold Humanism Honor Society, Awards or Graduation ceremonies May 16 and 17. They highlighted the incredible accomplishments of the students who are living our mission and the great places they're going. There were some very proud parents here who thanked us for what we've done to help shape and mold their sons and daughters. It was another opportunity to show off our students and our innovative model of medical education.

     At graduation we added a military oath ceremony, and the audience loved it when 10 students came out in uniform to take the oath as new military medical corps officers in the Army, Navy and Air Force. We gave a "shoutout" to veteran Navy pilot Jimmy Westbrook, who missed graduation to keep his family safe at Camp Pendleton, protecting them from wildfires. (Please read his amazing story[pdf] pre-graduation on our website.) We also surprised Charlie Ouimet as the first Emeritus Professor in Biomedical Sciences, and it was clear that Charlie's love for the students was mutual.
     Our story continues to impress, as we had more than 5,200 applications this year. I wish to thank our incredible admissions team, who work incredibly hard to find amazing students for us. 
Enjoy the summer!

John P. Fogarty, M.D.
Dean

Read more about the Class of 2014 Commencement.