Dean's Message, February 2016
Feb 18, 2016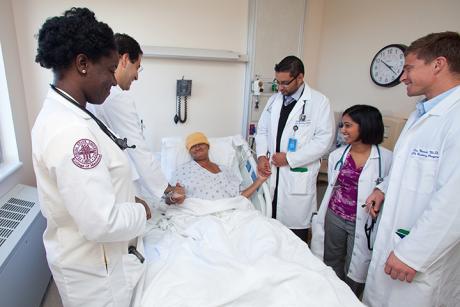 As spring approaches, I want to fill you in on progress we're making in two critical areas. One is Graduate Medical Education. The other is our new Physician Assistant Program.
In GME, we're developing more programs around Florida to both contribute to the physician workforce and provide opportunities for our graduates to train here in Florida. Let's review them one at a time:
Internal medicine — At Tallahassee Memorial Hospital, our program is doing well and recently underwent its site visit for full accreditation. We've now graduated two classes, and the program is matching well. At Sarasota Memorial Hospital, we recruited a wonderful director for the program, which already had a very successful site visit last month. We await the accreditation decision from the Accreditation Council for Graduate Medical Education's Internal Medicine Review Committee, with a goal of recruiting 13 residents to start training in July 2017.
General surgery — Our program at TMH received its initial accreditation last June and has had a very successful interview season with lots of interest. It has recruited two second-year transfer residents and plans to match four first-year residents (two categorical and two preliminary) to begin training in July. We are in discussions to help sponsor another program in the next year and recognize general surgery as a critically short specialty.
Family medicine — Our program at Lee Memorial in Fort Myers is at its full complement and will graduate its second cohort this summer. We are in conversations with other hospitals across the state that are interested in developing new College of Medicine-sponsored programs.
Dermatology — We entered into a collaborative partnership with Dermatology Associates of Tallahassee to sponsor both the Micrographic Surgery and Dermatologic Oncology Fellowship (formerly MOHs Fellowship) and a new dermatology residency program. The fellowship was accredited effective 2013, and we have graduated two fellows since assuming sponsorship. We were notified last month that the residency received accreditation, with no citations, by the ACGME, so we are recruiting two residents to start training this July.
Other — After nearly 10 years of sponsoring the Obstetrics and Gynecology and Pediatric Residency Programs at Sacred Heart Health System in Pensacola, we recently transferred sponsorship of both residencies to the University of Florida effective Jan. 1, 2016, at Sacred Heart's request. These primary-care residencies have a long history in Pensacola, having initially been established by the medical community and then transferred to Sacred Heart Hospital decades ago. In time, they become academically affiliated residencies under the sponsorship of UF. In 2006, after the FSU College of Medicine was established, UF requested that FSU become the programs' institutional sponsor, given its closer geographic proximity to Pensacola and the presence of an FSU College of Medicine regional campus there. Over the course of FSU's oversight, both residency programs regularly received ongoing accreditation from the ACGME, resolved all previous citations and achieved continuously improved outcomes in both the quality of resident education and the quality of patient care. Recently, Sacred Heart announced a strategy to form a clinical alliance with UF Health for specialty service lines. In an effort to align residency education with these clinical goals, the hospital's administration chose to place its primary-care residencies under the same UF umbrella. Since graduate medical education programs within the FSU College of Medicine model are funded entirely by the hospital partner, a decision to transfer residency sponsorship is generally the decision of the hospital, not the College of Medicine as institutional sponsor.
We are pursuing a Physician Assistant Program for the FSU College of Medicine because the primary-care shortages are not likely to be resolved by medical school graduates alone. FSU's model of distributed regional campuses, which train future physicians in office settings that provide patient-centered care, is an ideal environment for this program. Learning to work in the same settings as our medical students will provide early experience in team-based care, a critical model to address Florida's primary-care shortages. PA students at Florida State will spend 15 months at the main campus in Tallahassee and one year at one of the medical school's regional campuses. Here are PA progress updates:
We've had a great team working on the documents to approve the master's program here at FSU over the past 18 months, and the Board of Trustees approved the proposal at its June meeting.
We recently hired Jim Zedaker as our founding program director, and he's hard at work developing the initial application for accreditation to the Accreditation Review Commission on Education for the Physician Assistant, the accrediting body for PA programs.
We have a site visit scheduled in December 2016, and the program will be reviewed at the March 2017 meeting of the ARC-PA. Assuming that we receive our initial accreditation, we anticipate matriculating students in fall 2017.
We are busy with the website and information materials for this program and anticipate a great deal of interest and applications in the future.
I hope these updates give you a clearer picture of what's going on. These are exciting times at the College of Medicine.
John P. Fogarty, M.D.
Dean