Dean's Message, December 2014
Dec 09, 2014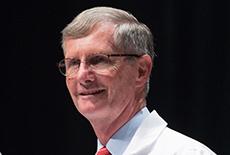 This message unfortunately starts with sad news. We have lost a dear and devoted friend in Charlotte Maguire after a short illness. Dr. Maguire was determined to the very end to be in control and died peacefully in her home this month with friends and family nearby. While she insisted that we not "make a fuss" about her after her passing, we think she wouldn't mind an informal ice cream social, to be held in late January, as a celebration of her life and contributions. More details to follow as the event draws nearer. I hope you'll find time to read the story of her amazing life in this edition of our e-newsletter.
Meantime, things continue to be busy here at the College of Medicine:
We're applying to Florida State University to create an M.S. in Physician Assistant Studies program, with an expected start date of summer 2017. It is in line with our mission and consistent with our desire to expand access to primary care for Floridians.
We're working with the University of Florida to submit a renewal application next month for a collaborative Clinical Translational Science Award (CTSA), with the FSU College of Medicine providing the community-practice-based arm for the program.
We're forming a Strategic Planning Working Group among the chairs and executive leadership to prioritize the multiple activities and set the College of Medicine's direction for the future.
We're continuing to work on the curriculum redesign in preparation for the arrival of the Class of 2019 in May. This involves multiple committees and tremendous work by faculty, staff and students to create a competency-based, patient-focused and fully integrated curriculum to prepare our students for the 21st century.
Over the past three months, we have interviewed multiple candidates for the chair of our Department of Geriatrics. Ken Brummel-Smith is stepping down from that role, but not leaving the college. We're also interviewing candidates for senior associate dean for research, where Myra Hurt is also stepping down to complete her book about the creation of the FSU College of Medicine. We hope to announce the conclusions soon. Renata McCann has done amazing work scheduling and facilitating visits across the university while coordinating with a national search firm, and we could not complete these two important hires without her.
First-year students are in exam week, second-year students are taking finals next week, third-years are in their required community medicine rotation and fourth-years are in the midst of interviews and residency applications, so the student cycle continues unabated.
We continue to work with community partners across the state to develop and expand graduate medical education programs and provide more options for our students to train in Florida.
Enjoy the stories of our amazing faculty and students. Our highly professional public affairs and communications staff is kept busy with the myriad of events, publications and awards of our College of Medicine every week, and I am very proud of all of them.
John P. Fogarty, M.D.
Dean