Physician Assistants Choose First Black PA As President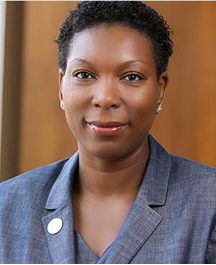 ×
MARCO ISLAND, FL – August 9, 2017 – The membership of the Florida Academy of Physician Assistants (FAPA), gathered at the JW Marriott Marco Island Beach Resort, Marco Island, FL, for the 2017 Summer Symposium and Annual Business Meeting, installed Susan M. Salahshor, PhD, PA-C, DFAAPA, as their 2017-18 President.
Salahshor earned her BS degree from St. John's University, her Masters of Physician Assistant (PA) Studies from the University of Nebraska, and her PhD in Philosophy with Specialization in Healthcare Administration from Capella University.
Salahshor is an assistant professor in the FSU College of Medicine School of Physician Assistant Practice. She has been a PA for over 23 years and has worked in Geriatrics, General Surgery, Gynecology, Internal Medicine, Bariatric Surgery, Minimally Invasive Surgery, Abdominal Transplant Surgery, and Liver Transplant Medicine. She mentors Pre-PA and PA students through the American Academy of Physician Assistants (AAPA) African Heritage Caucus and Florida Academy of Physician Assistants.
Previously serving as President-Elect of FAPA, and now as President, she is the first black woman to hold both titles. She serves on several committees, work groups and task forces, and completed her three-year term on the Patient-Centered Resource Outcomes Research Institute (PCORI) Improvement in Healthcare Systems Panel in April 2016.
In addition to the past and current positions held with the FAPA, Salahshor's professional affiliations include being a Fellow member of the AAPA, Member of the American College of Healthcare Executives, Member of the African Heritage Caucus of AAPA, Allied Health Member of the American Society of Transplant, Allied Health Member of the American College of Gastroenterology, and Allied Health Member of the American Association of Liver Disease.
She was named a Distinguished Fellow of the AAPA in 2014, served as AAPA Political Action Committee (PAC) Chair (June 2017-May 2018), AAPA PAC member (June 2015-May 2016), FAPA Northeast Regional Director (July 2014-June 2016), AAPA-appointed PA to the PCORI (April 2014-April 2016), and AAPA-appointed PA to the Joint Commission Hospital Professional & Technical Advisory Committee (January 2014-present)
Additionally, Salahshor's volunteer activities include service as Chair of the African Descendants Mayo Employee Resource Group (January 2014-December 2016), Program Director of the Mayo Clinic School of Health Science, Mentor on the Student Affairs Committee of the FAPA, Member of Big Brothers Big Sisters of Saint John's County (2014-Present), Member of the Duval County Future of Healthcare Committee, and Big Brothers Big Sisters School Program (2008-2010).
The Florida Academy of Physician Assistants, headquartered in Altamonte Springs, FL, is the statewide professional association of Physician Assistants. The Academy is the vehicle through which its members accomplish joint professional goals of continuing medical education, communications, and legislative advocacy.
NEWS RELEASE COURTESY OF FAPA:
Contact: Tina Kautter, CAE
Executive Director
407-774-7880