PA Students Celebrate White Coat Milestone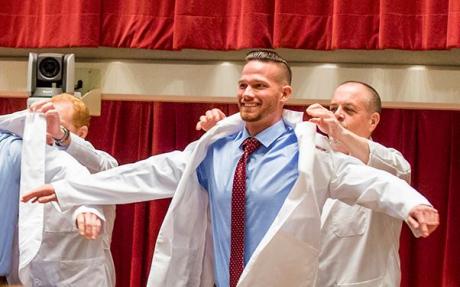 ×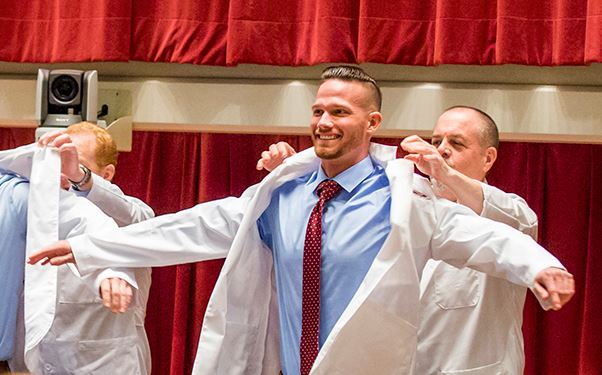 Five months after the inaugural class of physician assistant students arrived at the College of Medicine, they celebrated a rite of passage Jan. 19 with a White Coat Ceremony.
The pioneering 40 students in the School of Physician Assistant Practice were called onstage, four at a time, to receive their white coats in front of a full house of faculty, staff, family and friends in Durell Peaden Auditorium.
"You are setting the standard and creating the future for this latest chapter in our wonderful history here to produce the workforce that Florida really needs the most," Dean John P. Fogarty told the Class of 2019 in his opening remarks.
These students still have 22 months to go in the program. The celebration was meant to remind them that they're taking on a huge responsibility as they don their white coat, a symbol of both professional competence and human compassion.
The featured speaker was Professor James Cawley, who has joined FSU's PA faculty after serving as a professor of physician assistant studies, chair of the Department of Prevention and Community Health and director and co-founder of the Physician Assistant/Master of Public Health Program at George Washington University.
Cawley told the students of the changing landscape of health care. "America will grow from 310 million to 340 million in 10 years," he predicted. "The U.S. has over 70,000 centenarians, and in your time you will have a 100-year-old patient walking into your office." He noted that the advent of new technology will allow them to care for more patients than ever before.
After the students complete their second semester at the College of Medicine's main campus, they will fan out to the six regional campuses for clinical rotations, taking care of their first patients.
"This privilege allows you to enter into a most intimate relationship with your patients and to help them in a most fundamental way," Cawley told them. "It is no small thing to be involved in curing disease and alleviating suffering. Remember that the privilege of practicing medicine brings responsibilities as well as rewards."
After the students were "coated" by faculty members, Assistant Professor Susan Salahshor led them in reciting an oath that reads, in part: "I will hold as my primary responsibility the health, safety, welfare and dignity of all human beings."
The first class of students took the oath almost exactly two years after founding Director Jim Zedaker arrived on campus to begin building the program.
PAs will further strengthen the medical school's commitment to training more health-care providers for Florida, especially those who will serve in primary-care specialties and work with elder, rural, minority and underserved populations.
As Fogarty pointed out, "In keeping with our mission and geographic focus, 22 percent of you came from Florida Panhandle counties. You've come from places we want to serve in the future, with almost half from areas that are considered medically underserved."
Cawley encouraged the group to be advocates for health and left them with five reminders:
• Value the privilege of being a PA.
• Maintain a sense of ethics.
• Be a humanitarian.
• Treasure your profession.
• Grow, expand and blossom.
"So welcome, new colleagues," he said. "Come ahead. Make us proud. We've been waiting for you."