Dr. Natalie D. McKenzie Receives 2020 Distinguished Advocacy Award at the IGCS Annual Global Meeting on Gynecologic Cancers
×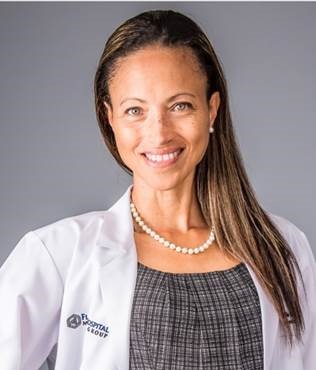 Gyn Oncologist Dr. Nathalie D. McKenzie, who is most recently noted for having revived the Gynecologic Oncology Fellowship at AdventHealth and led the Program to achieve its independent accredited status with the ACGME - a status shared by only MD Anderson Cancer Center and Memorial Sloan Kettering Cancer Center. Subsequently, having been selected among just a few oncologists throughout the world to be part of the Class of 2019 ASCO Leadership Development Program, is now being recognized for her volunteer works with Innovating Health International (IHI) and for Co-Founding HEAL with the AdventHealth 8-week intensive cancer survivorship/Rehabilitation program. Community-facing "HEAL at home" online lectures in response to COVID is the latest initiative. The Award is scheduled to be presented to Dr. McKenzie on September 10, 2020, by the President of the IGCS (International Gynecologic Cancer Society). Secondary to COVID the meeting will not be held in Rome, Italy as previously scheduled. Instead it will be a virtual meeting. The Distinguished Advocacy Award recognizes advocates and/or advocacy organizations that provide active, dedicated service to patients/survivors, families, and caregivers and is reserved for those most persistently engage in the fight against gynecologic and other cancers. Dr. McKenzie is passionate about Cancer survivorship, Cancer Outcomes, and Research initiatives that link Lifestyle, Molecular Markers, and Response to treatment. IHI is a non-profit organization based in Port-au-Prince, Haiti, founded by Dr. Vince DeGennaro, from Miami, FL. The dual mission of  IHI is to both train and empower local frontline physicians while simultaneously providing desperately needed oncologic care for patients with cervical and breast cancers - the two leading causes of death on the small island nation. Survival rates are exceedingly poor secondary to issues of infrastructure and access to care with geopolitical underpinnings. AdventHealth Global Missions has supported Dr. McKenzie's work with IHI by donating and lending  surgical supplies for all missions.
A film documentary about the work of IHI is in production. See trailer here (IHI Medical Missions)
To learn more about AdventHealth Gyn cancer survivor program visit www.adventhealthcancerinstitute.com/heal-gyn-cancer Dr Mckenzie is triple board certified in obstetrics gynecology, gynecologic oncology and Lifestyle medicine.