Ahluwalia's Prolific Research Follows Him to Neurological Residency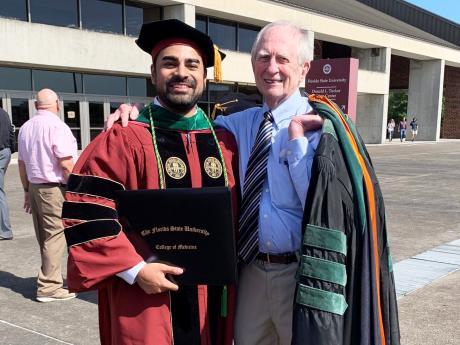 ×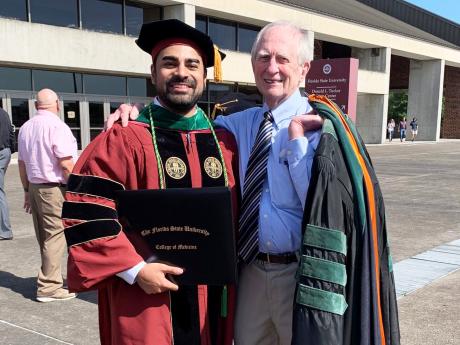 By the time he graduated on Sunday with the Class of 2021, Dr. Randy Ahluwalia had a research portfolio most faculty members would be proud to own.
Winner of the College of Medicine's Student Research Award, and the Orlando Regional Campus Dean's Award, Ahluwalia already possesses a six-page curriculum vitae. It includes four full pages of research:
•    Sixteen peer-reviewed journal publications, and a 17th submitted for publication;
•    One co-authored book chapter;
•    Twenty additional presentations, including 13 platform presentations and seven posters.
"I'll bet you my first 16 publications took five years and I was a faculty member," said College of Medicine Professor Robert Watson, who has more than 40 years in academic medicine and served as a mentor to Ahluwalia. "I honestly didn't think that there would be a human being alive that could do that.
"He presented at national neurosurgical meetings that included all neurosurgical chairs and all neurosurgery residents and program directors. It was super-human stuff."
The majority of Ahluwalia's research and resulting publications came when he spent a year as a research fellow at the Surgical Outcomes Center for Kids (SOCKS) at the Vanderbilt University Medical Center prior to his final year of medical school.
"This is obviously a passion of mine and a majority of [the research] is in pediatric neurosurgery," said Ahluwalia, whose first operating room experience in neurosurgery – as a third-year student – left a lasting impression. The patient was an 8-year-old boy and aspiring soccer player with lower extremity weakness.
"You didn't even have to be in medical school to see something that was very bright light up quite clearly in the spinal cord [on the MRI]," Ahluwalia said. "That ended up being a very large tumor…This was my first time seeing neurosurgery, what I consider the most coveted field in medicine and what I have now chosen to dedicate my life to. I was so excited to see what neurosurgery looked like and it was the most primitive thing I've ever seen. It was just a series of very basic tools that they're [using]. It wasn't as elegant as I thought it would be…
"What excited me about neurosurgery was that there is a lot that we still don't know how to do and there are a lot of things that are still unknown. That's kind of what drove me into becoming a physician scientist."
Ahluwalia is returning to Vanderbilt in July as the sixth FSU College of Medicine graduate – and first from the Orlando Regional Campus – to match in neurosurgical residency.
Neurosurgery wasn't an obvious career path.
"My family, they've mostly been in the hotel business, so when I was growing up in Michigan I thought that was kind of the route that I would have to go because that's just how things have been historically," said Ahluwalia, whose parents are from India. "The notion or the idea of becoming a doctor, for a long period of time I thought that would be just kind of a dream. 
"I'm very fortunate that they've been very supportive of me wanting to pursue this very seriously. While they've only completed a little bit of high school, they still turned out to be really good parents to me and mentored me really well."
Ahluwalia was the first in his family to attend college, completing his undergraduate degree at Emory University in Atlanta, where his younger sister Simran is now a third-year law student. Ahluwalia loves interacting with people, something he attributes to his family's work in the service industry.
"When I see my parents and how they treat other people it ingrains the same values in you," he said. "Treating people with respect and always being kind is something that they practice on a day-to-day basis…You pick up on all of those things from a very young age and you realize that when you treat people well you kind of end up gaining their respect and they do the same for you. I think that's one of the reasons that I'm so ingrained in being patient-centered and helping my classmates."
Classmates, professors and Orlando Regional Campus Dean Joan Younger Meek all have praised Ahluwalia's character.
 "While his scholarship speaks for itself, I want to add that Randy is a humble, courteous, and collegial individual," Meek wrote in an award nomination. "He genuinely strives to work toward the betterment of others instead of just focusing on his own accomplishments and aggrandizement."
Mentors have played an invaluable role
Watson, a neurologist and former senior associate dean for education at the University of Florida College of Medicine, became a mentor shortly after Ahluwalia arrived. 
"In that position I got this sort of intuitive sense, what specialty [the students] would likely go into early," Watson said. "The first time I met Randy and learned he had some interest in neurosurgery, I talked to him for a while, and he's got what it takes…He was smart. He would always formulate a well-thought-out reply and he was a diligent worker."
Ahluwalia has been carrying forward one piece of advice from Watson for years.
"You have two responsibilities if you're choosing a career in the neurosciences," Ahluwalia said. "One is to be a doctor, but the other is to do research and ask questions and try to figure out how and why."
When Ahluwalia posted a score on the United States Medical Licensing Exam Step 1 exceeding the standard necessary to land a residency in neurosurgery, Watson said his protégé wasn't satisfied.
"In his mind that did not make him competitive enough," Watson said. "That was so typical of Randy. He's the kind of person who is not going to leave anything to chance. He's going to do whatever it takes to prepare himself to do the best that he can do, which is what you want in a neurosurgeon. Randy thought that he needed to take a year out and show he could do research. And once he gets something in his mind, he's pretty firm on it."
That led him to the research fellowship at Vanderbilt under the mentorship of Drs. John Wellons and Chevis Shannon. 
"Dr. Wellons, I think, is the best pediatric neurosurgeon in the world," Ahluwalia said. "One of the things that he is able to do is operate in utero on a fetus…so that when they're ultimately born they've already had the neurosurgery that they need. The opportunity to work with Dr. Wellons on a day-to-day basis, that's like wanting to go into politics and working with the president of the United States every day. You just can't tun an opportunity like that down."
Working with Wellons and Shannon, Ahluwalia began developing what he describes as the "delicate art" of writing research papers.
"One of the challenges of writing medical literature is that you want your papers to be accessible to the family that is sitting with their pediatric neurosurgeon, whose son or daughter was just diagnosed with the condition that you write about," Ahluwalia said. "At the same time, you don't want to bore a full-fledged neurosurgeon that is just kind of going through the literature to see what kind of new treatments are out there.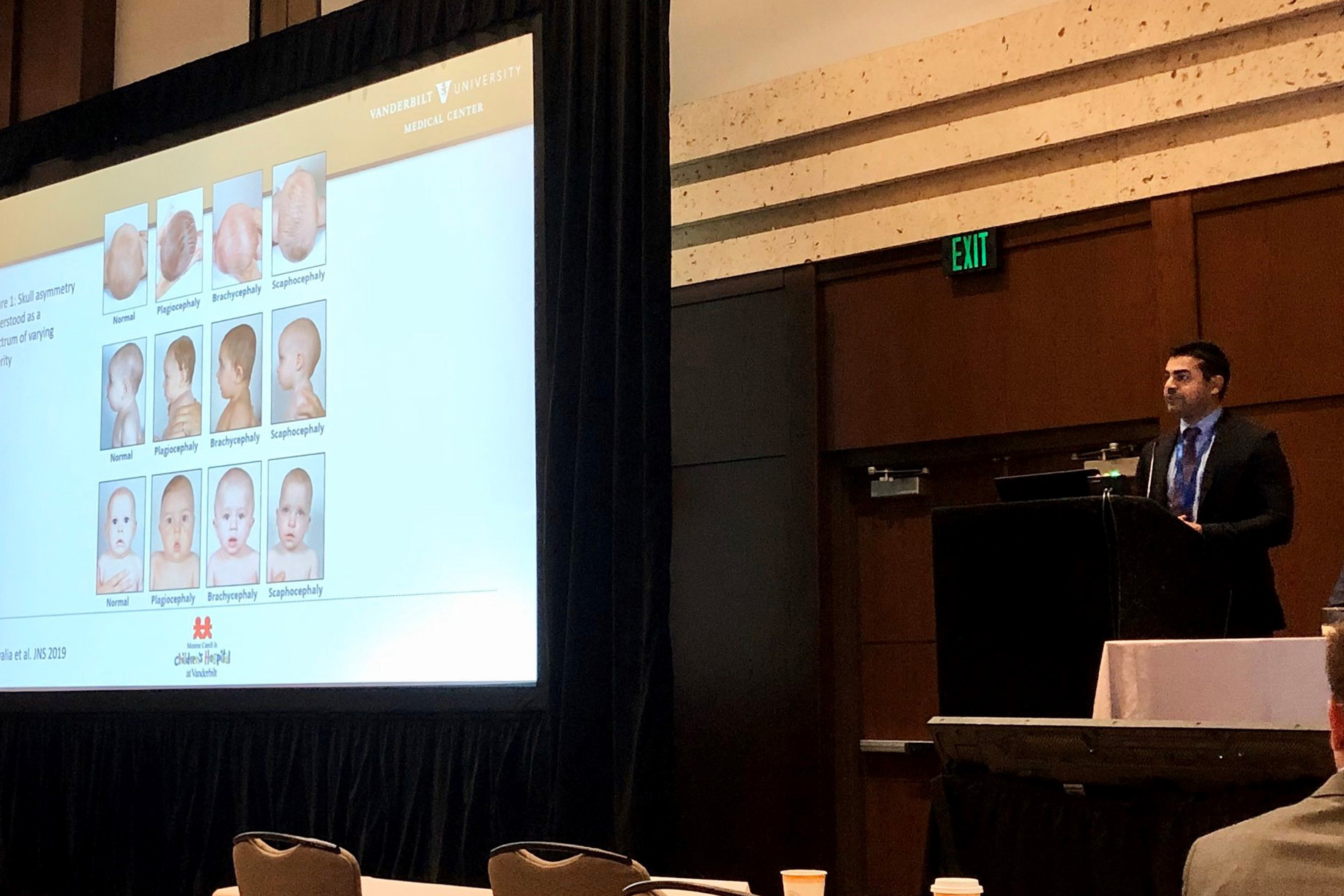 Ahluwalia's passion for neurosurgery research was evident.
"It didn't matter how hard he was working and how many hours he was putting in, it was like he couldn't put too much on himself," Watson said. "He was loving it. He was just what my friends who are chairmen and program directors are looking for [in a neurosurgery resident]."
Ahluwalia ultimately received invitations to interview with 30 neurosurgery programs, according to Watson. Harvard, Yale, Cornell, Thomas Jefferson, Florida, Alabama-Birmingham, and Vanderbilt were among his most prominent options.
"Literally, he could have gone anywhere he wanted," Watson added.
Ahluwalia credits the College of Medicine's for providing him a foundation.
"Being a good primary care physician is extremely important," he said. "One of the mistakes that you could make in residency or in your training is to say, 'I am just a neurosurgeon. I only deal with the brain and the spine.' Well that's not how patients are…They come in with heart disease, diabetes and high cholesterol. 
"I think being a good general doctor is something that will reward you over and over again, because you can't neglect those aspects of their health."
Ahluwalia has a firm grasp on the importance of bedside manner.
"I have chosen a career in neurosurgery so I imagine I will be delivering bad news throughout my career. It's inevitable," he said. "I think a lot of schools say when you get in a position like that you'll figure it out and you'll do what works for you. What I've appreciated about Florida State is that they even prepared me for delivering bad news."
You can't gain that experience from case studies, questions and lectures alone, according to Ahluwalia.
"These aren't just vignettes forever," he said. "Ultimately, these will be real people you have to deal with. Not learning a system for dealing with people who have various levels of disease can paralyze you as a doctor. Florida State does a really good job of helping you learn how to be there for your patients and also how to be their doctor."
Watson said his intuition about Ahluwalia as a neurosurgeon never changed.
"He's one of these rare people over all my years – rare students, rare residents – that I get the feeling can do anything they wanted to do," Watson said. "He will not only do the routine stuff but I think he's capable of – like the neurosurgeon chairs say – thinking a little bit out of the box; a little bit innovatively how to do this procedure a little better…It's just in him to be the best, and he wants to be the best ultimately to benefit the patient."