Welch (M.D., '25) awarded scholarship to attend Medical Student Education Conference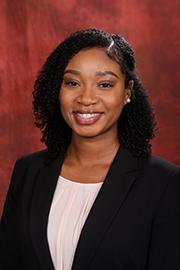 ×
The Society of Teachers of Family Medicine selected DanTasia Y. Welch, a second-year medical student at the Florida State University College of Medicine, as one of its 2023 STFM Foundation Student Scholarship award winners. The scholarship provides support for Welch to attend the 2023 Conference on Medical Student Education, scheduled for Jan. 26-29 in New Orleans, where she will participate in two presentations.

"I am very honored to be one of the scholarship award winners and to attend and present at the conference," Welch said.

She will present a poster summarizing her research on the effect of breastfeeding on postpartum depression (PPD) in non-Hispanic Black women. Welch proposed the research project in her successful application for the College's 2022 Summer Research Fellowship Program.  She conducted her research under mentor Shermeeka Hogans-Mathews, an assistant professor in the Department of Family Medicine and Rural Health and a 2015 graduate of the College of Medicine's M.D. program.
Earlier research has shown that breastfeeding releases the so-called "feel good" hormones like oxytocin and reduces the levels of stress hormones, such as cortisol. Yet, breastfeeding rates are lower among Black women and PPD rates are higher. Welch's research explored the reasons behind the lower rates of breastfeeding.
Welch will also co-present, with Hogans-Mathews, a seminar on promoting wellness while tackling perfectionism – shining a light on the inner critic – at the conference. Both are national presentations. Hogans-Mathews hopes to navigate a path as a leader in physician wellness, specifically the perils of perfectionism, and is providing Welch a chance to accompany her on that journey.

"DanTasia exemplifies the mission of FSUCOM and is inquisitive, teachable and very intelligent. She caught on to research very quickly," Hogans-Mathews said. "Our time together solidified the need for mentorship of all students, especially those from groups that are traditionally underrepresented in medicine (URM), particularly as we advance academic medicine."

URM groups – Black, Hispanic and Indigenous – together comprise one-third of the U.S. population, Hogans-Mathew said, but less than 7% of U.S. medical school faculty.

Her department nominated Welch for the scholarship and will assist with her travel expenses.

In notifying Welch and Hogans-Mathews of the scholarship award, the STFM Conference co-chairs said the award not only recognizes Welch's strong commitment to academic family medicine through scholastic, volunteer and leadership pursuits, it also acknowledges her potential for a career in academic medicine.

"I had a great experience working with and learning from my mentor, Dr. Hogans-Mathews, and advisor, Dr. George Rust, for my Summer Research Fellowship," she said. "I am also super-excited about networking with students, faculty and other health professionals passionate about academic family medicine."
The Summer Research Fellows' posters, including Welch's, will be on display Oct. 26 in the atrium. The opportunity to conduct research under the guidance of a College of Medicine faculty mentor, especially on a topic of their own choosing, has been a tremendous asset for the medical careers of our students, said Dr. Jeffrey N. Joyce, senior associate dean for research and graduate programs.
"We believe that the support we provide, both financially as a stipend and through connecting our students with mentors, allows our students to conduct research that impacts communities," he said. "It also is a great environment to develop leadership skills, such as those demonstrated by DanTasia."