Thomas (M.D., '24) presented CHHS' GOLD Award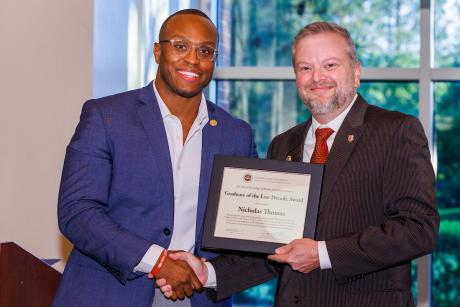 ×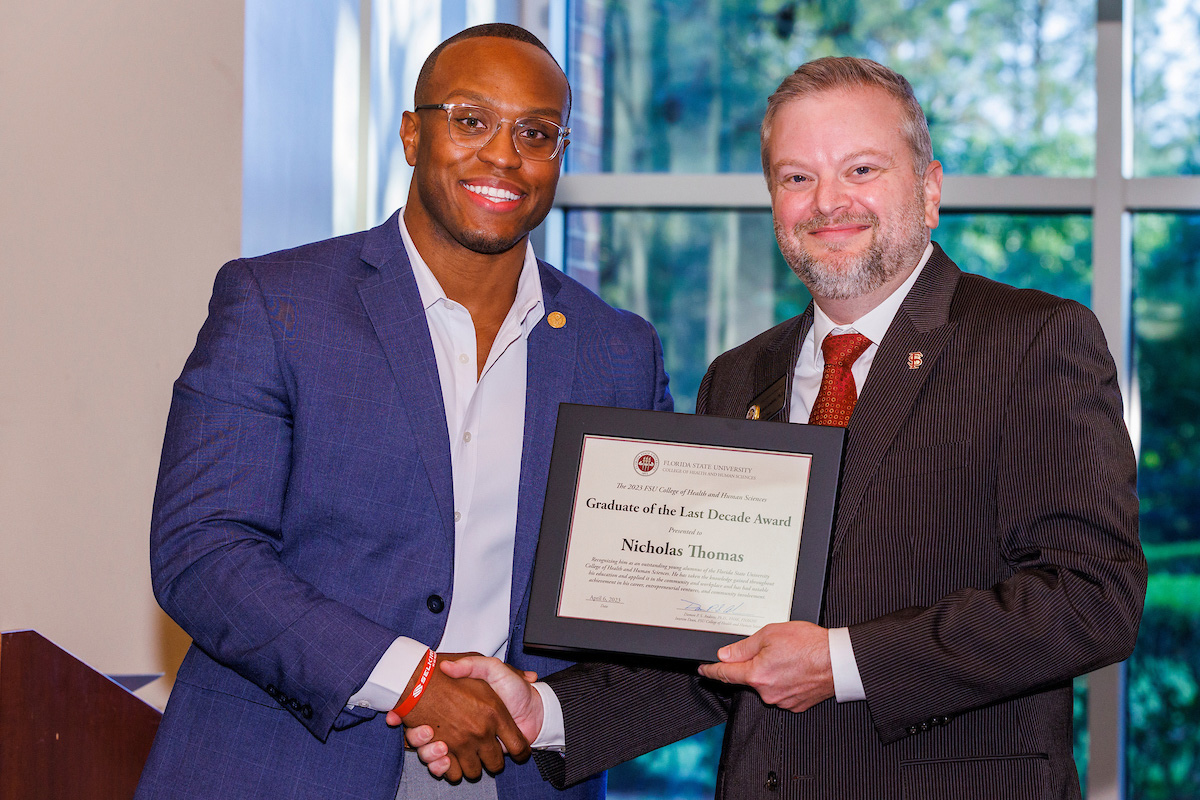 Nicholas Thomas (M.D., '24) was recently honored as the 2023 Graduate of the Last Decade (GOLD) Award recipient at the College of Health and Human Sciences Honors & Awards Ceremony.
Thomas, who earned his undergraduate degree in exercise physiology from the college in 2018, was cited for his exemplary leadership and service to the community. Among many leadership roles and community involvement initiatives, Thomas is co-founder of The Extraordinary Kids Foundation Inc., a non-profit with a mission to provide personalized care to children with developmental disabilities.
"Nicholas truly exemplifies what it means to be a leader and continuously strives to lift as he climbs, providing peer mentorship along the way," wrote College of Medicine classmate Taha Hmissa in Thomas' nomination letter.
Thomas was presented his GOLD Award by College of Health and Human Sciences interim dean Damon Andrew, which read: 
Recognizing him as an outstanding young alumnus of the Florida State University College of Health and Human Sciences. He has taken the knowledge gained throughout his education and applied it in the community and workplace and has had notable achievement in his career, entrepreneurial ventures, and community involvement.
In 2021, Thomas was selected as one of six Notable Noles to receive the Reubin Askew Young Alumni Award, which is the highest honor bestowed upon young Florida State University alumni. In 2016, Thomas and his family opened QLH (Quality Care, Loving Hands, Hopeful Hearts) Kids, a Prescribed Pediatric Extended Care (PPEC) facility in Lake Worth, offering full-time care for underprivileged children with special needs.
At the College of Medicine, Thomas is president of his class, has served as the sports medicine chair for the Family Medical Interest Group and led the Tar Wars Initiative, where he taught fourth- and fifth-graders in Tallahassee about tobacco-use prevention and lung health.
A member of the American Public Health Association, he is an advocate for health equity and has also conducted and presented research on the health impacts of the work-family interface among African Americans. He is also a member of the research team investigating pediatric knee development through the Department of Pediatric Orthopedic Surgery at Stanford University.